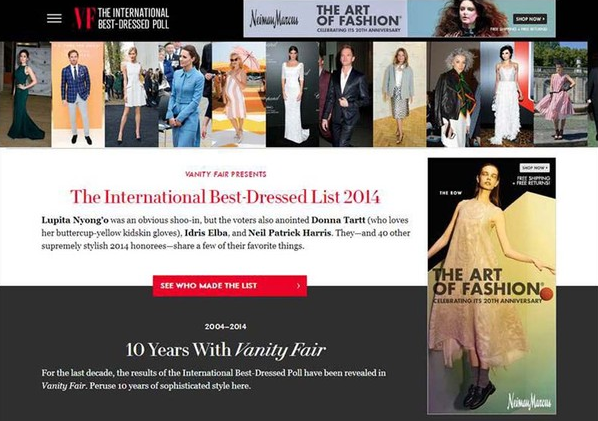 One of the most famous lists in media and entertainment has upgraded its wardrobe.
Women's Wear Daily reports that the Vanity Fair Best-Dressed List finally has a dedicated site. It debuted yesterday to celebrate the 10th anniversary of the magazine's publication of the sartorial starmaker. Previous hosts since its 1940 inception include The New York Times, Time, and W.
Deputy Editor Aimée Bell and Digital Director Michael Hogan headed up the project, which saw the upload of photos, videos, stories, and more.
"Hogan noted that the site, which will live on Vanity Fair's Web site, is part of the magazine's digital strategy to bring more eyeballs to vf.com," writes Alexandra Steigrad.
"That is accomplished via social media, primarily Facebook, he noted. Thus far, in 2014, vf.com has had an average of nearly seven million monthly unique visitors and nearly 36 million monthly page views. The mobile-friendly best-dressed site will include digital ad partners such as Van Cleef & Arpels, Neiman Marcus, and Elizabeth Arden, according to Hogan, who noted that the site will likely be one of many such projects to come for Vanity Fair."
To read more about the VF Best-Dressed List getting a website, visit WWD.com.