Following the Passion
When you're passionate about something, you want to know everything there is to know about it, according to Carol Fitzgerald, president of The Book Report Network. She explains, for example, that she fell in love with Simon & Garfunkel when she was 13 years old. She learned a little about the duo's background previous recordings from the back notes of her "Bookends" album cover. But passion drove her to the microfiche at her local library, where she pored over clippings and articles about the men and their music.
"Album covers" have become a thing of the past, and fans now search for information online. And while Fitzgerald may still enjoy listening to Simon & Garfunkel's music from time to time, her passion today focuses on knowing all there is to know about authors and their books.
In 1996, Fitzgerald founded The Book Report Network (TBRN), a group of targeted websites where readers of all ages and interests can peruse book reviews and excerpts, find in-depth author profiles and interviews, comb through feature articles and commentary, chat with like-minded readers, and enjoy literary games and contests. TBRN also owns and operates a division called Authors On The Web, which offers website design and hosting services and marketing expertise to authors and publishers, as well as AuthorYellowPages.com, a searchable directory of author websites. "The Book Report Network," Fitzgerald likes to say, "is the best place online to talk about your last great read — and to find your next one."
"Our reputation in the marketplace—among authors, publishers, and readers—is that we over deliver, and I always want that to be the case. I really love what we're doing."

Carol Fitzgerald
Founder, TheBookReportNetwork
Affiliated Beginnings
The Internet was merely a fledgling when TBRN launched, and AOL reigned supreme. Bookreporter.com, TBRN's flagship site, was a pioneer member of the AOL Channel, which provided a platform for new online ventures looking for an identity. The various AOL Channel affiliates contributed their rich content to benefit AOL members and, in turn, received payments "that were not huge," according to Fitzgerald.
Back then, nearly all early website publishers were having difficulty carving out a revenue model. Most tried to cover expenses (usually unsuccessfully) by selling banner ads and sponsorships, while a handful of sites were funded through paid memberships or subscriptions. "Publishers didn't understand the Internet in the old days," Fitzgerald says. "With no email back then, and connection and download times that were dismally slow, the Internet was merely a hobby."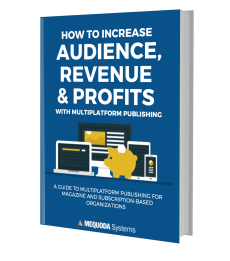 Learn the secrets behind today's most rapidly growing niche publishers. Download a FREE copy of How to Increase Audience, Revenue & Profits with Multiplatform Publishing, a guide to multiplatform publishing growth for magazine and subscription-based publishers. Download now.
Only four of the original 46 companies on the AOL Channel — iVillage, The Motley Fool, The Knot, and TBRN — actually remain in business today, Fitzgerald reports. "Most went out of business," she suggests, "because their business models required too much of an investment and too many people. As a result, they had big expenses and little control," Then, as now, TBRN accomplishes everything with only six people — four in New York, one in Texas, and another in Knoxville. "We're actually at a point where we need to grow," Fitzgerald acknowledges, "but we have always had a good handle on our business."
TBRN was also one of Amazon.com's first affiliates. Its Associates Program provides affiliates with easy and secure e-commerce opportunities for their site visitors and, in return, pays a pay-per-click fee, or a percentage of the actual sale. TBRN is still affiliated with Amazon.com and currently, according to Fitzgerald, is considered a "premium" (or top-performing) Amazon partner.
Building a Network
TBRN's first big break came in early 1997, when Doubleday gave Bookreporter.com an opportunity to present the first pre-publication excerpt of John Grisham's new novel and also to post an exclusive interview with the author on AOL for a week. "To this day," says Fitzgerald, "I'd do anything for John Grisham. By allowing his publisher to do make this arrangement with us, Grisham really put us on the map." In those days, AOL measured its audience in terms of hours viewed. During its "Grisham week," Bookreporter.com logged 11,000 hours in a day, whereas before it drew only 5,000 hours in a month. People were also joining chat rooms. Best of all, though, other publishers became interested in doing something similar.
Fitzgerald recognized the strength of building a website network almost from the beginning. Seventeen years of experience working at mega-publisher Condé Nast had ingrained in her the notion that a strong product can bolster a weaker one, and audiences can feed off each other. "The biggest lesson I learned at Condé Nast," she says, "was how to build a company—how to build a brand."
The summer following "Grisham week," opportunity knocked. Fitzgerald noticed that "tons of teens" were in the AOL chat rooms, wanting to talk about books but driving the adults crazy! "The adults wanted to chat on one level; the kids, on another," she says. "So I started a teen site on AOL and launched it with a newly published novel based on the fantasy thriller flick, 'Spawn.' Bingo! The young adult traffic responded, and we had our second site: Teenreads.com."
After that came Bookworm, also affiliated with and still a keyword on AOL, which was a club where youngsters could report on the books they were reading, win books, and participate in other activities. "That was also a huge success," says Fitzgerald, whose wheels were now in motion. "I began to think, 'All right, we've got kids who will eventually move to the teen site, and teens who will eventually migrate to the adult site.' It's just the kind of feeder situation that every publisher yearns to have." This third member of the network ultimately became Kidsreads.com in late 1999 or early 2000. The Internet was now in its heyday, and TBRN's sites began to operate independently from the AOL Channel.
Developing More Niche Communities
Sometime around the summer of 1998, a book publisher who was impressed with the breadth of the Bookreporter.com readership suggested a novel idea: TBRN could build (for a fee) customized, affiliated websites for authors and/or publishers, with individual URLs, where readers similar to TBRN's own audience could learn about the author and get excited about his or her books. That soon became AuthorsOnTheWeb.com and an important method for TBRN to develop revenue.
To date, TBRN has designed and produced more than 100 of these websites, which are all accessible via AuthorsOnTheWeb.com and link appropriately to TBRN's other sites. TBRN charges roughly $2,500 to $3,000 to develop an author site, depending on the number of books involved, and updates the content whenever the author publishes something new. TBRN also began a Web Marketing division a couple of years ago to implement online marketing programs on behalf of authors and publishers. The fees generated from both the site development business and the marketing enterprise fund content on the TBRN sites.
In summer 2002, a publisher asked Fitzgerald if she had any plans to launch a site dedicated to Christian faith-based books, which was increasingly becoming a huge market of passionate readers. She met with various publishers over a period of about 18 months to gather advice on how to structure FaithfulReader.com. While the traffic so far isn't as robust as expected, Christian publishers are excited about it. They're linking to the site and even licensing its content. Besides opening up another new marketplace, the site also presents a whole new group of authors for whom TBRN can develop websites.
Most recently, Fitzgerald herself realized that book groups were becoming more and more popular and, therefore, represented another huge opportunity to drive traffic. In May of 2004, TBRN launched ReadingGroupGuides.com with a single reading group. Today, the site represents a community of close to 2,000 groups, whose members can access more than 1,500 online reading guides—book lists submitted by publishers that are searchable by genre, title, author, etc.—along with features that include advice and ideas on starting and sustaining a reading group. It hasn't been difficult to get book publishers to participate. It also doesn't seem to be difficult to generate book club traffic. "Last month," she notes, "ReadingGroupGuides.com had about 150,000 unique visitors—and that appears to be just the tip of the iceberg." The site continues to grow without any targeted advertising or promotion.
TBRN's Seven Unique Sites
Bookreporter.com, TBRN's flagship site, offers book reviews and excerpts, author interviews and biographies, reading polls, discussion questions, contests, and other special features. Its "New in Paperback" listing changes monthly, and "Word of Mouth" offers readers a place to share and rate titles that they have read.
Teenreads.com targets readers ages 12 to 17 with its "Cool New Books" feature and "Word of Mouth" chat room, along with reviews and excerpts of Young Adult fiction and pop culture titles, author interviews and biographies, interactive questions, and polls.

Kidsreads.com is geared to children ages 6 to 12 and has book reviews, author interviews and biographies, and features on more than 60 book series, along with trivia games and word scrambles.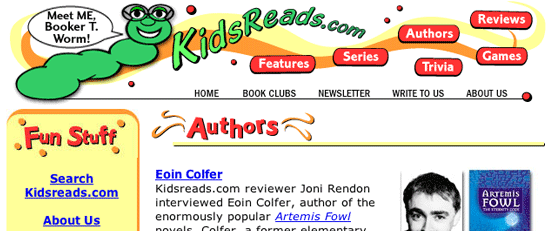 AuthorsOnTheWeb.com provides readers with author roundtables, bibliographies of best-selling authors who have been featured elsewhere on the network, summer reading lists, and a "Coming Soon" feature that highlights books about to be published in upcoming months.

AuthorYellowPages.com is a searchable directory of more than 5,000 author websites, related publisher sites, and fan sites.

ReadingGroupGuides.com is a community for reading groups, with more than 1,500 reading guides, advice and ideas for starting and sustaining reading groups, monthly interviews with groups across the country, and special features.

FaithfulReader.com, edited for Christian readers, has book reviews, author interviews, book excerpts, commentary, and a daily devotional. The "Faithful Fifteen" is a group of interviews where authors discuss their faith and their writing.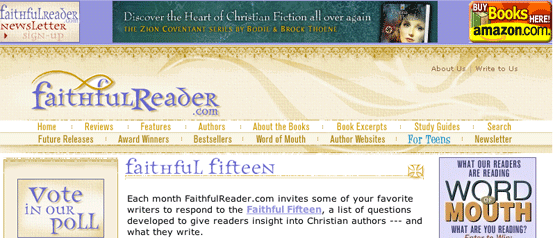 Diversifying Site Traffic
TBRN's strength lies in its network of individual sites, each with a unique voice, tone, and attitude, that cover the entire book publishing marketplace—adults, teens, kids, reading groups, and faith-based readers—as well as its diversified revenue streams, including website development, placement fees, paid advertising, and affiliation revenue.
The content within each site is diversified, as well. "Where else," Fitzgerald asks rhetorically, "will you find not only the author's current book and independent reviews but the entire back list, interviews, a reading guide, a newsletter, entertaining activities, and more? Don't be a one-trick pony," she advises.
TBRN could charge readers to access the sites, of course, but Fitzgerald doesn't think that's a great idea. Instead she has publishers pay fees to include their book lists and other material on the site—"but it must be 'stuff' that we consider 'good,'" she says.
With that in mind, two years ago she began a new revenue-generating promotion—Suspense Thriller features—on the Bookreporter.com site. Besides being her favorite genre, the goal was to introduce readers to the new books and backlists of a dozen authors who had written a number of books but were not yet household names—and, in her estimation, should be. Publishers pay a placement fee to have their authors featured—and they love the idea. The 12 slots in the original promotion sold out almost instantly.
In fact, Fitzgerald says she actually turned down $30,000 to $40,000 worth of business because she didn't think the book was good, it was the author's first and only book, or it didn't fit the category. "You have to maintain your integrity," she explains. The Suspense Thriller promotion is now in its second year along with other similar promotions in categories such as a Debut Suspense Thriller (featuring new writers), Mystery Mayhem, Fantasy, and Chick Lit.
Profits and Passion
TBRN only started making real money in 2004, so it has been a long haul—about eight years—to actually turn a profit. But just hanging in through the burst dot-com bubble, the effects of 9/11 on the economy, and the sluggish economic rebound says something about running a lean shop and satisfying a passionate audience. "We have a lot more readers coming to our sites each year—about 50 percent more in the first quarter of 2005 than during the same period last year," says Fitzgerald. "And these people are hitting our pages because they're interested in the information."
While TBRN tracks its visitors through Web Trends, Fitzgerald admits she doesn't pay a lot of attention to the data. "I'm not a slave to the numbers," she says. "I know people are visiting our sites. And I know they're reading our newsletters, because they respond to them. They say they print them, circle the books that interest them, and then buy the books at the bookstore. They're not just clicking on the Amazon button on our site, although many, of course, do."
The AuthorsOnTheWeb.com fees for building and developing websites are the biggest piece of TBRN's revenue pie, and placement fees for featured promotions are the second-largest chunk. "That's major money compared to our affiliate revenue," says Fitzgerald. TBRN also offers paid advertising on the right-hand side of its site pages.
"Our reputation in the marketplace—among authors, publishers, and readers—is that we over deliver, and I always want that to be the case. I really love what we're doing and what I do every day," she says with enthusiasm—and, of course, passion.