If you're experienced in online copywriting, you know that "you" is generally considered to be one of the most effective copywriting power words, ranking right up there with free, new and save.
As direct marketing legend Herschell Gordon Lewis says in The Art of Writing Copy, "Unless the reader regards himself as the target of your message, benefit can't exist. Benefit demands a 'We/You' relationship."
Among Mr. Lewis's other favorite copywriting power words:
free
free gift
limited time
right now
surprise
hot
first time offered
not sold in stores
good only until [DATE]
Don't miss out
I'll look for your order
Try it at our risk
[text_ad]
Online copywriting borrows from magazine covers
Today's online copywriters are a hybrid of journalist and marketer, employing the best skills of both crafts. We—and I include myself in this group of online copywriting hybrids—have broader concerns that inform and influence the words we choose.
They boil down to two fundamental questions:
What are the keywords that people use to arrive at your website?
What words in email subject lines trigger the highest open rates?
Here's a list of copywriting power words used by one of our former clients who was very successful in transitioning from a legacy magazine model to a digital-first business model. These words were posted on office walls, and were used interchangeably for newsstand magazine cover lines, promotional copy, and email subject lines:
Improve
Trust
Immediately
Discover
Profit
Learn
Know
Understand
Powerful
Best
Win
Hot Special
More
Bonus
Exclusive
Extra
You
Free
Health
Guarantee
New
Proven
Safety
Money
Now
Today
Results
Protect
Help
Easy
Amazing
Latest
Extraordinary
How to
Worst
Ultimate
Hot
First
Big
Anniversary
Premiere
Basic
Complete
Save
Plus!
Create
The list was compiled by Curtis Circulation Company, a leading national newsstand distributor of magazines, and Linda Ruth of Publishers Single Copy Sales Services, by studying best-selling magazine covers.
[text_ad]
Used judiciously in online copywriting, power words can grab a reader's attention and help communicate and persuade. But they are not a substitute for formal structure. Good online copywriting requires an orderly format that moves the reader along to a purchase decision.
Power words can be, well, powerful, but they do not work without context. Power words in online copywriting need to be used in cooperation with all of the other tools in the copywriter's bag of tricks.
We also recommend tools like SubjectLine.com, and the Email Subject Line Tester to help develop effective, compelling subject lines that withstand sophisticated SPAM filters.
We also like CoSchedule's Headline Analyzer.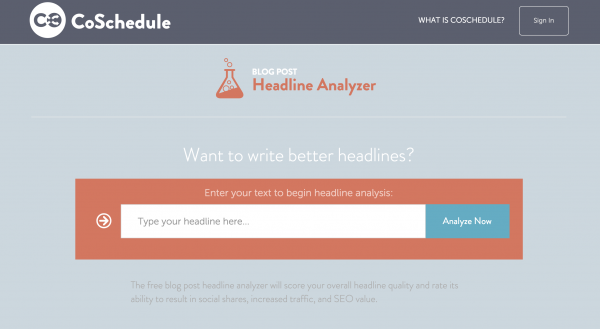 … and the old trusty  Emotional Marketing Value Headline Analyzer from the Advanced Marketing Institute.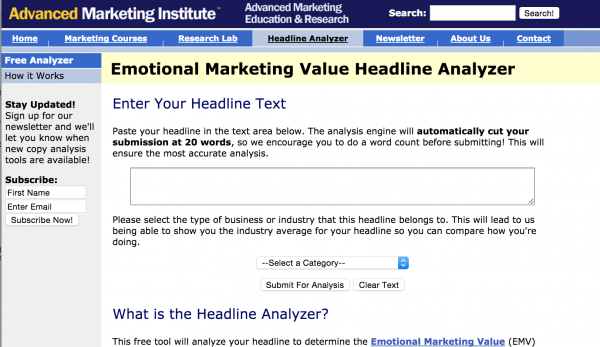 Additionally, a newer tool is Sharethrough's headline analyzer which gives you a scorecard after you enter your title.
Also, be sure to study Google Analytics to find out which terms consumers are using to get to your website, and use those liberally. Together, all of these tools can help you write more effective headlines and discover the online copywriting power words that work best for your company and industry.
What are the power words that seem to perform in your efforts? Let us know below. 
This article was originally published in 2012 and has been updated.