The audience development story of consistently great content, loyal fans, and a Facebook algorithm change that appreciates all the above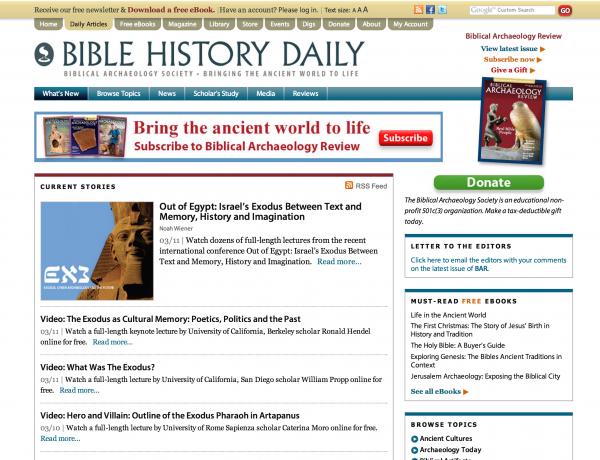 Over the past few months, several of our clients have seen tremendous growth in social media. While some businesses are complaining that their visibility has gone down since Facebook tinkered with its algorithm, these publishers have seen just the opposite.
Normally you wouldn't expect Biblical Archaeology Review, the leading nonsectarian forum for the discussion of Biblical archaeology, to be a raging success in social media. It even surprised them. On Facebook, BAR has more than 80,000 fans and each post gets anywhere from 300 to 3,000 likes, even links to articles, which tend to be the least effective for other brands.
From an outside view, I say, "BRAVO!" and gawk at their ability to delight and engage a very passionate, niche audience. This is why we love niche publishers!
Sixty thousand likes in the past four months
I spoke with website Editor Noah Wiener and Robin Ngo, Assistant Editor, to find out what they've done and why they think they've been so successful.
Let's start with the timeline. BAR joined Facebook in January 2013 and quickly gained 15,000 fans from their loyal readers (not too shabby, huh?). Over the next 11 months, another 5,000 fans trickled in.
But then something happened. "Since mid-December, we've shot upwards, gaining thousands of likes per week. Less than four months into this growth spurt, we have well over 80,000 likes, and there's no indication of this slowing down," says Wiener. "There must have been some change in the Facebook algorithm four months ago that was kind to us."

Wiener says  the style of their posts haven't changed: "One to two line descriptions with links to our articles, with a heavy bend on SEO-friendly, popular blog posts or question-based polls/games that encourage discussion; for instance, showing a picture of an obscure artifact with multiple choices for what it could be, then posting the answer a few hours later."
"The biggest change I've noticed is in our consistency—Robin [Ngo] has queued up posts to go out regularly, including on weekends, and has focused on our most popular and discussion-friendly material."
They are now posting several times per day. They rotate through these types of posts:
New Bible History Daily posts
Old Bible History Daily posts (a strategy far too neglected by many publishers!)
ebook promotions (to collect email addresses on the site)
Books & DVD promotions
Contest / trivia posts
Travel program promotions
3rd party news (links to other sites)
Ads do poorly, says Wiener, but that's not uncommon in social media. For this, I offered him two recommendations that you can try, too:
Use Facebook insights to find out your most popular posts. Use this knowledge to come up with a unique promotion. For example, if a post on the Dead Sea Scrolls had the most likes this month, promote an ebook on the same topic, or offer a free book on the Dead Sea Scrolls when they subscribe to the magazine.
Create time-sensitive, exclusive promotions. One of the main reasons people "like" brand pages is for discounts, so apply this logic to publishers and you can assume that people also like your page to hear when you offer a sale. Combine this knowledge with the fact that posts fly by in the blink of an eye in the Facebook newsfeed and you have your next promotion: a one-day discount exclusive to Facebook fans.
Wiener also notes that third party links to other sites and stories do extremely well, but they don't offer any traffic to BAR. However, the nice thing about posting third-party stories is that you can see which topics do well and tackle them yourself — an A/B test of sorts.
"I often edit the Facebook posts heavily before publishing — the automatically generated title, description, and picture can be changed and made to better represent what is being posted," says Ngo. "Another change in strategy is including a description of the post that doesn't necessarily repeat the title of the article being shared. In January, Facebook rolled out with a way to schedule posts, and I also discovered TweetDeck, so these have been immensely helpful in scheduling posts to run every few hours. I usually run 3-4 posts on weekdays and 2-3 posts on weekends."
If I may add another comment from the peanut gallery, posting on the weekends is a great strategy because there is less noise from other brands and companies on the weekends.
"While we had began this new strategy around September, we didn't see a change in our engagement until December, with the expected Christmas-time searches that led people to us," says Ngo. "Our engagement was reduced in January and now it was rocketed back up in February. We used to get about a dozen "likes" per day, but in December and now in February we're getting thousands."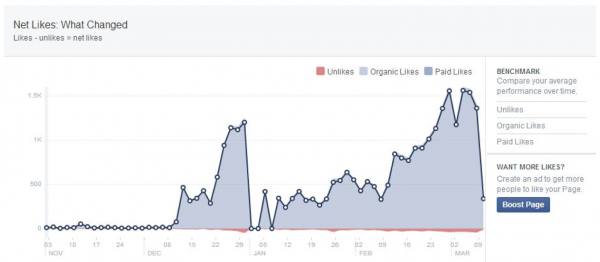 "While upping the quality/variety/frequency of our posts have probably helped us some, it does seem that Facebook's reworked algorithms are most responsible for increase in engagement. These are complementary efforts and I'm glad we're doing well."
What has changed with Facebook?
Over the past few months, Facebook has gotten smarter in some ways and dumber in others. What they're doing now is offering more visibility to pages where fans engage the most. So if you have an active following (like BAR) and are doing a good job getting people to"like" and respond (like BAR), then more people will see your posts. And the people who see these posts are the ones who visit your page frequently.
Sounds like the rich get richer, right? That's where they get dumb. If you're a small business with a few hundred followers, you need to be posting pictures of cupcakes and puppies all day to get the response it takes to turn a low visibility page into a high visibility page. If you continue to post things that people don't respond to, then fewer and fewer people will see the posts you put up. You might have to pay to promote your posts so that your fans see and like them. For businesses with a low credibility score in the Facebook algorithm, they'll need to spend some money on sponsored ads in order to get more likes in order to get more visibility on a non-paid basis.
But here's where I think BAR is actually getting its new mojo.
If a fan "likes" something that BAR posts, that action shows up to all of their friends. It doesn't show up on their wall, but it holds the even more prestigious location of the newsfeed, telling everyone they're friends with that they liked an article. This auto-generated post on behalf of the user links to BAR's page and shows the post liked. If they "like" a post on BAR's website, it shows up there too.
For example, I asked our editor Patrick Hughes to "like" any post on BAR's Facebook page. Within seconds, this appeared in my newsfeed on Facebook: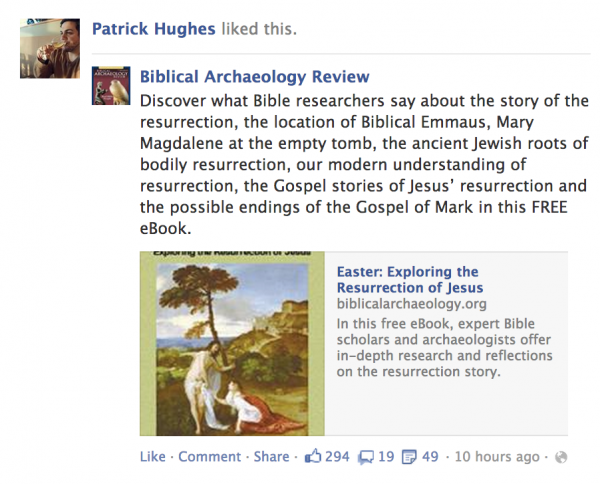 It's one of the major tweaks of Facebook's structure that has changed, and when BAR is getting sometimes 2,000 or more likes on a post, that post is getting shared in the newsfeed of 2,000 people.
Facebook has always shared things you "like," but the action was reserved for when you wanted to share something specific on your timeline. Now, Facebook just shares everything you "like," anywhere on the web.
I don't think this is exclusively what's happening right for them, but it surely plays a big part. The other part? Great content. You can't get that many likes, shares and comments without it. So again, bravo to Noah and Robin.
It's great to see BAR skyrocket to social media stardom. Do you have a similar story? Any strategies you'd like to share?