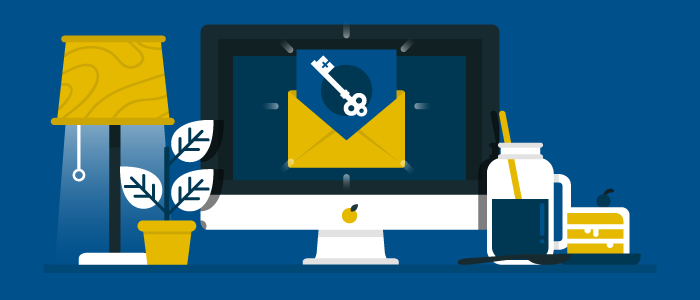 Many years ago, we developed the Email Newsletter Scorecard with our friend and email marketing expert Jeanne Jennings. Let's look today at some email footer examples that reflect section #9 in the scorecard: the all-important footer. In addition to abiding by CAN-SPAM laws, having a footer resonates with the email recipient because it gives them a way to communicate with your brand, manage their subscription, or opt-out of your list if they choose. Providing easy access to these options makes your email newsletters and email spotlights more reputable.
Readers have come to expect that they can find this information in the email footer.
So, when developing or scoring your own email template, make sure you can check these five best practices off the list:
The email includes a mechanism to allow readers to unsubscribe. It's also a good practice to have these links in your header to deter users from hitting the misleading "junk" button on their email client.
The email newsletter includes a U.S. Postal Service address for your company – this adds credibility and also makes you CAN-SPAM compliant. While technically a P.O. box satisfies the CAN-SPAM requirements, we've read studies about site users' reluctance to engage with websites where only a P.O. box is disclosed. So beyond CAN-SPAM requirements,  a physical street address inspires more confidence.
The email newsletter includes a link to your privacy policy – this helps with getting whitelisted.
The email newsletter provides a link to a subscription management page where subscribers can update their email address or change their preferences (if you have more than one list).
The email newsletter includes a copyright notice to protect your intellectual property from those who might take it as their own.
[text_ad]
Three Email Footer Examples
The following are a few good email footer examples, including a few who have done something very smart by adding their social media subscription links to the bottom of their emails. Why is it smart? Because not only can it distract a user from unsubscribing, but it also helps keep them on your social media list, even if they unsubscribe from your email list.
Here's a comprehensive email footer from National Geographic.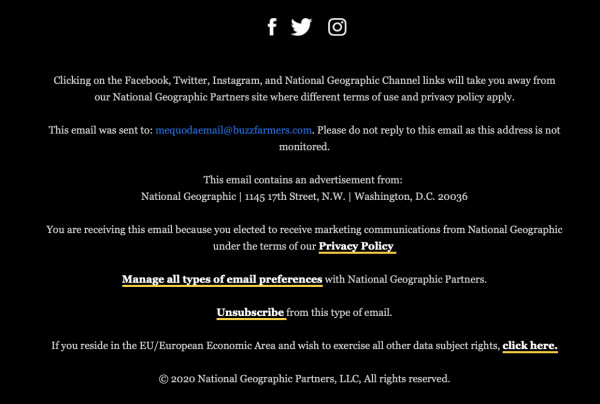 The Program on Negotiation at Harvard Law School includes a "Forward to a friend" link. Not to mention, a note that if a friend forwarded it to you, you can subscribe as well. This is a standard footer template we use across many of our publishing partners' email newsletters.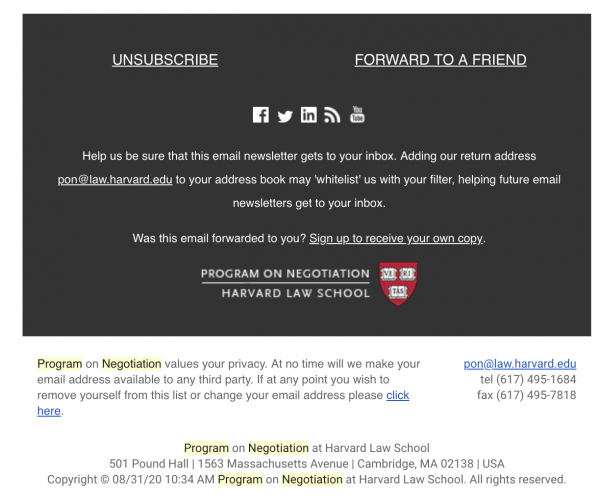 Also, remind the subscriber to whitelist your email address. Just because someone got it today, that doesn't mean their email filter will respond the same tomorrow. "Smart" filters that are supposed to "learn" seem to change their minds regularly. Yankee gets it done here.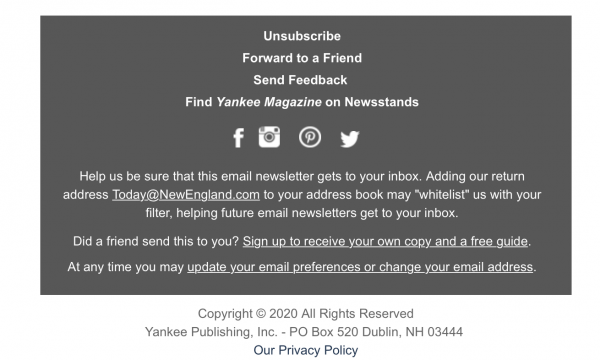 Do you have any email footer tips and tricks you'd like to share with us for future articles? Leave a comment below.