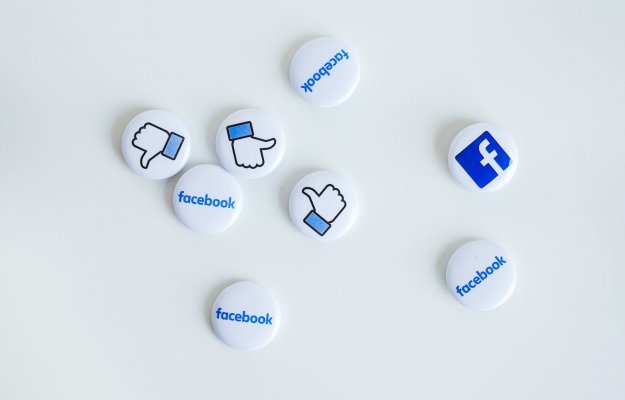 You may not know it, but there are things you could be doing on Facebook right now that are against their rules, or are strongly discouraged and that make you a Facebook black hat marketer.
You may have been violating these rules in the past, too. Did you know, for a long time, you weren't allowed to hold a contest on Facebook without their explicit permission? That's right, all of those contests publishers and brands were hosting on Facebook could have actually gotten them kicked off the platform, because most didn't even know that was in their agreement when they created a Facebook page.
Facebook has simmered down on that particular rule, but there are more developing almost as quickly as Google updates its algorithm. We wrote about the Facebook algorithm a while back and how to improve Facebook reach, all of which still applies, but as they are continuing to add criteria, it's always good for a refresher.
[text_ad]
Since we get a lot of questions about Facebook black hat and white hat practices, we wanted to create a quick checklist for you to run through, and an opportunity in the comments to add anything else you've discovered.
Facebook Black Hat Practices
Don't buy Facebook followers. I know the temptation is real, and there are sites where you can buy 2,000 fans for $5, but the risk is huge. In fact, it's not a risk, it's a guaranteed doomsday for your Page. The way Facebook's algorithm determines your post visibility is by how engaged your fans are, not by how many you have. So if you have 2,000 fake, inactive fans (I assure you, they are not real people), your visibility will plummet and never recover until Facebook finds and deletes the fake accounts.
Don't promote your page for likes. OK, technically this isn't black hat, its actually completely legal, but we've talked to publisher after publisher who has paid Facebook to promote their page, only resulting in a flurry of spam bots (not from Facebook) who will like your page and never visit again. And thus, visibility plummets. Same consequence as before, only you paid good money for it this time. The solution, until Facebook figures out how to stop this (it's been years, they can't seem to keep up), is to pay to "boost" your posts instead. In fact, we recommend these ads because they're cheap and can result in a lot of shares when used on content you see is already getting an abnormally high amount of engagement.
[text_ad]
Take it easy on LIKE-bait. Facebook has cautioned businesses who are in the business of writing posts starting with like-bait, for example: "LIKE this if you like puppies." The reason is, users find these posts to show up higher in their news feeds, but aren't very relevant. However, we've been digging into the research on this, and it's not so cut and dry. This post formula actually works well for publishers getting likes on a post, as long as you're not posting things like this, which was Facebook's example of a black-hat practice:
More natural posts that use contextual language related to the post itself seem to still be working well for publishers and increasing the visibility of their posts, for now. Like Google's algorithm, we're guessing that it all comes down to page reputation, and most publishers have great ones.
Facebook White Hat Practices
Talk about trending topics. When you publish content or posts about what Facebook considers to be a trending topic, your visibility will be increased and show up closer to the top of the timeline.
Come up with more creative posts. You're a publisher; you post lots of links. But we're living in the age of visual cues, so when posting a link to your content, be sure the image makes people want to click, like or share.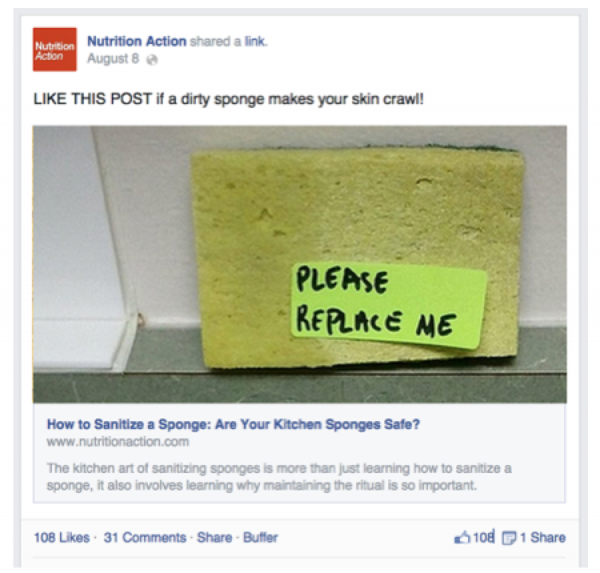 Improve your posts. If Facebook ever stops pulling in your titles and images when you try to post a link, or if you recently updated an article and added a new image or title, you can use Facebook's debugger tool to re-scrape the page to pull in the right information to create a proper Facebook post.
Cycle through post types. Mix up your language and post types (text, link, image, video). That way, your fans won't be bored by your content formulas and you can determine which types work best for your content. Heck, post a funny photo, or host a caption contest once in a while. Those types of posts get more likes and comments, and will increase your visibility overall for your other posts. You can also mix up how you write the posts – ask a question, quote the article, write a provocative statement about the article, and so on.
Boost visibility naturally. Publishers are very concerned about the fact that only a certain percentage of their page fans are seeing their posts. Facebook makes this determination based on the quality of your content – which they determine by how many people like, share and comment on it. So, while one of your goals in social media is to boost SEO and to get more site traffic, you can only do that by increasing the number of likes and comments on your posts, which in turn tells Facebook to show your post to more people. Here's how your reputation affects visibility:
If you get a lot of comments/likes/shares, post more.
If you don't get many comments/likes/shares, post less.
Why? One poor-performing post will decrease your visibility, and one high-performing post will increase it.
Facebook has never confirmed this, however, by analyzing enough pages, we see a correlation.
Schedule posts ahead. Think your articles can only be promoted once on Facebook? Think again! Our schedule for promoting posts is once the first day and then again six months from now, usually using a different post formula. You can use Facebook to schedule these posts through your page.
Now it's your turn, what works for you on Facebook? What doesn't? Share your experience with the Facebook black hat and white hat marketing with the rest of our Mequoda readers!
Editor's note: This article was originally published in 2014 and has been updated.
[text_ad]