3 reasons why SEO is necessary for success in online journalism
Last week at the Mequoda Summit East 2011, I took part in teaching our SEO Workshop.
Norann Oleson, Mequoda's Keyword Specialist, led the first part of the workshop, where she showed the audience how to compile a keyword universe by utilizing the Google Keyword Tool. Attendees discovered how to determine annual search volumes for keywords and competition on those terms.
During the latter part of the SEO Workshop, I discussed how to use SEO copywriting, which is used to improve search engine visibility by writing to be found.
Beyond the eight steps successful SEO copywriters embrace, it's necessary to emphasize that SEO copywriting is valuable to writers and audience members alike. This is a concept that journalists have had a problem with in past SEO workshops.
During such instances, I've witnessed journalists scoff at SEO copywriting, assuming it's some sort of tactic to trick audiences into going to a website. One could imagine this perception developed due to older black hat SEO methods used by webmaster who filled web pages with SEO keywords, proving absolutely no content.
In most cases, those days of black hat SEO are over. Or, at the very least, those websites utilizing black hat SEO tactics aren't receiving high ranks in Google search queries.
To inform journalists properly, there are three main reasons why SEO copywriting is a necessity for success in the digital world.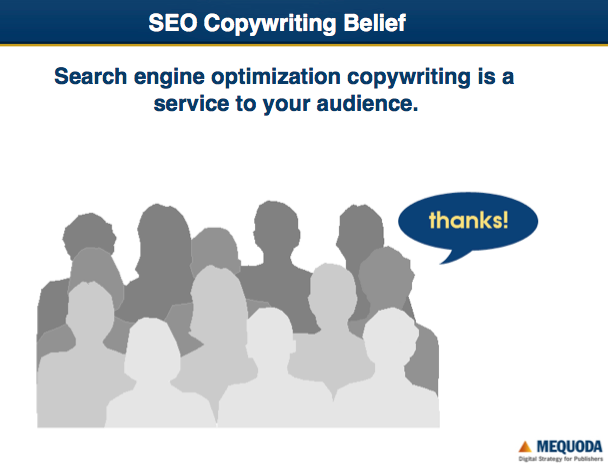 Three reasons why you should master SEO copywriting
Reason #1 for SEO copywriting: SEO copywriting is a service to your audience. Great SEO copywriters use keyword phrases and provide detailed content associated with those keyword phrases. When audience members are using search engines to find content that interests them, this optimized content will prove beneficial to finding the information they seek.
Reason #2 for SEO copywriting: SEO copywriting is fundamental to growing your online publishing business. Search optimized content will live in search engines when created properly. This can help build your audience at all times of the day as Internet users from all over are using search engines to find content that interests them.
Reason #3 for SEO copywriting: Great content is sharable. After writing great content, taking a break and then optimizing it with your keyword phrases, you have the opportunity to directly share it with your audience. The searchers who find your content in search engines can also share it to their social networks upon finding it. Since the social aspect has grown online, always put your best content forward.
If you want more tips for SEO copywriting, download a free copy of The SEO Copywriting Handbook, which teaches all you'll need to know for using SEO copywriting to gain more visibility in Google.