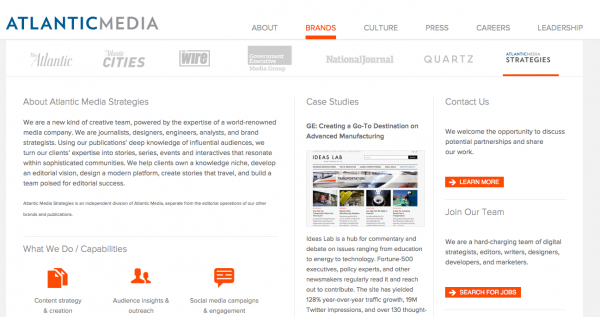 Atlantic Media Strategies is proving shrewder by the day in its approach to consulting, Digiday reports.
The firm's most recent move involves Atlantic Media writing articles and posts for sponsors of its Aspen Ideas Festival, which include the likes of Shell and U.S. Trust.
"It's a particularly ingenious business model: Atlantic Media gets paid when people attend the event, when companies sponsor it, and also when brands pay its separate content agency to cover it from their perspective," Ricardo Bilton writes.
"The move is part of the greater pitch by Atlantic Media Strategies, which says that Atlantic Media's expertise running successful Web properties has made it well-equipped to teach other companies how to do the same. The operation, launched in 2012, is one of the many efforts by media companies trying to offset declines in the publishing industry by expanding to separate-but-related businesses."
Digiday also cites The Wall Street Journal and Vice as publishers successfully creating content for brands, while pointing out that Forbes licenses out its CMS.
To read more about Atlantic Media Strategies, visit Digiday.