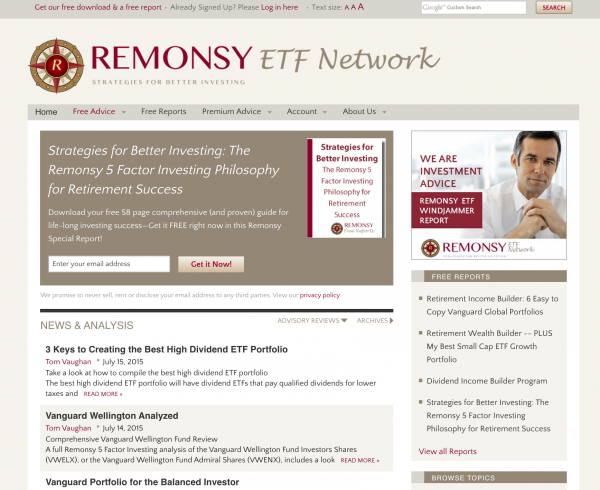 Remonsy's daily content in their Mequoda System is used to drive newsletter and premium report sales
One of Mequoda's websites is the Remonsy ETF Network, whose name is a portmanteau for Retirement Money System. Remonsy's founder and investment guru Tom Vaughan started his first money management firm at the age of 23. Over the past 26 years, Vaughan has created over 6,000 financial plans, managing over $200 million in assets.
He decided to launch Remonsy ETF Network to help do-it-yourself investors understand exchange-traded funds (ETFs) better.
The Remonsy ETF Network bases all of its content on their investment philosophy known as Remonsy 5 Factor Investing. Vaughan developed this philosophy after years of research and experience learning what has worked for his clients and what hasn't. These are his five factors:
Scientific asset allocation models
Tax-efficient investing
Low-cost ETF funds
Opportunistic portfolio rebalancing
Market timing doesn't work
To teach his philosophy and help do-it-yourself investors get ahead managing ETFs, Vaughan recruited Bob Kaslik, formerly the SVP, Marketing of mega-successful Mequoda Systems at Interweave, to head marketing initiatives for Remonsy ETF Network. Chris Sturk, who has years of experience operating Mequoda Systems, is tasked with managing the site's editorial content.
Essentially, Vaughan is working with a Mequoda System dream team!
The Remonsy brandwheel 
Every publishing brand has a product portfolio that we call a brandwheel. By looking at this brandwheel you can see not only the different products that a publisher has in their arsenal, but all the many opportunities there are for content recycling.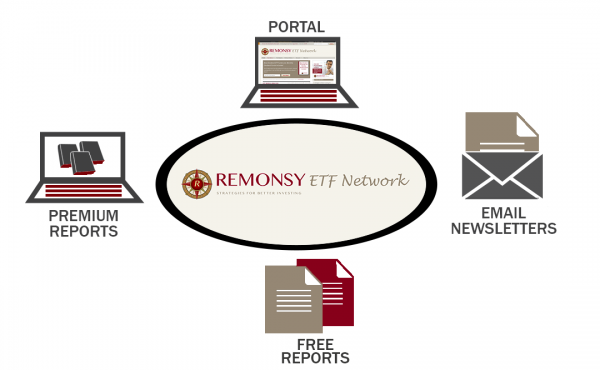 Portal / Blog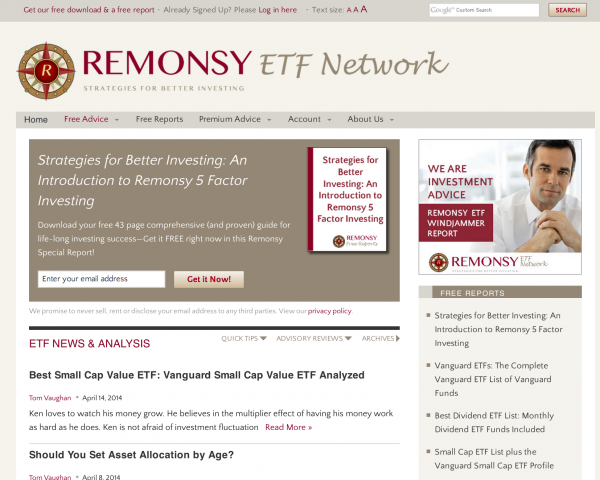 The Remonsy blog is updated every weekday with an article that provides how-to tips for investing in ETFs and portfolio building. Many posts will choose a certain ETF and analyze it, often comparing it to other investment options and using Remonsy 5 Factor Investing to accurately select the top picks.
The original content from the Remonsy ETF Network blog is promoted through multiple mediums, including email and social media. With the help of Vaughan's extensive knowledge, and the aforementioned dream team, Remonsy ETF Network is beginning to build its community.
All of the content that hits the web is optimized for Google, and press releases have successfully been used to drive more traffic to free report RCLPs and article pages.
After launching in 2014, Remonsy ETF Network has published over 200 articles and their website traffic is steadily increasing.
Email Newsletter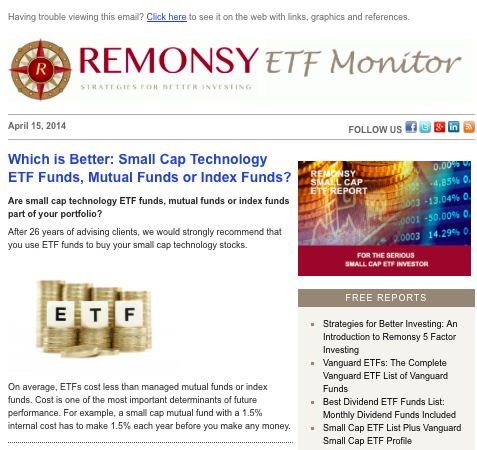 The Remonsy ETF Network has four different email newsletters: The Remonsy ETF Monitor, which shares the editorial content to subscribers; The Remonsy Premium Report Spotlight, which shares information on the yearly subscription-based investment newsletters; The Remonsy ETF Free Report Spotlight, which serves as a circulation builder because recipients are encouraged to forward the email with downloading directions to friends or colleagues; and the Remonsy Weekly, which combines all of the posts published that week.
Free Reports
Remonsy's four free reports were created with original content from Vaughan's decades of experience. Much of the content has since been repurposed onto the blog and into email, and is optimized for search engines. Like all Mequoda Systems, they're using 3C Conversion Architecture so that every article on their site promotes a free report and builds their email list in the process.
Premium Reports
Remonsy offers three different premium reports: Remonsy ETF Windjammer Report, ETF Dividend Income Report and ETF Small Cap Report. A subscription to each report includes a monthly update to sample portfolio of relevant ETFs that were thoroughly researched, including analysis with efficient frontier software. A subscription to a single report costs $97 annually, but an investor can subscribe to all three for the bundled price of $147.
Vaughan's approach to content creation and promotion is a perfect example of content recycling utilized in a successful Mequoda System.
If you have interest in learning about investing in ETFs, I highly recommend reading the reports from remonsy.com. This invaluable information comes from a very successful investor who has helped thousands of investors secure their futures.
This article was originally published in 2014 and is updated frequently.