Digital publishing news for October 29, 2013
Talking New Media is reporting that TIME finally will release a retina edition of their iPad App. "Starting with the November 4th issue, TIME Magazine's iPad edition will support the iPad's retina display. The update is labeled 27.3.2." It's the first update to the app in a year. I wonder if we'll see more updates to the app in 2014?
New York Times Premieres New Website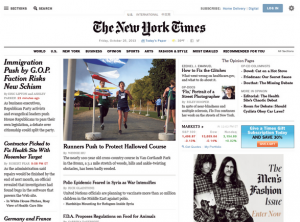 If you worked for the New York Times, you would have been able to take a look at the new website yesterday.
If you aren't an employee of the New York Times, you can see some screen shots of the new website – which will be released in 2014 – in this article from Nieman Lab.
Justin Ellis writes, "At first glance the redesigned NYTimes homepage may not appear that different from its current state. But a closer look shows a front page that features new fonts, and has rearranged the way users navigate on the Times site. The site index on the left hand side of the page has been dropped to the bottom in favor of a sections menu that mirrors the Times iPad app. The new homepage also has a fixed navigation bar (which includes "Most Emailed" and "Recommended For You" among sections like World, US, New York, among others), that stays with users as they scroll down the page."
Martha Stewart Omnimedia Names New CEO
Ad Week is reporting that Daniel Dienst has been named the new CEO of Martha Stewart Omnimedia. Lucia Moses writes, "Dienst recently joined the MSLO board, but he might not be the first person who comes to mind to run the upscale lifestyle company; he most recently was the CEO of Sims Metal Management, a scrap metal recycling company, a post he held from 2008 to 2013."
The Atlantic Promotes Associate Publisher
Hayley Romer, the former associate publisher of The Atlantic, has been promoted to vice president and publisher after being with the company for a year and a half.
Richard Horgan writes, "Prior to joining The Atlantic, Romer spent five years at the Condé Nast Media Group, most recently as executive director of corporate sales, and managed the luxury account list at Forbes Media. She began her career in publishing at American Heritage magazine."
Men's Journal Promotes New Publisher
Jann Wenner, the founder and chairman of Wenner Media, recently promoted Vincent Krsulich from the associate publisher of Men's Journal to publisher.
Steve Cohn writes, "Krsulich's MJ credits include launching MensJournal.com and developing custom content programs for such advertisers as Land Rover and Porsche. He also helped create the MJ Gear Lab collection holiday pop-up stores in Dec. 2011 and 2012 in Chicago."