Are you missing any of these cha-ching worthy event website elements?
Publishers aren't strangers to events. B2B publishers often get more involved in audio conferences and webinars, but both consumer- and business-facing publishers host live events and often sell access to these with event websites.
Event websites have their own business models. They are built to sell seats to an event, include e-commerce capability to sell those seats, and may also provide access to event materials. Additionally, they may sell membership or one-time access to on-demand event videos.
Some non-negotiable parts of your event website include:
Pricing and early-bird pricing
Early-bird pricing is common in event marketing, but it requires either a sophisticated system for tiered and delayed pricing, or an online editor who's paying close attention to your early bird marketing schedule.
Speakers and presenters
Every event website should have a speaker page, as it can be the main selling point in some cases. Below, take a look at Yoga Journal's teachers, faculty, and presenters page which covers everyone involved in their yoga events. They also offer audio recordings of the speakers at their events.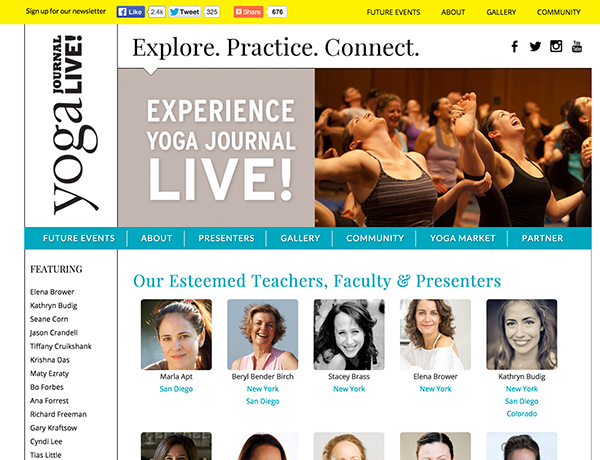 Exhibit / sponsor info
If you accept sponsors for your events, then make it easy for them to find out how they can get involved.
Itinerary
Attendees will know what to expect if you can provide them with an agenda. The Biblical Archaology Society, which publishes Biblical Archaeology Review, also sells tickets to tours, seminars, and cruises. On their dedicated event pages, they host a large detailed agenda of each day including times, titles of sessions or events, and detailed descriptions.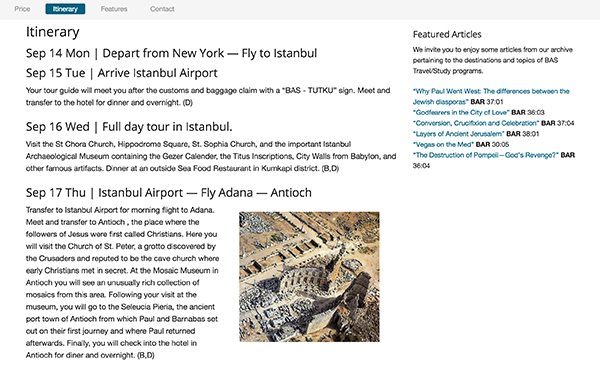 What's included
Speaking of BAS, they also provide a detailed account of what's included in their ticket: all flights, dinners, transportation, tips, etc. And also what's not: A Turkish Visa, drinks, travel insurance, etc. If you're not bringing people across the globe and are simply hosting a conference, you can tell attendees whether or not their lunch or hotel is included in the price, for example.
Who should go
When determining whether they should attend, potential attendees will often seek out their job title in session descriptions in order to know if the sessions will be too high or low level for them. They may seek out testimonial videos, or a simple list of job titles recommended to attend.
Travel information
If you're offering a discount at local hotels, include those links, phone numbers and codes on a dedicated location and travel page. Also include the closest airports and driving directions from a local city or different points in the city.
Offline and online networking opportunities
Cocktail party? Let 'em know! Meetup luncheons? Let 'em know! If your event website has a blog, encourage commenting so attendees will rally around you. Create and promote a discussion board or Facebook group that lets attendees get to know one another before the event, especially if you're in an industry where people attend every year. HOW hosts their annual HOW Interactive Design Conference with an attendee Facebook group. Create a hashtag that people can use in their social media efforts to connect your attendees even further, like Interweave's #BeadFest. Beadfest also has 9,500 likes on Facebook, so they're cultivating a community right there. Farm Progress' Farm Progress Show has more than 12,000 fans on Facebook, and their feed is embedded on their homepage.
[text_ad]
Negotiable parts of your website can include:
Event content
An event website is focused on e-commerce, but may use complimentary subscription website business models, including a blog. For example, Farm Progress Show uses a blog to give updates about the show year-round.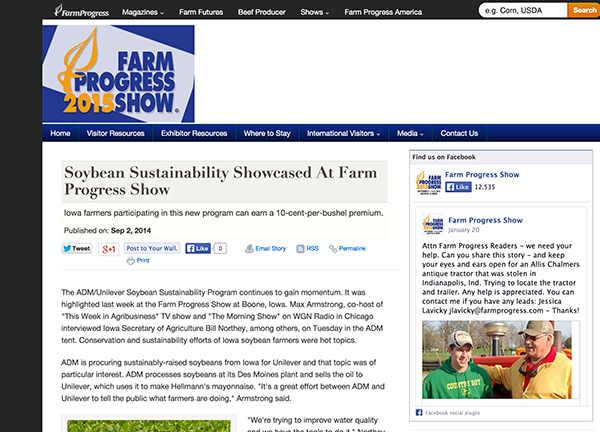 Social content
Have you asked your speakers to participate in social chats on Facebook or Twitter? On Tuesdays from 12-2pm EDT, Content Marketing World hosts a popular #CMWorld chat featuring different CMWorld speakers from week to week. They use these chats to populate new blog posts on their event website blog and get attendees pumped to see the speakers.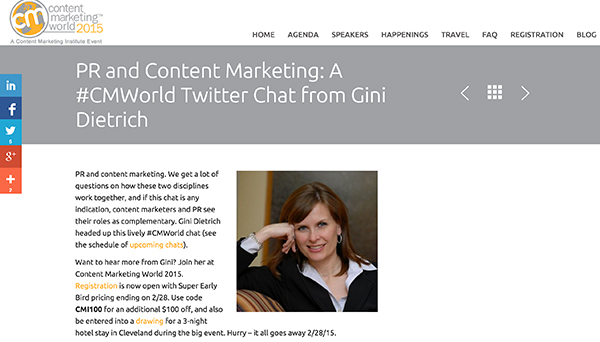 On-demand content
If you host events, aspire to be more like TED. Maybe you won't have 1900+ on-demand talks to offer right away, but it's something to aspire to, right? Then, decide if this content will be free and used to market future events, or if it will be member-only content, used to drawn up additional event revenue.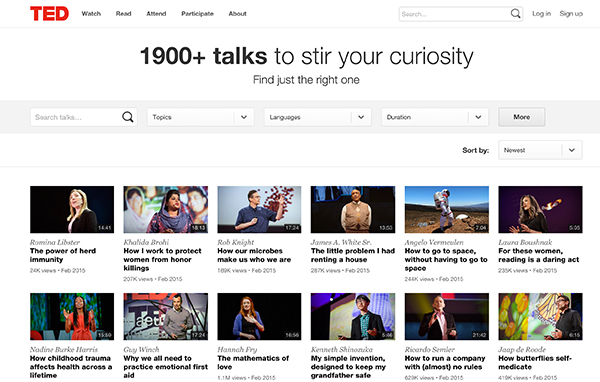 TED offers most of their talks for free on-demand, and each video has its own dedicated page, which is beautifully designed. These video pages come with the event name, date, and location. They also include an interactive transcript and social media buttons that encourage sharing of the talk. TED could do a better job at taking the video watcher from the video page to an upcoming event sales page, though, a huge opportuntity they're missing out on.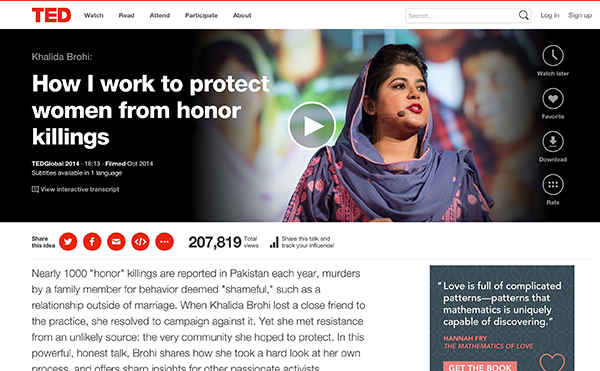 Not to mention, all of this live content can be recycled into live webinars. Or, you can create webinars that get recycled into your live events by inviting your speakers to take their presentations on the road.
Do you have an event website? What else do you include?