The Most Profitable Subscription Website Business Models
By— Kim Mateus • 05/04/2017
Coming up with the right subscription website business model(s) is usually the biggest stumbling block for those wanting to get into this business.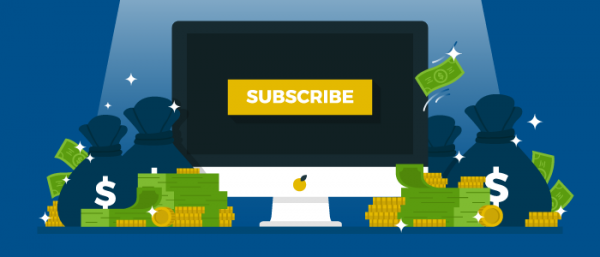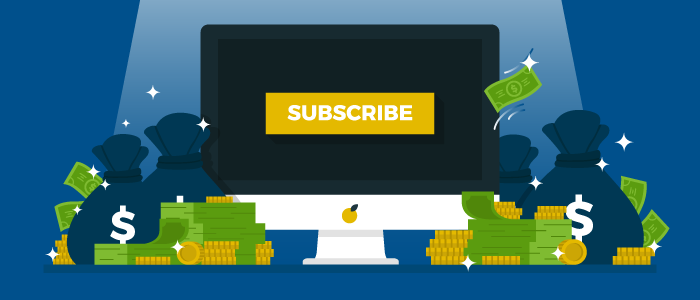 Choosing your content focus is a business-critical decision, as the focus you choose pretty much dictates your chances of success with a subscription website. However, more serious than the focus on content for a subscription website is the business model. It's necessary to know the most ideal business model(s) for publishers, to be able to develop your strategic plans for CAROTME (content, audience, revenue, organization, technology, measurement, and economics).  Not considering the subscription website business model is a major mistake some publishers make.
What most publishers have is a website network—the all-important centerpiece of the Mequoda System—which defines and determines the organizational architecture required for a 21st century media company to compete effectively and profitably.
A website network represents the product portfolio of a publishing  or media company. The network architecture comprises a free, content-rich, relationship-Portal that is surrounded by—and feeds traffic to—one or more marketing satellites, where the users can be monetized.
Below, we'll show how a publisher, in this case Yankee Publishing Inc., has created a website network with several subscription website business models and transaction business models.
6 Subscription Website Business Models
Mequoda has identified three discrete models for subscription websites, and three membership websites that are often referred to as subscription websites, which is why we've bundled them here. They're defined as subscription website business models by the fact that users are "pushed" content on a scheduled and regular basis via their subscription.
Mequoda Portal Subscription Website (free content)
Mequoda Freebie Subscription Website (free content)
Mequoda Magazine Subscription Website (premium content)
Mequoda Advisory Subscription Website (premium content)
Mequoda Club Subscription Website (premium content)
Mequoda Course Subscription Website (premium content)
We recommend that any magazine or newsletter website has a free Portal that helps attract organic website traffic and converts it into new magazine or newsletter subscribers.
Having identified these subscription website business models, we have brief descriptions of them below. In addition, we'll identify four more transactional website business models that publishers are pairing with subscription websites.
A portal content business model is a free subscription website that aggregates content from multiple sources. Portals are intended to build and feed an audience; they are specifically designed for organic SEO marketing, email marketing, list building, and lead generation. Portals publish content for free in a blog-like format, and give away free products in exchange for an email address. The names collected through the portal content business model are used to increase revenue through a magazine content business model and other content business models like events, books, and courses.
By far the most widely used subscription website content business model, portals generate value from both the users and the sponsors.
When a publisher is ad-driven, sponsors pay money while users pay not with money (usually all portal content is free) but with time and information. They spend time viewing web pages, emails, and RSS feeds, thus creating advertising inventory that can be used to sell the publisher's products (internal advertising) and/or sold to third party sponsors (external advertising) on a CPM (cost per thousand), CPC (cost per click), CPA (cost per action), or other sponsorship basis.
Example: New England Today is a quintessential niche portal example. All content is free, and the portal serves, as is always the case with Mequoda Systems, to drive traffic and promote premium websites and products, like Yankee magazine.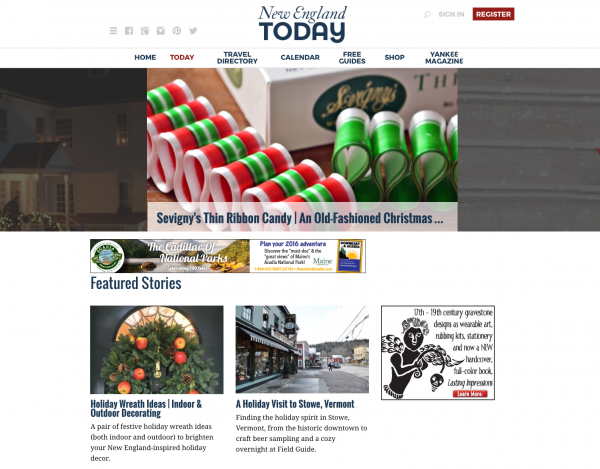 Read more about the portal content business model.
Freebie websites are built to support the Freebie content business model and are just that – free.
They offer free guides, reports, or whitepapers (think "small books") in exchange for a user's email address. Freebie websites are created to provide a strong incentive for a user to provide his or her email address in exchange for getting free content.
Freebie websites generate value by generating leads. In order for a user to access the content on a freebie website, he or she must enter a valid email address.
These leads may be used by the publisher to promote its own products and services and may also be delivered to one or more sponsors. To generate the traffic for a freebie website, a publisher can use paid search but in the long run, Mequoda finds organic search traffic to be more cost effective for most niche publishers.
For this reason we always pair a freebie site with a portal which serves as the primary traffic source.
Example: This business model is closely aligned with the Mequoda Method. It is a part of every Mequoda Gold Member website network and is not one that many other website publishers have adopted. A good example is New England Network's Freebie subscription website which has 10 free guides paired with their free Portal.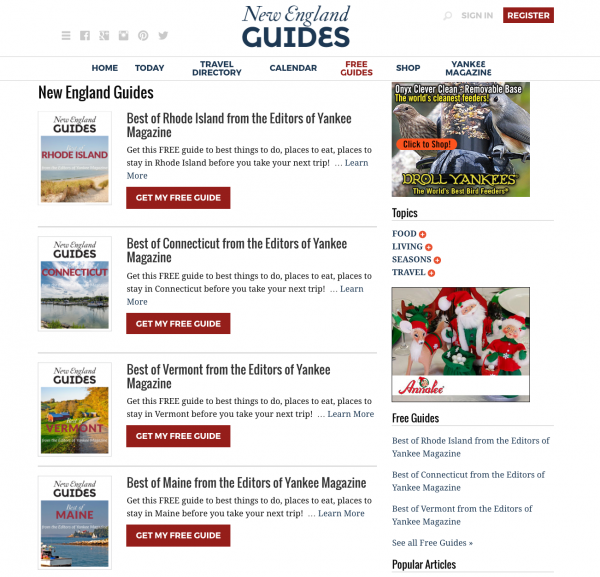 Read more about freebie subscription websites.
The magazine content business model is set up to build subscriptions for a related print or digital magazine and to provide access to issues of the magazine. When the internet dawned, it was one of the first subscription websites invented, as mass media magazine publishers quickly jumped on the bandwagon.
A website is only a magazine website if the user can view or download an issue of a magazine – one that is linear and periodic, has pages and a regular frequency, and can be viewed in HTML, downloaded as a PDF, or downloaded to a mobile device.
Many people refer to any website that carries a legacy magazine brand and magazine content as a magazine subscription website; however, if the content is not organized in a magazine format and issues cannot be viewed or downloaded, it doesn't meet the basic criteria of being a magazine subscription website.
Example: Yankee Publishing has a magazine subscription website for Yankee where subscribers can access the magazine in an HTML format on any device and use a consistent navigation with a Table of Content in the right sidebar to keep their place.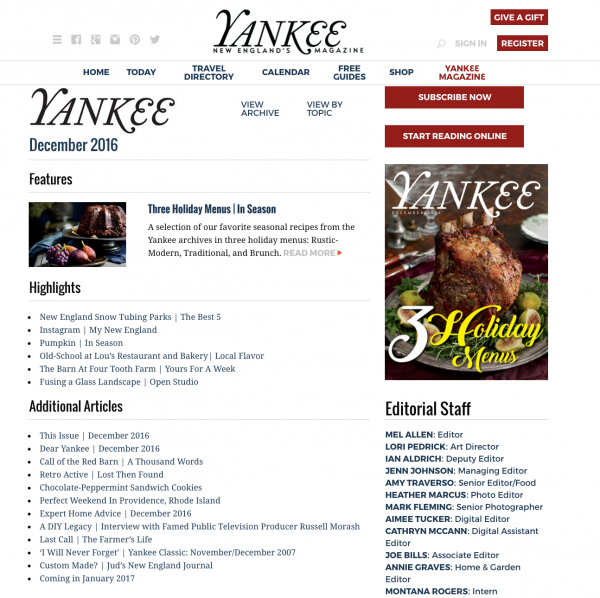 Read more about magazine subscription websites.
An advisory subscription website, often set up for newsletters and formerly referred to as such, is set up solely to sell subscriptions for a print – or, even cheaper to produce, digital – advisory service, often in the form of a newsletter.
An advisory subscription website is commerce-based, with an overall objective of increasing product sales and providing customer service to existing subscribers. These sites are fairly simple: Usually the home page consists of a free area, with content that focuses on the benefits of becoming a subscriber to the related publication – a sales letter – and conversion architecture where a visitor can subscribe.
Some advisory sites have a password-protected private area, where paid subscribers can view an HTML version of the current issue of the print or digital advisory or download it in PDF format, as well as access and/or download back issues and other premium content. Like all premium models, an advisory website is typically paired with an affinity (free) model like a portal or community which promotes the advisory website.
The advisory website does not produce any free content, so the heavy lifting of SEO and social media is left up to their affinity site. Editorial staff can be minimal, though each writer must be an expert in a specialized field, rather than a generalist as many magazine editors and writers are.
While easier and cheaper to publish than glossy magazines, advisory newsletters, particularly those in the investing space, have always commanded higher prices than even the fattest consumer magazine, where the urgent need to maintain advertiser rate base led over the decades to insanely low prices for a year's subscription. Thus an aspiring publisher, with expertise in a specific field, can most easily jump into the advisory space.
Example: New England Network doesn't have an advisory, so in order to show you the this subscription business model, let's look at The Successful Investor. At TSI Wealth Network, you'll find they have a free portal with multiple free articles publishing every day, which is paired with an advisory subscription website business model. If you're a subscriber, when you click into any of their newsletters, you'll get the option to view the index of each issue and download the PDF or view the issue online.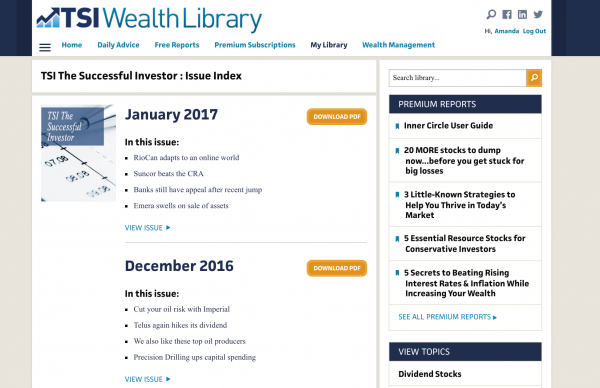 Read more about the newsletter subscription website.
Club Subscription Websites
A club website is a powerful content business model that provides paying members with access to multiple products and benefits.
Club websites are sometimes used to create a community where people with similar interests can learn and digest content. Some club websites also allow members to share and exchange goods or services through member profiles.
At a minimum, publishers with club websites typically provide access to the club through a central member login, where the member logs in and can read a magazine, browse book content, or watch video content. The publisher may sell each product individually on their site through a magazine content model, book content model, or course content model, but with the club, they bundle all products together with a universal-access membership.
Example: TSI is a great example of a club subscription website.  Members of Pat McKeough's Inner Circle get access to ask Pat questions that he then shares with the rest of their subscribers in their Q&A forum.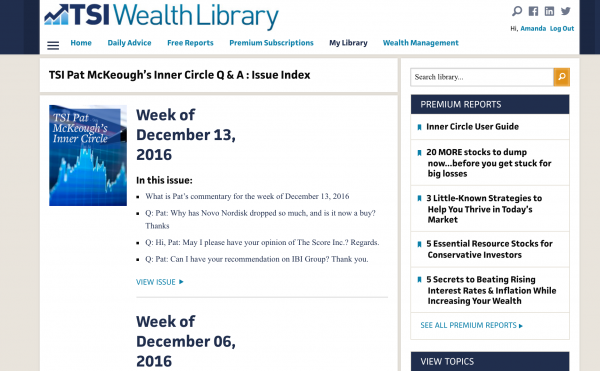 Years ago, many publishers thrived by producing loose-leaf print training services that were typically membership-based. Today, those print training products have been replaced by the course website business model, now with the ability to not only produce their own training videos and other 21st-century materials, but to create custom portals for corporations to produce their materials and upload them.
If a publisher has a course content business model, they may create a single course or collection of lessons or activities that the user can mix and match to create his or her own course. However, the publishing frequency, unlike a magazine, could be relatively low.
Niche publishers have a great opportunity in learning since the kind of information these audiences need is not provided widely. Consumers increasingly turn to trusted brands and publishers to find the information that can make a difference for them professionally or personally.
Example: Leadercast has a robust premium course content business model called Leadercast Now in which members can watch short videos of respected world leaders from all walks of life and business discussing strategies, techniques, and principles of leadership. Members can also track videos they've watched, videos they plan to watch, and their own progress at executing a range of hands-on exercises to reinforce learning.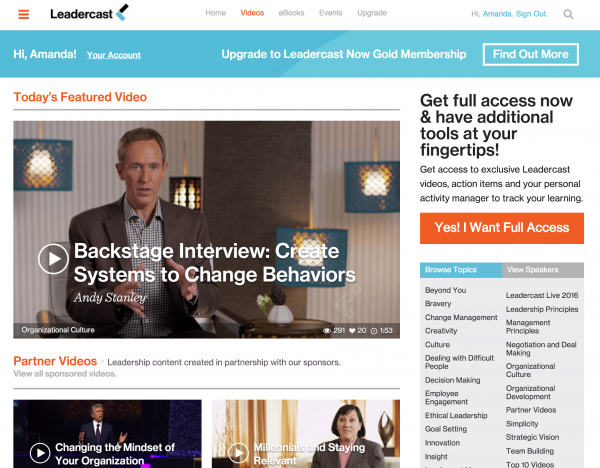 Read more about the course website business model.
Non-subscription website business models worth adding on
Mequoda currently defines 10 online business model websites that we build and support for our clients. The first six are above, and the final four website business models are transactional. You can pair any of these with a Portal and/or a subscription website.
4 Types of Transaction Websites
Transaction websites are built with the primary intent for the user to buy a product or an event ticket (paid for by the user), or to look something up in a directory (listings paid for by the advertiser).
Mequoda Directory Website
Mequoda Calendar Website
Mequoda Bookstore Website
Mequoda Event Website
Directory Website Business Model
The directory content business has some pretty unique benefits. If executed correctly, this model can be a win-win-win for any ambitious publisher. Not many content business models can say that.
Not only is a directory a revenue stream, it can also be an engagement device on your website – and driving traffic to your website is a powerful online publishing strategy. When you have a robust directory, users can flock to your site for information that's more specific and relevant to their needs than any Google search could deliver. And finally, as the icing on the cake, Google loves a good directory: When it's properly tagged and optimized, it will always appear near the top in Google search rankings because Google also knows its content is valuable to its users.
Listings in a directory can be either free or, for those who want more real estate and sell copy, premium (paid). A truly robust directory can even be 100% premium; once you have enough listings to be the only game in town, you can dispense with the free listings. In either case, the more listings you have, the more credibility you have with your users and with Google. When it comes to the directory content business model, size definitely matters.
Example:  New England Network has a travel directory website called New England Traveler. Within the directory, users can select different states and select things to do within that state. To generate revenue, they accept paid listings in their directory.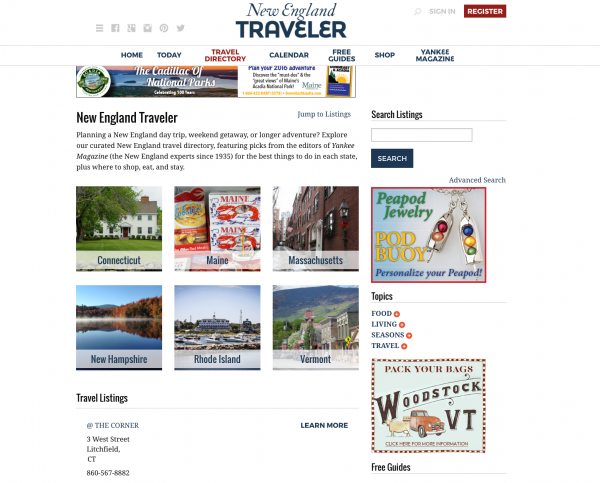 Read more about directory websites.
Calendar websites are usually free to access and are usually free to list an event in as well, unless the calendar is managed solely by the publisher.
The content in each entry may have minimal SEO value, but they can be great generators of inbound links and referral traffic, which will certainly help search engine performance. Because of the fairly limited content, calendar website business models are best paired with another website business model that can drive traffic, of which a portal is clearly the best qualified.
The underlying revenue-generation system is therefore sponsorship. This sponsorship might be for the publisher's products and events or for third-party products and events…and often takes the form of banners and other display advertising, either for the whole calendar or for sections of the calendar. For instance, a sponsor may wish to be visible whenever a user searches on events in a particular location or region, or for a category of events.
Example: New England Network has a calendar website business model as a part of their network that is called the New England Planner. Like the directory, it's free for users to browse, and sponsors can pay to gain prominent visibility in their event listings.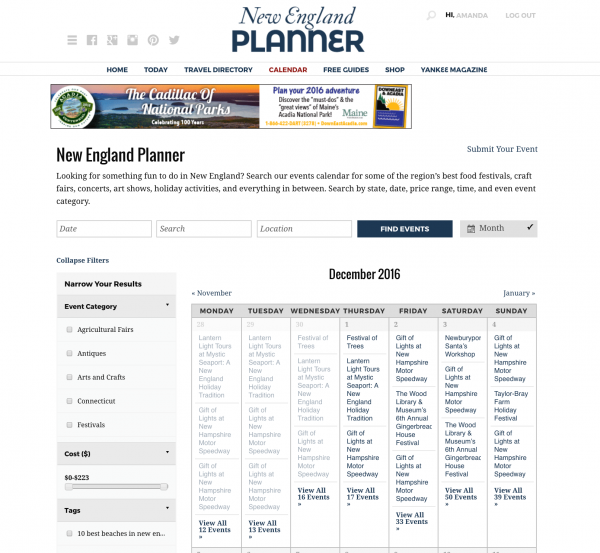 Read more about the calendar website business model.
A bookstore website is built to sell a catalog of multiplatform books and reports. The interesting thing about the book website business model is this: The largest online retailer in the world started out as a bookstore. For those of you old enough to remember, Amazon has not always been the unchallenged retail king of the internet, selling everything from air conditioners to Ziploc bags. But now Amazon is the world's largest online retailer by revenue. What we now think of as the most futuristic, virtual retail company of all time got its start using the internet to sell good old-fashioned print books.
As a magazine publisher, you may not be focusing on books, but we have several clients who have such large subscriber lists that every time they promote a book to their promotional list, they can count on instant profits, sometimes in the thousands of dollars, because the books are delivered digitally.
Books are a one-time cost to create, and when delivered digitally, can generate revenue without any more added effort. The production of a book can be anywhere from a thousand dollars (smaller white papers) to thousands of dollars (full length handbooks), but we also have clients who sell $10 ebooks that are 25-50 pages.
Does this sound like something you could benefit from? Is there a series or column from your magazine you could easily repurpose? Content recycling can come in really handy for this business model.
Example: New England Network has a bookstore where you can purchase almanacs and cookbooks. It works on a shopping cart system, so you can purchase multiple books at a time.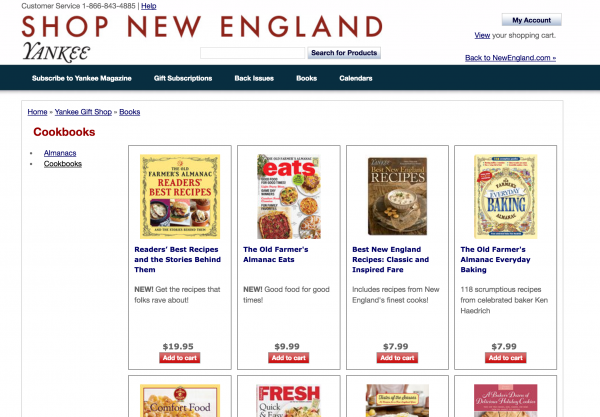 Read more about the bookstore website business model.
An event website's sole purpose is to provide users with details about an event and sell tickets.
The appeal of hearing, seeing, and speaking with actual people and touching real-life objects has never gone away, and thus the event business is not only surviving, but thriving in an otherwise digital era.
The internet still plays a role, however: Now an event publisher can promote and sell tickets to an event in living color on a website. And a very successful content business model it can be, even for publishers who only added events to their legacy offerings in recent years.
Unlike subscription-based business models, event content business models are retail websites that are purely transactional, and must be paired with a content-rich portal subscription website to attract traffic.
Alternately, an event website may pay for website traffic using third-party media such as display networks, text ad networks, and other publishers' email newsletters and websites.
These sites are not the same as event promoting websites that allow users to post their own events.
Example: Our longtime client and fellow Boston-based organization, the Program on Negotiation at Harvard Law School, is an excellent mentor site for anyone launching a niche media event site. After adding a portal subscription website, PON's revenues grew more than 63%, its programs are filled to capacity and they've added new programs as well. Meanwhile, the cost of marketing via direct mail was 32% of the budget; today their total marketing spend is a mere 7%, with all event tickets now generated from their own Mequoda portal subscription website and their email list.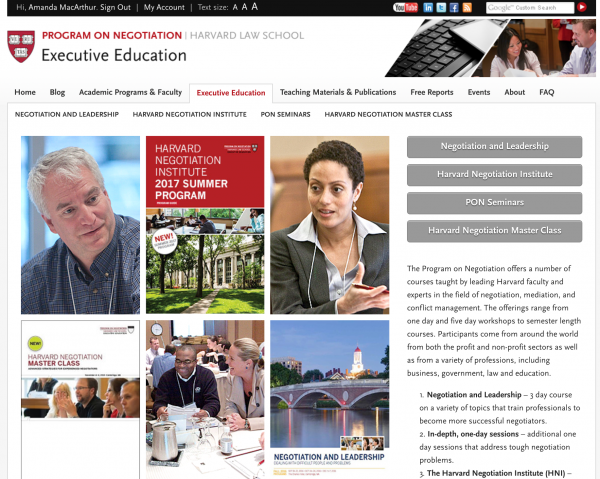 Read more about event websites.
A Repeating Pattern
When you charge a fee to access the content within a subscription or transaction website, the site needs to provide specific and immediate benefits to your subscribers. Are you planning on building a subscription website? You can schedule a 30-minute needs analysis call with us to discuss the plans.
—–
Editor's note: This article has been updated many times from its original publication date in 2006 as new business models emerge.
Posted in Subscription Website Publishing