Legacy magazine publishers are not paying close attention to whether their business is sponsor-driven or commerce driven. They are then going online with a completely different model.
In doing so, publishers disregard the historical print business model. If a publisher monetized his magazine assets in the past by selling advertising, it's highly likely that the economics favor an ad-driven online publishing strategy. Or, if a publisher operates where circulation is the primary source of revenue, a membership website is a good option.
In terms of a content model, most magazine publishers over the past five-ten years launched periodical websites. In doing so, the publisher spent 800 hours per year to reformat magazine content into HTML.
Something about the magazine format on desktop hasn't been a grand experience. This however didn't come as a surprise to magazine publishers. Everybody assumed magazines wouldn't format well for desktops, and didn't present the desired experience. This has changed now, with the advent of the tablet.
[text_ad]
Some magazines were successful in doing a great job of delivering and expanding audience with magazine style content even before the tablet. LEDs Magazine is one such example.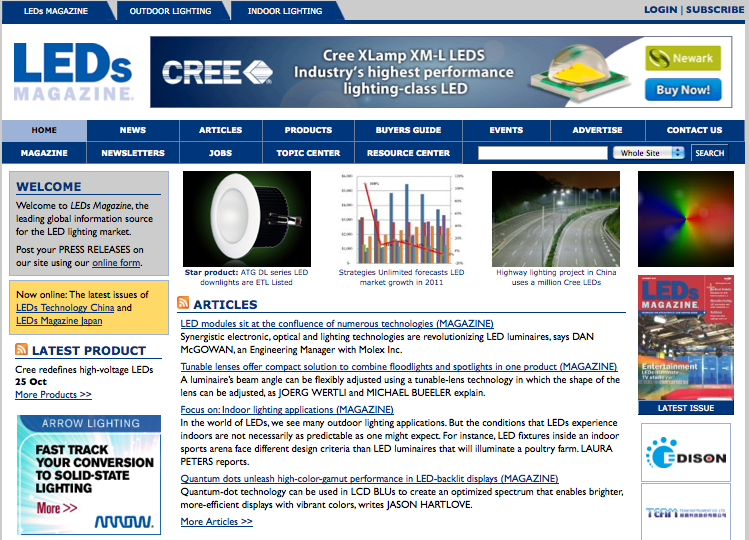 The tablet is a game changer though, as it affords the potential to deliver magazine content in a magazine format through the tablet, in addition to desktops and laptops.
Legacy publishers should take advantage of today's technology by disaggregating all the magazine content by putting it into a periodical or reference website. This allows legacy publishers to monetize in a whole different way.
For instance, magazines are typically consumed in a per-issue basis where the audience is expected to digest all the content in a month or two. This paradigm is starting to change as back issues can be easily put online. Legacy publishers can take their archived content and publish it in digital formats, put it behind a subscription paywall and sell it as a separate subscription since it has a different value due to its reissue subject base. Subsequently, advertising could be sold on that format forever going forward. People want access to back issue content, and this is a revenue generating method for legacy publishers to provide back issue content to their audience.
Legacy publishers need to be aware of expanding business models while going forward in the digital age.