All free websites are making money as fast as knitters create scarves
A 2011-12 growth rate in website visitors of 46% … overall revenues up 50% every year (and solely dependent on advertising) … it's a dream life for Prime Publishing and its 14 crafting and cooking sites.
It's also well deserved, because operations there are so button-down with Best Practices that nothing is left to chance or guesswork.
Prime President Stuart Hochwert, a publishing veteran, created Prime from scratch starting in 2008. He's also a Mequoda top operator, having won two Rocket Awards in 2012 for website visitor growth, including the top spot.
Hochwert likes to admit that he neither crafts nor cooks, but he clearly knows how to publish content in this niche, and his websites are stars there. Prime is a perfect example of the value of marketing skills in a publishing operation. If you know how to hire content producers and experts, you don't need to be one yourself.
Hochwert's success comes from attention to detail and, above all, to the wants and needs of his audience. Other than new ideas being tested on a small section of home pages, there isn't a single speck of content on any of his 14 sites that hasn't already proved itself popular with the audience.  In short, focusing like a laser on audience and content reaps its own rewards, and serves all content producers as a valuable lesson.
Sadly, it really does come as a shock to many publishers that giving the readers what they want can pay off, and in the case of Prime, which is solely advertising-supported, not even in sales to that audience, but in building loyalty and engagement that advertisers will pay handsomely for.
How to publish free content and make money doing it
I'm focusing today on the original Prime website, Favecrafts. Its sister sites include titles such as AllFreeChristmasCrafts, AllFreeCrochet, AllFreeChickenCasseroleRecipes and AllFreeSlowCookerRecipes, among others.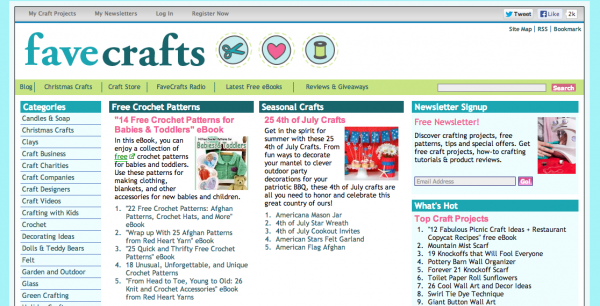 The key to success with all these sites is the careful interlinking of content, so that each recipe or craft reinforces similar content on all related sites, and the user is constantly supplied with new material and introduced to additional sites in the network.
Moreover, absolutely no opportunity is lost to drive website traffic, sign up newsletter subscribers, and build loyalty and engagement. And absolutely nowhere are users required to spend money to get their hands on the amazing content.
Here's how it works for the user. I'm playing the role of Mary the sewing enthusiast here, which is not a stretch because I really am. So let's take a trip through FaveCrafts together. It's kind of like Candyland for crafters!
Keep in mind those 14 sister sites, along with 23 different free newsletters (some are not aligned with a specific site, hence the difference in numbers) that drive traffic to FaveCrafts and its siblings.
Find out the CMS features that publishers require to manage an online publishing business. Download a FREE copy of 7 Ways Haven Wordpress Goes Beyond Wordpress, and discover the features all publishers should have access to for a bigger audience, greater revenue, and higher profits.
A first visit to the home page delivers a Mequoda Best-Practice floater promoting a FaveCrafts free newsletter. Naturally I signed up immediately. Now I can expect to get "free craft projects, craft ideas, tips, patterns, contests and more" from Quick and Crafty.
Prime real estate in the center of home page, above the fold, is given to blocks titled "Free Crochet Patterns," "Seasonal Crafts," "Free Knitting Patterns" and "Popular Crafts This Week." At the top right is a list titled "Top Craft Projects." These are selected based on popularity with users, and updated several times a day.
In the left rail I see an enormous list of categories that lead to category pages.
It's all good stuff, but I don't crochet or knit or make any of the things under the top 10 list or … wait! There's a Ruffled Envelope Clutch under the "Popular Crafts This Week" heading, and I do sew purses and clutches, so I click with great anticipation.
Not only do I get the promised project, complete with full instructions and photo illustrations – every photo delivers a popup ad for Fiat.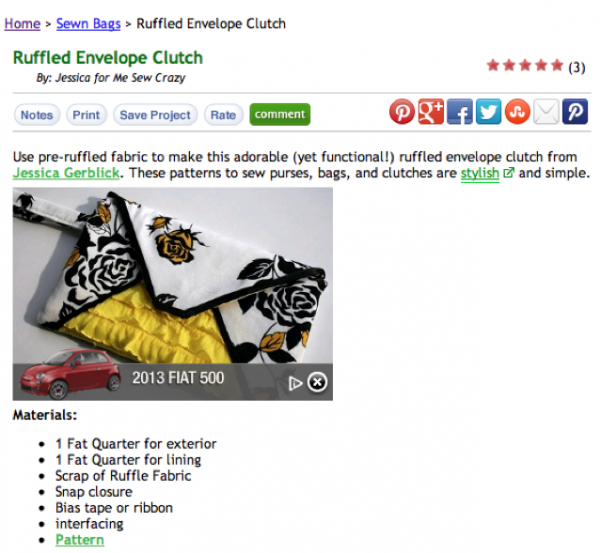 Naturally, there are related projects listed at the bottom of the page, and at the top right corner, the Top 10 general crafts list from the home page is now "Top Sewn Bags Projects."
Aghhh! They've GOT me! I'm well hooked. And now scanning down the right rail, I see an ad and a feature that lets me save my favorite projects, followed by a list of free ebooks. Hmm … back to that in a moment …
Remember I said up front that Prime publishes only content that has already gotten the seal of approval from its users, with a few new ideas intended to discover the latest trends. Unless I'm a completely one-of-a-kind crafter, it's no wonder I'm willingly going down the paths that Prime has laid out for me.
In fact, I was so excited about the clutch pattern, I almost forgot to check out the nav bar. Now I see there's a blog, a featured category of Christmas crafts – I've learned from our Analytics Manager, Norann, that Christmas crafts are year-round blockbuster posts for Prime, so it's not really a surprise that they get their own tab – a store, a link to their radio podcasts, free ebooks and reviews and giveaways.

No crafter would turn down more free content once she's already hooked, as I am, so off I go to "Latest Free eBooks." Here's one right up my alley: How to Make a Purse: 20 Patterns for Sewing Totes, Bags and More. I download that, too, and now FaveCrafts knows quite a lot about me, enough to keep serving me free content that I'll love.
On top of that (you didn't think Favecrafts would stop there, did you?), my reward for downloading a free ebook is a popup offering another free newsletter, this one from a third party, RetailMeNot.
Next, it's off to the Blog page. This is populated with how-to posts and product reviews from across the Prime crafting channels.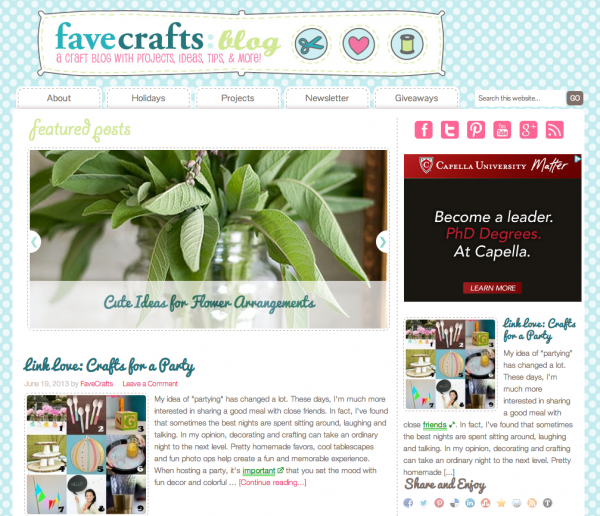 I'm interested in a post titled Your Must-Have Craft Supplies List for Kids + How to Store Craft Supplies. Of course, this is from an editor at AllFreeKidsCrafts, and when I click on a project listed in the post, I get a new floater offering me this site's related newsletter.
Now they've double-got me…
Oh, and I spot a post about a giveaway of a third-party book which is actually a featured giveaway on yet another sister portal, AllfreeChristmasCrafts. All I have to do to enter is give them … my mailing address! Now they're harvesting my home address, too – will I get direct mail promos soon?
Find out the CMS features that publishers require to manage an online publishing business. Download a FREE copy of 7 Ways Haven Wordpress Goes Beyond Wordpress, and discover the features all publishers should have access to for a bigger audience, greater revenue, and higher profits.
All social, all the time
A clever feature I notice here, too: I can enter once every day, so I'm making a note to self to return every day. And if I have a blog, I'll get an extra entry for linking to the giveaway there. Oh, and an extra entry for posting the giveaway on Facebook, Twitter and Pinterest. Genius! Link-building is important for all publishers, because Google rewards it, and an advertising-reliant website like Favecrafts needs as much Google love as it can earn.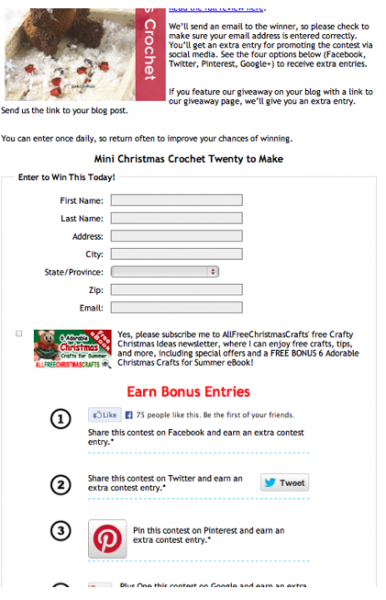 Hochwert has also told me how important social media is in his space, and I've checked him out:
On Facebook, Favecrafts has more than 86,000 likes, and lots of follower conversations about what they're working on. It features a Project of the Month, a free ebook (my purse-making book, as it happens), and a Fan Favorite – that clutch pattern I first spotted when I arrived on the home page. And check out all those links – to a free newsletter, to Favecrafts' YouTube channel, photos, Pinterest … whew!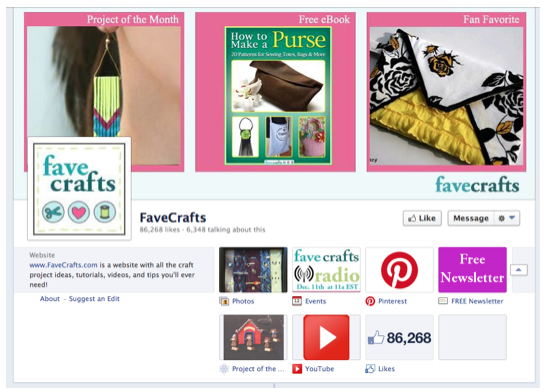 So on to Pinterest. Favecrafts alone boasts more than 36,000 followers of 83 boards. And naturally all the other sister sites are repinning appropriate content, so if I click on one of those pins, I'll learn all about that site, too.
And Twitter? A mere 14,000 followers. Just thinking about all that social interaction with followers, fans and likers is exhausting. Of course, Favecrafts also engages with its audience in its blogs and the ratings and reviews crafters are invited to give on every project.
Social media, newsletters and the website are the three legs to the Favecrafts chair. And I've just experienced an invigorating trip down the Prime Publishing path, across multiple channels and products, and I've even handed over my email and mailing addresses. Plus they've gotten a good profile of my likes and interests via my clicking habits.
It's no wonder Favecrafts has watched its unique visitor total rise to a grand total of 1.3 million uniques last month! That plus the unrelenting cross-pollination of content across the related sites tells Google that Favecrafts delivers valuable, unique content that its users will appreciate – and that, of course, means Google will return the favor by ranking it highly on search result pages.
Oh, yes, Google does reward Favecrafts. No matter what kind of craft project or pattern I tried Googling, there it is on Page 1 or 2. Icing on the cake!
If you have any energy left after taking that journey down Favecrafts (and AllFreeChristmasCrafts, and AllFreeKidsCrafts, and … well, you get the picture), check it out and experience the Prime Publishing Way yourself. We could all do well to use Prime as a mentor site in seizing every marketing opportunity possible, and making the consumer the focus of our efforts.
After all, it's why we're in the content business, isn't it? And if you have any questions, comments or insight into high-powered subscription website publishing, let me know below!