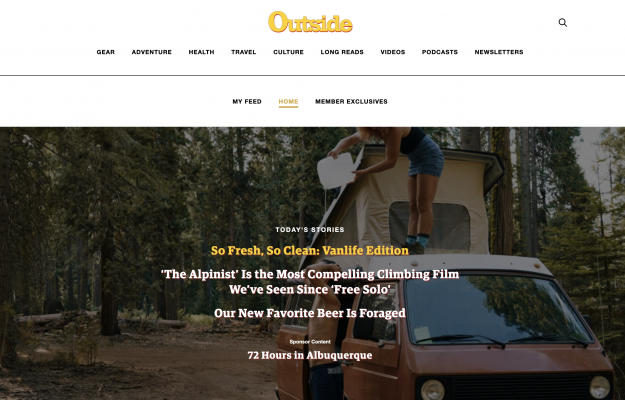 Mequoda's Haven WordPress system is a digital publishing and marketing system for subscription websites that will ultimately be one of many successful digital publishing business models deployed online that are or will be the successors to print magazine publishing. That said, it's always fun to explore the content frameworks and user journey for someone who is also on the path of leaping ahead of the old print publishing business model and is pioneering a new business model that has a digital-first foundation.
Earlier this year, we deployed Food Gardening Network. With home food gardening is on the rise, we answered the call with an online platform designed to meet the needs of home gardeners—from novices to enthusiastic amateurs to experts— with content ranging from free tips to a monthly digital magazine to full-length collections focused on a single food.
There's enough content at Food Gardening Network to fill a print magazine, but we opted to keep it all digital and include videos in the magazine. One of the key benefits of a digital network like this is that readers will never lose an issue. They'll never have to go digging back through their magazine pile to find that poached pear recipe they like so much. The four key content frameworks used with FGN are Magazines, Collections, Daily free content, and Freebies. A Bronze Membership in Food Gardening Network is free, and includes Food Gardening Network Daily and Freebies, with limited access to the magazine and collections. A Charter Gold Membership is currently available for 95¢/week and includes full access to all Food Gardening Network content. Visitors to the site have limited access to Food Gardening Network Daily, the magazine, and collections.
What you see on Food Gardening Network we believe is the pulse of digital magazine marketing and distribution for the future, but we know we're not the only ones in this game, and that's a great thing!
Over the course of the last four years, there's one magazine company that is really making strides in digital magazine publishing. PressGazette recently dubbed them as "one of America's largest digital journalism subscription businesses," due to how quickly they've dove into digital, quite successfully, with around 500,000 digital subscribers currently.
Outside is led by Robin Thurston, a co-founder and former CEO of exercise app company MapMyFitness. He says he's taking notes from Disney, Netflix, and Amazon and has the goal of hitting 5-10m subscribers in the next four years. Can he do it with the launch of Outside+? We'll be watching, that's for sure!
What is Outside+?
Outside magazine may be the most prominent title in their collection, but Outside the media company has titles that cover everything from travel to running and climbing, yoga, biking, and healthy recipes. With the launch of Outside+, Thurston said he wanted to create "one unified platform. We have a single sign-on – you're creating an Outside account, you can use that in every place on the platform." With that login, you get digital access, two print magazine subscriptions, access to software apps like Gaia GPS (which they own), Outside TV, virtual fitness classes, meal plans, gear reviews, books, and a list of discounts on products and events.
We thought we would take a few minutes to share with you our perspective on the new Outside+ digital publishing business model and the various content frameworks they are deploying to both attract readers and engage and retain premium consumers.
Magazine – In print, all members get issues of Outside, but they also get to pick a print edition of any other title, such as Backpacker, Clean Eating, or any of their 13 titles. Oddly enough, Outside magazine doesn't have a formal digital magazine website where you can view or access any issues or archives, although I'm sure the content is there on the website, but there's no way for a user to read or browse an issue or get access to any back issues.
Daily Content – As a member of Outside+ you get a homepage dashboard that offers you a traditional homepage of stories from Outside magazine, but you also get the option of a Feed, which displays the most recent content across all of Outside's titles. From your dashboard, you get access to a third dashboard called "Member Exclusives" which includes premium content across all titles. When you click into any of this content, it brings you to the magazine website, but the Outside+ topbar remains in place to keep you logged in so that any paywall interrupter that pops up, quickly disappears.
Collections – Outside curates some collections for their readers. For example, they have a collection called "Long Reads" that they describe as long-form articles that their readers know and love, featuring their "strongest writers, most ambitious reporting, and award-winning storytelling about the outdoors." They also have Dynamic Collections for Travel, Gear, Health, Adventure, and Culture that has subcategories, which organize all the free and premium content.
Books – Members get two free VeloPress books from the Outside+ Collection.
Courses – Proving how committed Outside is to taking cues from Disney amongst others, there is access to a lot of video and course content.  Backpacker, Clean Eating, Oxygen, Ski, Vegetarian Times, Yoga Journal, and Climbing magazines have online courses, which you get free access to as a member.
Software – Outside owns the Gaia GPS app, so members get free access, which is typically $39.99 per year. The app lets backpackers, campers, and people that otherwise spend time in the woods off the grid, access to download apps before they go out in case they get lost and lose cell reception. If you click "Events" on their site, you'll also get access to EventReg which allows you to set up racing and other sporting events.
Podcasts – There are 18 "premium" podcasts available to members, from Outside, Backpacker, Peloton, Triathlete, and others.
Video – OutsideTV is the video portal used to access most video content, including the different series they are producing, but there is also user-generated content allowed, so other outdoorsy folks can upload their videos onto the platform. The video area is honestly a bit difficult to navigate. Most of the titles of the videos are cut off, and the preview images on the videos aren't chosen to give the user an easy way to understand what the video is about.
All in all, Outside+ could use a usability study on their website, because, with everything they're offering, it's difficult to discern content with so many brands mashed together, but there's no doubt that for the offer of $70 or so per year, depending on the ad you land on, you are getting access to a lot. Whether or not users can find what they seek, or access what they're expecting when they subscribe to a magazine, may be the next hurdle that Outside looks to jump in order to hit their digital subscription website goals.
Do you see a digital magazine subscription website doing a great (or not so great) job? Let us know in the comments.