Using "Self-Liquidating Premiums" to Help Close the Sale
By— Don Nicholas • 06/15/2017
This type of promotion pays for itself, when you start using self-liquidating premiums
An effective technique in digital content marketing is "self-liquidating premiums"—having the value of premiums exceed the entire purchase price of your product.
For example, let's assume you have a product, perhaps a downloadable eBook freemium, with a list price of $49.97. You're selling it online at a discounted purchase price of $29.97.
Let's also assume you're giving away three bonus reports as part of the deal.
If you gave each of the three bonus reports a $20 value, the total value of the bonuses would be a hefty $60.
------------------------------------------------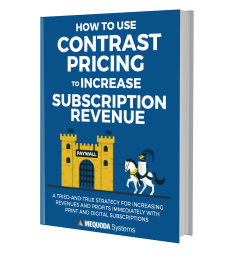 Learn how to choose the best subscription pricing & single-copy pricing strategy for your subscription websites & subscription apps when you download a FREE copy of How to Use Contrast Pricing to Increase Subscription Revenue.
------------------------------------------------
Add the $20 discount off the eBook, and the total savings is $80. All of this should be spelled out on the order page to help close the sale by making the asking price seem like a drop in the bucket compared to the value received.
The theory is that you'll generate enough additional sales of the eBook to cover the cost of giving away those bonus reports. That's what we call free money!
Contrast pricing: Self-liquidating premiums for the 21st century
While the concept of self-liquidating premiums in marketing is an old one, Mequoda has adopted a more modern version of it as a Best Practice for pricing multiple subscription products.
The phenomenon of contrast, or decoy, pricing was most famously illustrated by Dan Ariely, a Duke University professor of psychology and behavioral economics, in his book, Irrational Predictability. This theory takes self-liquidating premiums to the next level – not just closing the sale, but driving more sales and prompting more people to pay the highest price for multiple products.
Consider this example with three options:
Digital magazine: $19.97
Digital archive: $29.97
Both products bundled: $34.97
Now, $34.97 contrasted with $19.97 seems pricey, doesn't it? But if you're like most buyers, you'll also spot the $29.97 price compared to the $34.97 price – and now $34.97 doesn't seem so high. Hey, it's just $5 more … and you can get what's behind Door #1 and Door #2 for that extra $5! Might as well go for it!
How many people go for it? According to one of our clients who tested this, roughly 55% were for the highest-priced bundled offer. About 25% opted for the next highest price, the library only. The lowest price, for the digital magazine alone, trailed at just under 20%.
And as I said, our testing of this price strategy shows that not only will more people choose the highest price, it also generates more sales at a rate of 1.3 to 1. Here's a model using our base case and decoy pricing assumptions that you can use to check out the possibilities for your own products: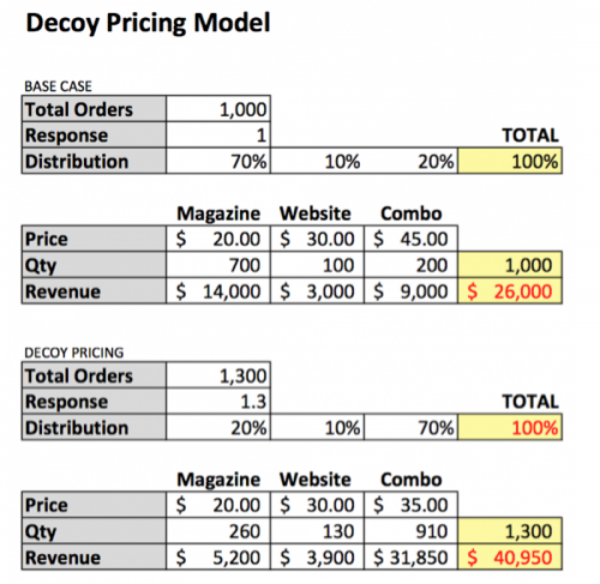 The value of self-liquidating premiums and contrast pricing should be clear to you. Give it a try, and don't stop testing. If you get some intriguing results we should know about, let us know in the comments!
This post was originally published in 2009 and is updated regularly.
Posted in Subscription Website Publishing