Online Revenues for Computerworld US Now Account for Over 35 Percent of their Total US Publishing Revenue
This Computerworld Mequoda Case Study is derived from one-on-one interviews with Pat McGovern, IDG's founder and Robert Carrigan, the CEO of US Operations. It outlines Computerworld's story from the beginning, and explores how they're making such a successful shift into the digital world of publishing.
As a way to introduce where IDG and Computerworld stands today, we thought we'd share excerpts from a recent blog post by Colin Crawford, IDG's Senior Vice President, Online. The post is titled "The transformation of IDG."
"For over four decades we've had print blood running through the veins of the corporate body. But over the last few years we've seen dramatic change. Today the absolute dollar growth of our online revenues now exceeds the decline in our print revenues."

"With this change in the revenue mix and the higher margins from our online businesses—the company is more profitable today than it has been previously."

"In the US, our online revenue now accounts for over 35% of our total US publishing revenues. Next year, for many brands, online revenues will be greater than print revenues, in fact they already are at some of our key brands and by 2009—approximately 50% of IDG's US revenues will come from online."

"To drive this change and to focus on online revenue we've changed the business mission of our organization away from print. Going forward IDG Communications will define itself as a web centric information company complemented by expos, events and print publications."
Introduction
Back in the late 50's, as a biology student at MIT, Pat McGovern become involved with computers, and while many experts asserted that computers were too big and too expensive to be anything more than accounting machines at large banks and insurance companies, Mr. McGovern saw a revolution.
Mr. McGovern understood that computers had the power to change the way the world functioned, and decided that a whole new industry would be created around this new technology. He also saw that this new industry would have a rapidly growing information need; and he decided to fill that need, not only in the United States, but throughout the world. Those were big dreams for a recent college graduate, but Mr. McGovern made them all come true.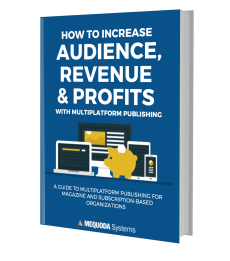 Learn the secrets behind today's most rapidly growing niche publishers. Download a FREE copy of How to Increase Audience, Revenue & Profits with Multiplatform Publishing, a guide to multiplatform publishing growth for magazine and subscription-based publishers. Download now.
After working for a while at the first U.S. publication dedicated to computers, Computers and Automation, Mr. McGovern launched a company called International Data Corporation (now International Data Group) in 1964, and three years later started the first weekly newspaper for the computer community, Computerworld.
By 1976, Computerworld had become the largest specialized business publication in the Unites States, measured by advertising revenue, and Mr. McGovern had already started to take the franchise abroad.
Today Computerworld is published in 63 countries, and China Computerworld has passed the United States version in revenues.
Core Strategy: Audience and Purpose
Computerworld was designed to serve Data Processing Managers (as they were then called) who managed what are now called "Information Systems" at companies making use of the new computer technology. Its readers were predominantly at larger companies since those organizations were the only ones with sophisticated information systems.
Computerworld gave these managers the information they needed to design and manage their organization's information systems. It also helped them decide what software and hardware to buy. It was weekly, current, and objective.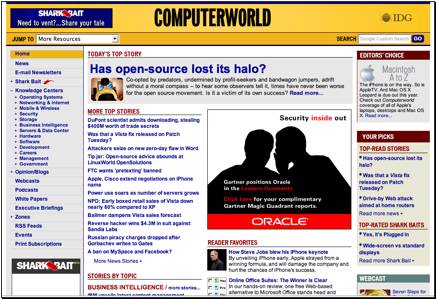 Computerworld was a paid circulation publication, and right from the beginning it received subscriptions not only from data processing managers but also from managers and marketers in the companies who made the computer hardware and software being bought by the data processing managers. They wanted to know what Computerworld was saying about them to their customers and prospects!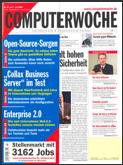 Mr. McGovern quickly took Computerworld abroad, first to Germany with Computerwoche, a clone of Computerworld, and then to Japan. France, England and Brazil followed soon thereafter, and the list has increased nearly every year since. As of this writing there are 62 foreign versions of Computerworld, all in the appropriate local language.
Ownership, organization and product strategy differ from country to country, as local conditions and laws vary, but the core audience is always the same: those involved with the creation, operation and use of computers and computer-based systems. Forty-four of the foreign Computerworlds are wholly-owned subsidiaries and the others are some combination of joint ventures and licensing arrangements.
Product Strategy
If you go to www.idg.com you will find a list of 68 countries and 14 product categories. Not every country has every category, but some categories have more than one product, so the total number of products is staggering. You might decide that IDG's product strategy is simple proliferation: throw anything you can think of against the wall and see what sticks.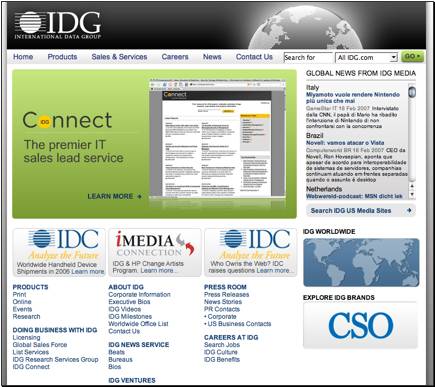 But there is much more method to Mr. McGovern's vision than might be obvious. The strategy is based on Mr. McGovern's oft-stated principle that "specific information drives out general."
This manifests in the following way: IDG picks an audience and services it with as many information products that provide specific information to that audience as can be supported by advertising and user fees. It prefers to launch rather than buy. It will try anything that makes sense, regardless of platform. And it is not afraid of competing with its own products (if you don't do it yourself, someone else will).
IDG's platform-agnostic strategy has made Computerworld much more than a weekly newspaper. It offers conferences and other events to its audience, as well as rapidly growing websites. It provides as much information as possible, in as many formats as practical, to information systems professionals.
The original version of Computerworld, the weekly newspaper in the United States, is still going strong, with 180,000 subscribers plus many more pass-along readers. Computerworld switched the U.S. newspaper to controlled (free) circulation for competitive reasons. It continues to be paid in some other countries.
Like most specialized business-to-business periodicals, Computerworld is supported by advertising.
Events
The Computerworld division also conducts a series of events for its target audience. The seven events listed at the Computerworld U.S. website cover a variety of topics, both technical and general:







Events are largely supported by sponsor, not attendee, revenues. In the United States, sponsors who want the opportunity to meet new prospects face to face account for almost all of the revenues (90 percent). This percentage tends to be lower in other countries. Europe for example, gets about 65 percent of event revenue from sponsors and 35 percent from attendees.
Going International
Taking Computerworld from country to country required constant adjustment of its formula. While it maintains Computerworld's editorial integrity, IDG has had to adapt the publication, its events and websites to take local customs into account.
In Korea, for example, Computerworld no longer exists as a print publication. Because of its world-beating penetration of high-speed Internet, Korea has become the first country in the IDG empire to be able to put its publication solely online.
China Computerworld is a joint venture with the government. Its circulation, all paid, is maintained by the post office. The good news is that circulation promotion is cheap. The bad news is that you do not know who your subscribers are.
China Computerworld is unique in another way. It is the first of the cloned Computerworlds to surpass the U.S. version in annual revenues. (It is also very profitable, but profits must be reinvested in China.) So far, China Computerworld has produced more than $55 million in royalties and dividends, according to Mr. McGovern.
Website Strategy
Computerworld's websites are very different in approach from typical consumer sites. They are not designed to sell products directly. They are not designed to maximize "impressions" on some general target audience. One might see them more as a "matchmaking" service.
You have a group of professional computer people who work in different ways on different parts of the system in different organizations in different fields of endeavor. Their needs, both for information and for products and services, are quite diverse.
It's easy for automobile companies to find someone who buys cars, but finding someone who is actively involved in the buying decision for a technically complicated storage system is a much more challenging endeavor. What vendors really want are names of qualified buying influencers for their product or service.
Business-to-business publishers often provided a method of gathering names of qualified buyers with the use of response cards (often called "bingo cards") in their publications. The business reply cards enabled readers to request information from any advertiser in the publication. These requests were characterized by publications as "leads" for the advertisers, although the companies that received them often gave them little respect.
Computerworld's websites have taken this lead-generation function to a whole new level. It is now the primary function of the advertising. Exposure seems to be secondary or irrelevant. Banner ads are a minor presence, if they exist at all.
Computerworld sees its websites as standalone products—a new and different product—not just a reflection of Computerworld. Less than 30 percent of Computerworld's website content is drawn from the print publication.
Like the newspaper, the Computerworld websites serve a need for specific information, but they do it in a very different way; and instead of generating impressions, they are designed to produce leads.
Several techniques are used to turn Computerworld's websites into lead generating machines, but the general rule is to provide more and more specific information in as many formats as possible, including articles, blogs, columns, newsletters, reports, white papers, RSS feeds, video and audio. Most of it is free, sponsored by advertisers.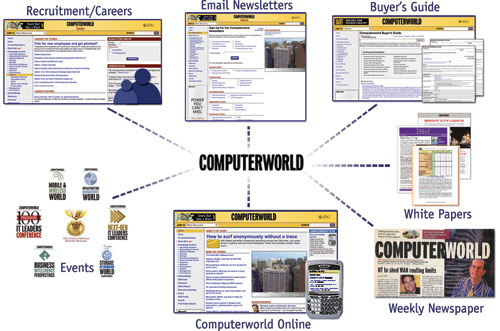 The amount of information at the Computerworld sites is staggering. Because space is much cheaper than it is in print publications, Computerworld websites can afford to get more and more specific about hundreds of topics.
To give some idea of the depth and breadth of information and delivery formats available at these sites, here is the list of options that appears on the left side of every page at the primary U.S. Computerworld site.



If you go to one of these areas, for instance "knowledge centers," you will find a wide selection of sponsored reports or articles on detailed subjects. Anyone who spends any time looking at these reports is probably a good prospect for the products or services sold by the company that sponsored the information—or provided it.
This strategy finds qualified buyers of even the most arcane products or services. There are not that many buying influencers in many cases, and if you look only at the people who are in the process of buying a particular product or service at any given moment, the number is even smaller.
Computerworld's websites are designed to draw in all buyers of high technology, sort them out by the products or services with which they are involved, and deliver their name and some information about them (if possible) to high tech marketers. Finding and qualifying high-tech buyers is the plan.
To draw people into this figurative funnel Computerworld starts by using its print publication, to direct people to the website. But it also uses search engine optimization, public relations, and cooperative efforts with other sites. For example, Computerworld.com swaps links with some sites, and provides summaries of its information to others. To get the whole story, the reader has to click onto Computerworld.com.
This strategy produces between 1.5 and 2 million unique visitors per month. Some are regular visitors, but many are transient, usually looking for one thing.
The Computerworld site is designed to get qualification information from everyone who visits so that they can sell this to advertisers.
White papers
Perhaps the most sophisticated use of this technique is the "white paper". Either vendors supply white papers—usually on highly technical subjects—or Computerworld writes them for the vendor. They are then offered free to those who qualify themselves. Vendors are willing to pay a great deal for these highly qualified prospects.
Buying Guides
The Computerworld site also adapts another old print vehicle to the web: The Buying Guide. A web based guide can be much more complete and current than anything one can produce in print.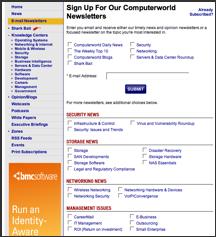 Emails
Computerworld.com offers more than 50 free email newsletters, some on relatively arcane topics. There is something for everyone actively involved with information systems. According to Mr. McGovern, email newsletters are used extensively abroad, as well, but there are differences in rules. In Europe, for example, you must have direct permission to send one, but Asia is much looser.
In all countries emails are an effective driver of traffic to the main website. "People see the issue and want to go back to the site to get more details on the story," Mr. McGovern says.
Recruitment
A weekly newspaper is a very effective vehicle for recruitment advertising. Computerworld used to run millions of dollars of this advertising every year. But the web has drastically changed that. Most recruitment activity has now moved to the web where it is more complete and more current, to say nothing of interactive! Computerworld Careers is its own related website.
In all these ways, the Computerworld site is dedicated to delivering well-qualified prospects in highly specific categories.
Finally, the site is also used to sell participation (both vendor and user) in Computerworld events, and to qualify prospects for the print publication.
The U.S. Computerworld website model is imitated abroad, but according to Mr. McGovern, the United States leads in website use and revenues as a percent of total revenues, except in Korea, where Computerworld is now published only on the web. Thirty-five percent of Computerworld's U.S. revenues come from the web, double the percentage in Europe and about 40 percent higher than China and Japan.
Database strategy
All Computerworld sites are data collection machines. One can only imagine how big their database of email names has become. It is huge and relatively well qualified. And it is all for rent.
Marketing Strategy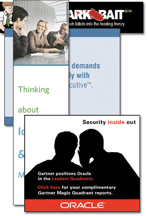 Some of Computerworld's revenue comes from its target audience. To them, Computerworld may sell subscriptions (except in the United States and some other countries where it does not make sense), and computer professionals also may pay money to attend events. Computerworld markets these events and subscriptions through direct mail, its websites and "house" advertising in its print products.
Most of Computerworld revenues come from advertisers and "sponsors." Sponsorships and ads are sold by sales staff, employed directly or under contract. And there is much to sell. There are simple impressions, made with ads or banners or pop-ups. There are leads, with varying amounts of information provided about the prospect. And there are face-to-face meetings with prospects at the various events.
Computerworld is one-stop shopping for high-tech marketers in countries all over the world.
Organizational Strategy
Traditional specialized business periodical publishers (McGraw-Hill, Cahners-Reed, Penton) tended to be organized centrally. The other major high-tech periodical publishers (Ziff and CMP) followed that model. IDG did not.
Mr. McGovern's vision was very different. It called for a totally decentralized operation, which you might think was necessary for a multi-country operation, but he followed it in the United States as well. Every division has its own president and staff and pretty much everyone it needs to operate on its own. Headquarters staff is very small.
So, Computerworld has its own small board of directors in every one of the 44 countries where there is a wholly-owned subsidiary. Division presidents meet with the board to review progress and get approvals for budgets and business plans for the upcoming year. Computerworld is even encouraged to compete with its sister publications. In the U.S., which is the largest computer market in the world, these include InfoWorld, Network World and CIO.
In other countries, Computerworld is published either as a joint venture (such as China), or under some sort of licensing agreement. These Computerworld editions are also locally managed and independent.
There is also some decentralization within each division. In most divisions, online has its own manager reporting directly to the president, and its own editorial staff. In the United States the website managers are typically more like TV producers according to Mr. Carrigan, CEO of U.S. operations. Their job is to select, tweak and control the editorial content to maximize the amount readers "consume."
Economic Strategy
As we have discussed, only a portion of revenues come from Computerworld's target audience. In some countries (like China and Germany) paid subscriptions provide a good revenue stream, but in most countries it is not so big, and in the United States, it is insignificant.
Events also get some revenue from attendees. About 10 percent of event revenue comes from attendees in the United States, but that figure is closer to 35 percent in Europe.
Computerworld's primary economic engine is the revenue it receives from companies marketing goods and services to its audience of information systems professionals. While most of this used to come from standard print advertising, more and more is coming from the various lead generation activities on its websites, sponsorships at events and sales of its database.
As we have described, the Computerworld websites are designed to draw in and sort out those who are buying influencers over some specific product or service. These prospects are then qualified to various levels, and delivered to a vendor who is ready to sell them the particular product or service. These contacts can then be used to build a database of prospects that can also be rented to marketers.
For professionals, there is also a sophisticated online recruitment system that has all but wiped out the old print recruitment ad. It is much more efficient at matching employers and professionals.
Most online revenue comes from these activities.
In the United States, online revenues as a percent of all revenues are highest (for websites associated with print products) at Computerworld, running around 35 percent. China is probably at 25 percent according to Mr. McGovern, while Europe is running behind at about 18 percent. All of these numbers are getting higher by the year.
Computerworld also leads in revenue from events as a percent of total revenues of print-based divisions in IDG, with about 25 percent of revenues coming from events (and 90 percent of that coming from sponsors).
Based on Mequoda estimates, Computerworld generated approximately $121.5 million in 2006, with print leading the way at 40 percent of total revenue and online following closely behind with 35 percent.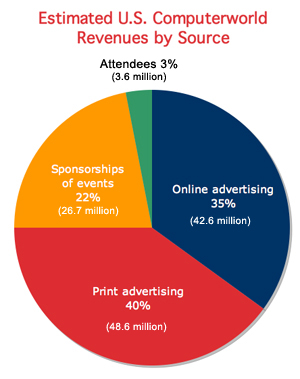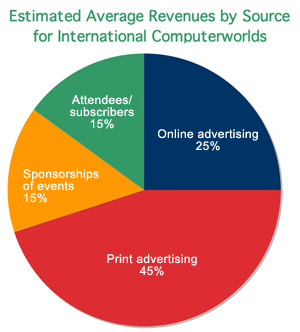 Online is most profitable
Mr. Carrigan expects online revenues to pass print revenues in the next five to 10 years. But profits are already there in some countries. Since online ad revenues have much higher profit margins than print (approximately 40 percent vs. 10 percent), online is already the largest contributor to the bottom line in the United States and some other countries, according to Mr. McGovern.
To maximize revenues and profits, Mr. Carrigan focuses a lot of attention on the web. Just as Mr. McGovern saw how computers would revolutionize the way we function in the world, Mr. Carrigan sees the web revolutionizing publishing. As he puts it, "We are not transitioning from print to online. We are completely transforming our business. … We've got different audiences, different user experiences…new revenue models."
Reporting Strategy
Revenues and profits are, of course, the driving force behind all business decisions at Computerworld, and that means, mostly, revenues from marketers, in whatever form they take—participation in events, impressions, leads, etc.
Given that he sees the future to be online, Mr. Carrigan pays a lot of attention to the detailed stats from his websites. In all there may be 50 ways that Mr. Carrigan slices and dices the data collected at each website. For example, he looks at revenues by source (leads, licenses, ads, etc.), and he wants to know revenues per page view on the website.
Mr. Carrigan is also very interested in the path his visitors follow. What do visitors do when they get to the website? Where do they enter? Where do they go after they come in? How many page views per visitor? What can be done to increase that?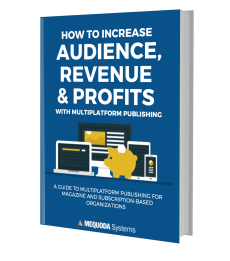 Learn the secrets behind today's most rapidly growing niche publishers. Download a FREE copy of How to Increase Audience, Revenue & Profits with Multiplatform Publishing, a guide to multiplatform publishing growth for magazine and subscription-based publishers. Download now.
Then he wants to know how many people signed up for something—white papers, more information on some product, a newsletter—something. What information was collected? What contribution did the site make to the master database of U.S. names?
In the end, Mr. Carrigan's goal is to be able to use the information Computerworld gathers at its websites to provide computer marketers with a picture of the IT infrastructure of every medium to large company in America.
Conclusion
IDG is a company based on a vision. Pat McGovern saw that the world was on the verge of incredibly rapid technological change and he understood the information need this change would create.
For nearly half a century, Mr. McGovern has followed that vision, not only in the United States, but around the world. Computerworld, IDG's first and flagship brand, has formed the model for all other publications and products.
For most of its history, Computerworld was a product based on a print publication, but when the very technology that Computerworld covers every day offered an alternative to that medium—the web—it was quick to jump in with both feet. And the web is transforming Computerworld. While its weekly newspaper continues to offer impression-oriented advertising, Computerworld's fastest growing major product is leads.
Computerworld's products are integrated. Print provides impressions, drives traffic to its websites and helps sell attendance at events. With clever use of the web, Computerworld can identify those visitors who are active purchase decision influencers over a wide variety of computer products and services. The web also sells events, and these produce face-to-face meetings of Computerworld's clients and their customers.
In the whole process, Computerworld gathers enough information about individuals and their departments at computer-using organizations to create the largest and most sophisticated database of Information Technology departments.
Computerworld has made itself into a "marketing partner" for its clients.