Little was simple about the launch of Real Simple back in 2000, but after about a year and a half of tweaking, Real Simple hit its stride. Within the first few years, the magazine became profitable, and that gave the publisher an opportunity to see what else the brand could do for its readers.
One of the first places they expanded in was in books, which go deeper into a subject area. They now boast a syndicated newspaper column, a relationship with XM radio, a TV program on PBS, physical products like home office accessories and live events.
They are a great example of a successful multiplatform operation and now have a heavy focus on how they will make their website any easy to use, one-stop shop for everything Real Simple.
Little was simple about the launch of Real Simple back in 2000. The first few issues of the consumer magazine with a primarily female target didn't exactly deliver on the message that readers expected. The press and advertising communities weren't particularly enthusiastic either. Plus, Oprah's O magazine launched within a month. Nevertheless, making women's lives easier beat out other ideas by a large margin in all the pre-launch research conducted by Time Inc. So the publisher stuck with Real Simple — and so did the readers.
After about a year and a half of tweaking, Real Simple hit its stride. "We launched with a rate base of 400,000," says Karen Saltser, general manager. "Once we had a magazine that fulfilled our brand promise, it began to grow unbelievably quickly. Our rate base is now 1.9 million, with a readership of just under six million."
Within the first few years, the magazine became profitable, and that gave the publisher an opportunity to see what else the brand could do for its readers. "Because the concept resonated so strongly, we always thought that Real Simple could be more than a magazine" Saltser says. "Our other magazine brands had branched out into other media, but we always thought that Real Simple could be something even more unique. And when I look at all the customer touch points that we've built, I think, 'Wow, we really had a good idea. And we continue to stay in touch with our consumers — which is, in large part, the basis of our success."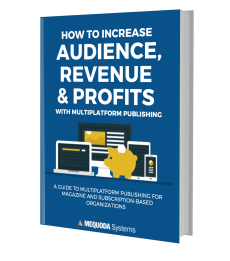 Learn the secrets behind today's most rapidly growing niche publishers. Download a FREE copy of How to Increase Audience, Revenue & Profits with Multiplatform Publishing, a guide to multiplatform publishing growth for magazine and subscription-based publishers. Download now.
One of the first places that Saltser and company looked to expand the brand was familiar territory; namely, other print products. "We started three years ago with one book and one special issue," she explains. "In 2006, we published two books and two special issues." The books go deeper into a subject area and are produced in both hardcover and soft-cover versions. The hardcover books are marketed through bookstores; the soft-cover versions are sold on the newsstand. Special issues, which take a vertical content area from the book and go deeper, are sold on newsstands and also sent to a small portion of the subscriber base that would find the topic relevant.
By 2005, Real Simple began to roll out several more brand extensions.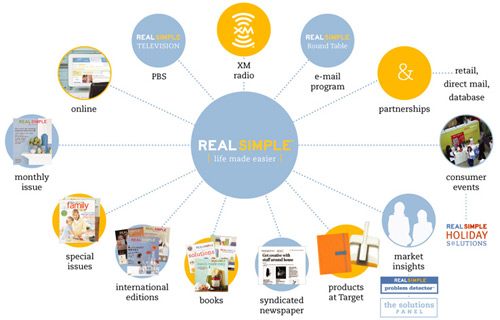 During its first few years, growth from the magazine was in the double digits. That has now slowed, and Saltser believes that the digital space has the biggest potential to drive that kind of double-digit growth again. "We want to be able to reach women and help them solve their problems 24/7," she says. "Right now, we do that on a monthly basis with our magazine, periodically with our books and special issues, weekly with our TV show and newspaper column, and daily with the radio segments. So we feel that the digital space offers a huge potential for our business. I can definitely see a real shift in where our revenues will come from five years from now."
That may be tough to accomplish, however, because the current revenues generated by the magazine and all its other products are already quite significant.
Platforms used by Real Simple
Magazines: Real Simple is distributed monthly, with annual specials Real Simple Travel and Real Simple Family. Real Simple is also published in local languages in South Africa, Greece, and Japan.

Email Newsletters: Website visitors can opt to receive editorial-based email newsletters, a weekly e-tips email and/or a daily thought. The combined subscriber base for both is less than 150,000. A separate marketing-based weekly email program reaches 500,000 people. Once a month the email includes editorial content, once it is a promotion piece for Real Simple, and the other two times it includes a special offer from an advertiser.

Books: Covering topics such as food, organizing, and entertaining, Real Simple has published four books to date: Real Simple: The Organized Home, Real Simple Solutions, Meals Made Easy, and Real Simple Celebrations.

Live Events: Real Simple Entertain, NY is their entertaining and cooking event. Used to satisfy advertiser requests to touch the consumer in person, Real Simple also sponsors a number of events each year. "Problem Detector" seeks women's opinions on their most frequent and bothersome problems and informs the magazine's editorial.

Radio: A relationship with XM media on its Take 5 women's channel includes a variety of one-minute Real Simple Solution segments that run 10-12 times a day.

Television: A weekly half-hour show, called Real Simple TV, launched on PBS in 2006.

RSS: Three RSS feeds are available: Daily Recipe, Daily Tip, and Daily Thought.

Website: While they have always had a website, it has been relatively basic. The publisher is currently focusing on building an effective digital strategy for the brand. Co-marketing relationships with high-affinity brands such as Pottery Barn and The Container Store amount to an incremental 75 million online impressions for the brand over the course of a year.

Merchandising: Branded home office and desk accessory products are sold primarily through Target stores; cleaning products are sold at smaller chains. In the first year, more than a million units were sold.