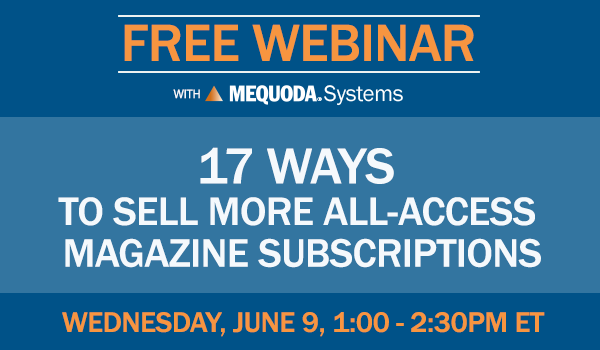 Do you feel like working at home more than usual has made you want to gather more than ever? We miss attending events and meeting new people who love working in this industry as much as we do. Normally, this time of year we'd be meeting in Boston with our publishing partners for a powerful few days developing new best practices in a room with the most savvy group of publishers we know, drinking cocktails after hours together, and walking away with laptops full of notes and ideas.
I'm sure there are conferences you were looking forward to also this last year—there's nothing like post-conference buzz! Zoom has been a great tool, and the huge adoption of it made us want to find new ways to gather online with you on a more regular basis.
So, we put our heads together to come up with a discussion on a topic we think all publishers strive to improve: selling all-access subscriptions.
You're invited to join us on June 9 at 1:00 PM ET for a FREE webinar, 17 Ways to Sell More All-Access Magazine Subscriptions.
Let me tell you how we've earned so much expertise in this area.
In 2015, Eileen Shea, Mequoda's Content Marketing Director, and I took on the challenge of increasing online subscription sales for the Biblical Archaeology Society.
Over the next 5 years, we developed and refined a process that we now call Six Sigma Marketing that includes all the elements we'll be discussing in the 17 Ways to Sell More All-Access Magazine Subscriptions webinar, including next-gen order pages, content previews, marketing spotlights and a myriad of other subscription marketing sources.
Eileen currently manages the Six Sigma subscription marketing programs for several consumer websites such as I Like Crochet, I Like Knitting, Recipe Lion Clubs, Biblical Archaeology Society, Old Farmer's Almanac, and Food Gardening Network.
This webinar will be the first time Eileen and I have shared the entire Six Sigma marketing program and results in a single presentation, and you'll benefit from seeing the last five years of developing this next-gen approach to subscription website marketing.
For every system we've implemented this on, we've doubled, tripled or quadrupled the number of subscriptions sold online each year, and we'll show you how to do the same!
In 17 Ways to Sell More All-Access Magazine Subscriptions, you'll discover three buckets of opportunities for boosting revenue and profits with these models.
Email opportunities, including a number of different email templates, reciprocal marketing deals, and master file mailings
Web opportunities, including conversion architecture, navigation, landing pages, paywalls, and order flow abandons
Paid opportunities using social media, push notifications, Google Adwords, and other ad networks
Since this webinar is free, and we're all craving a little shop talk, we expect it to fill up, so register now to guarantee your seat. 
At the end of the webinar, you'll get a chance to talk to Eileen and me directly, and ask all of your burning questions about the case studies we'll share, and how you can get the same results.

Eileen is Mequoda's Content Marketing Director and a seasoned, top-notch direct-marketing professional with a wealth of experience in planning and managing successful programs. Eileen's breadth of marketing experience covers both consumer and business publishing—from U.S. News & World Report to Harvard Business Review—and marketing strategy and best practices. Eileen's keen and timely data-analytics capabilities help Mequoda partners stay on top of current digital marketing trends to maximize revenue and profits.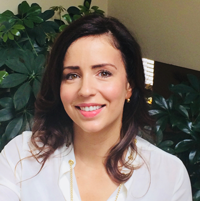 As Mequoda's Chief Strategy Officer, and as an experienced marketing professional who has overseen strategic planning for many of Mequoda's publishing partners, I have guided the development of more than 20 subscription and digital marketing systems. My team and I monitor and maintain a robust best-practices database of marketing techniques and business processes that helps power all Mequoda partner programs.
I know what you're thinking: What's the catch? or Where's the sales pitch? Other than genuinely looking forward to this conversation with you, our goal at Mequoda is to give you all the tools necessary to succeed. It's why we have been sharing our entire business model and best practices through the Mequoda Daily. Plus, as I mentioned, it's nice to get together and talk shop after being cooped up all year!
We hope you'll find that this 90-minute free webinar marks a turning point in how you look at subscription marketing, and that you walk away with a notebook full of ideas you can start testing immediately.
And if you decide to take the next step and let us help you accomplish your new goals, we'll be happy to talk with you after the call. But for now, all you have to do is register today and we'll give you a whole bag of ideas that you can start implementing right away, on your own, if you choose.
Register today so you don't miss out on this event, and please pass this along to colleagues and any friends in the industry who may benefit from this webinar.
Eileen and I look forward to meeting with you and answering your questions at the end of the webinar and to help you relate our methodology to your organization, mission, and goals.
If you have any questions, please don't hesitate to reach out!