8 Big Twitter Mistakes We Made

and 8 Ways We Fixed Them
Yesterday when I presented at the FOLIO: Growth Summit in a session called "Using Social Networks to Strengthen Your Market Position", I got an abundance of questions from magazine publishers after the session about Twitter.
This inspired me to write a post about our own personal experience with Twitter. In the beginning, we were weary like many publishers are, but with the results we've had (new subscribers, incredible user interactions, a huge influx in traffic, the list goes on), we couldn't be happier.
When we first opened our official Mequoda Twitter account in May of 2008, the results were a little dismal and discouraging. For about five months, we accumulated very few followers and hit a plateau around 100. Sad, I know.
However, from being part of the "Twittersphere" we've learned many lessons that I thought might help any publisher looking to be successful on Twitter.
Below are the mistakes we made, and how we fixed them:
1. We used Search.Twitter.com to follow every publisher on the planet.
Why this doesn't work: When someone looks at your profile before following you, one of the first things they'll notice is the ratio between the people you're following and the people who are following you. If you're following 858 people and have 6 followers, that's an immediate turn-off. Twitter folk won't follow you.
How we fixed it: To fix the initial mistake, we un-followed everyone who wasn't following us in order to even out the ratio. Then, we made sure that when we do add people it's in very small increments of 5 or 10. If they don't follow us back, we unfollow them. It sounds petty, but Twitter is a give and take relationship. Unless that Twitter user really is delivering content that you want to hear, no need to keep following. To maintain the ratio, we now use the free TweetLater service to un-follow anyone who has un-followed us.
What it looks like:

2. We used Twitter as a glorified RSS feed.



Why this doesn't work: Big publishers like The New York Times can afford to do this because they're such a huge brand. Small publishers apparently can't afford to do this. Why? Because then you're only appealing to the audience you already have. If only 5% of your audience is on Twitter, you're not going to grow and you're not going to develop a new audience.
How we fixed it: We stopped using the tool that automatically twittered links to our posts when they were published online. Now when we post a blog, we make it more conversational, for example "Why publishing is awesome – http://www.link.com/story.html (do you think publishing is awesome)"? In other words, we try to engage with our readers.
What it SHOULDN'T look like (unless you're the NYT, I suppose):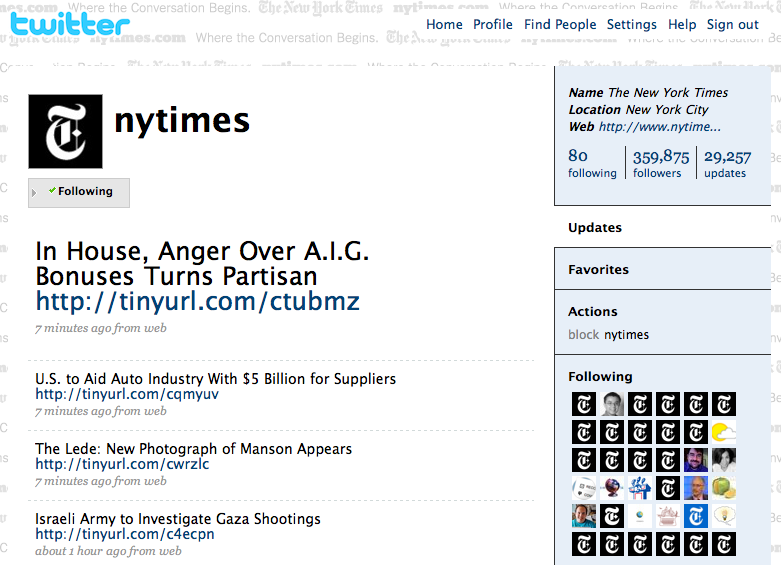 3. We branded the Twitter feed 100% Mequoda Daily.



Why this doesn't work: Again, this sort of behavior won't grow your audience. "Mequoda Daily" sounds like a publication. Telling readers up front that you're here to promote yourself isn't a good first impression. Twitter folks want to hear from a person, it's not meant for a one-way conversation.
How we fixed it: There's no doubt that you need to keep your brand intact, so we didn't strip everything away. Instead, we turned our avatar into a big "M" for Mequoda, a little mysterious, not so in-your-face; and changed our username to simply "Mequoda". We also let readers know exactly who the person was behind the account. That's me. So when you look at our Twitter profile, you'll see that it doesn't say "Mequoda", it says "Amanda MacArthur, Editor & Publisher of Mequoda Daily".
What OURS looks like: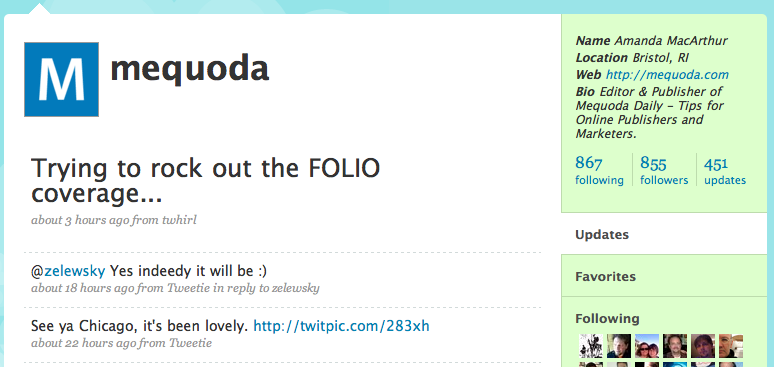 [text_ad]
4. We didn't make friends before we started marketing.
Why this doesn't work: Who actually likes going to the mall and walking by the cell phone kiosks? You know the ones. You don't know these people, but here they are, shouting at you from across the mall, trying to make a sale.
How we fixed it: For a short while, we just stopped linking to anything of ours other than blogs. I started promoting helpful blogs from other sites, responding to other people's tweets, and began to get involved as a person, not as a marketer. You might consider this a waste of time, but you should consider it building your reputation.
5. We didn't make much conversation.
Why this doesn't work: Twitter is a social network. People on social networks, especially ones with a large B2B crowd, know that you're a marketer. They just don't expect to be marketed to all the time. When someone decides to follow you on Twitter, the first thing they'll examine is your profile. If every Tweet you send is a self-promotion, you will not build an audience.
How we fixed it: The funny thing about Twitter is that you actually have to work at being a marketer, when being a human being is so much easier. Nowadays, we try to follow a rule of 60% conversation, 40% marketing. You may need to adjust that number depending how often you tweet. If you're unsure, just look at your profile page and ask yourself, "would I follow this person?" To fill in the gaps, sometimes I'll tweet about what Kim and I are eating for lunch, or which book Olive our office dog found and is currently eating.
What it SHOULD look like: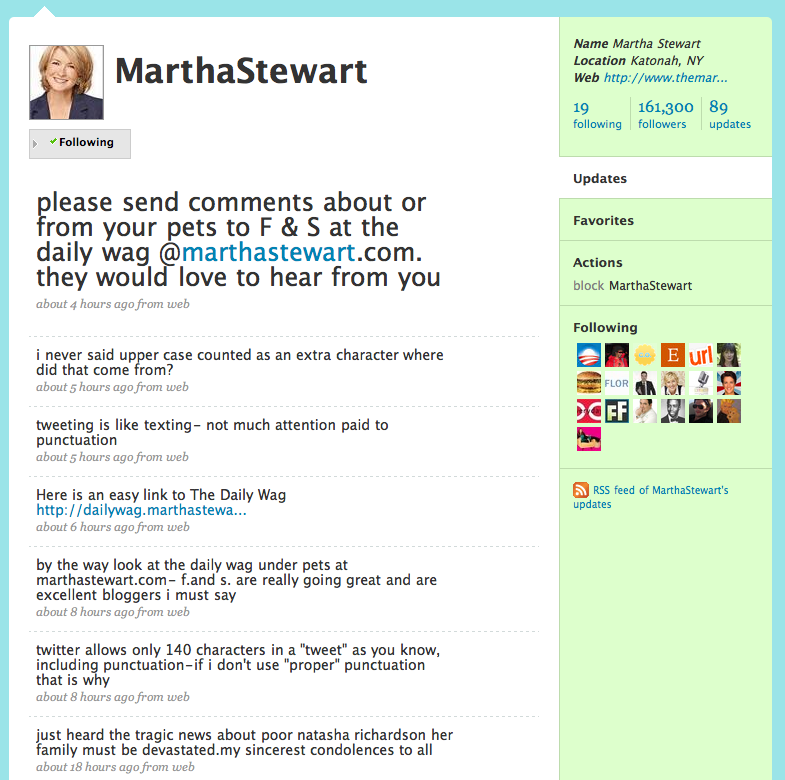 6. We didn't track anything.
Why this doesn't work: It's hard to convince your boss that spending an hour or two a week on Twitter is good for the company until you have some numbers.
How we fixed it: Once we found in Google Analytics that Twitter was our third biggest traffic-driver, we could finally gloat a little. Upon further investigation, it turned out that our traffic from Twitter wasn't even the whole story. I started using bit.ly to track the links I was putting out there, and as it turns out, we were actually getting triple and quadruple the traffic we originally thought. Why? Google Analytics doesn't voluntarily track traffic from Twitter clients and applications, and most active Twitter users use a desktop or mobile app to manage Twitter.
What you WANT to see: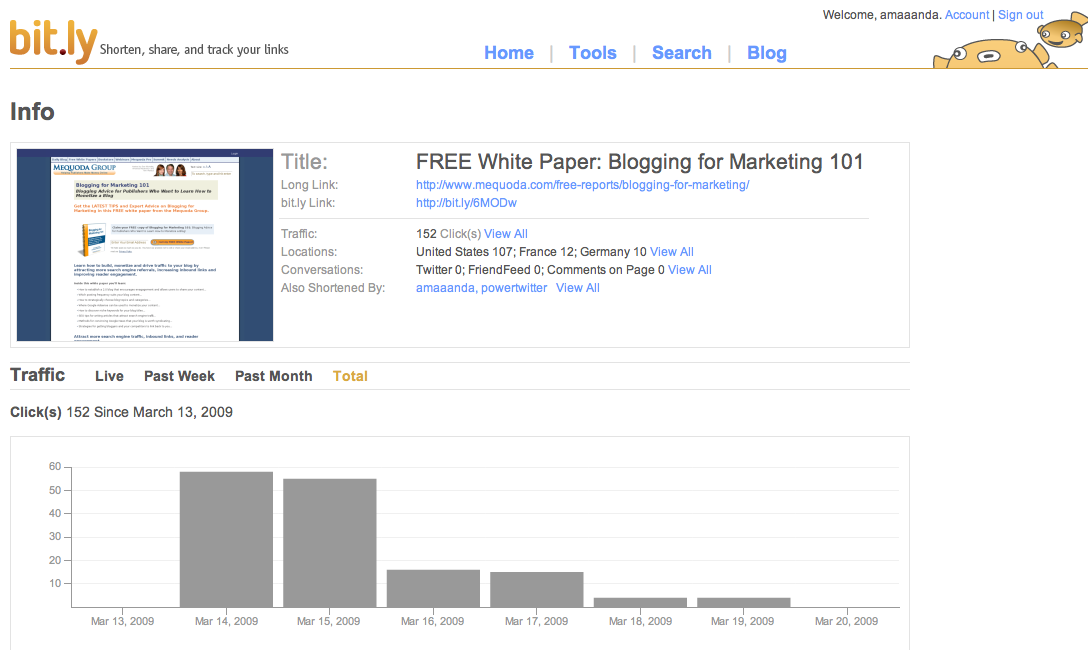 7. We didn't talk about anything newsworthy
Why this doesn't work: Evergreen content is great, but news is easy to spread, especially when its original content.
How we fixed it: The most glorious day in our Twitter life was the day that Don wrote this blog: Lesson from the Obama Campaign: Email Marketing Rocks!. Around 5am the next day, the BarackObama Twitter account followed us. Then came a tidal wave of around 200 new followers throughout the day and the next day. If we'd been tracking links back then, we'd have some idea of where the traffic came from, but to this day we have no idea except that it had something to do with a pass along on Twitter, not our blog.
8. We kept our Twitter account from our readers.
Why this doesn't work: Sometimes when you try out new media, you might be embarrassed of "jumping on the bandwagon". Especially when you're starting out and you don't have a big following yet. Well, don't. You're regular readers are your biggest fans, why not invite them to the party? They can serve as a great base to show your new audience that you have people out there who like you.
How we fixed it: Every time we talk about Twitter, we link to our Twitter account. In our daily newsletter, there is now a link to follow us on Twitter, and also in my email signature. Don't be afraid to send a direct email inviting readers to follow you. I recently got an email from Mark Ragan (Ragan.com), explicitly soliciting followers… plus a little bump for their upcoming conference in May.
What Mark Ragan did:
This isn't meant to be a sneaky plan of attack on how to con Twitter folk into following you. People are going to follow you on Twitter if you're contributing to the conversation in a way that's valuable to them. That's all you have to do. I hope Mequoda is now an asset to the Twitter community and I hope your publication will be too.
Have you made any of these (or other) mistakes? Questions? I'd love to hear it all.