B2B magazines putting the fun in digital fundamentals
As MediaShift puts it, "what advertisers want from B2B media is solid leads on potential customers for their products and services."
Not so long ago, web and digital magazines were considered adjunct media—the consensus among publishers was that almost like ads, they would drive prospective subscribers to their print editions. In fact as readers struggled with flat, inflexible pdfs that served as copy, many did go running back to print.
Today, magazines are going digital at a gallop, keeping pace with legions of increasingly sophisticated web and mobile device users whose facility with the digital landscape is driving sales of iOS devices and tablets into the stratosphere. Digital media consumption on mobile devices has climbed from 18 minutes a day in 2008 to about 3 hours in 2015.
[text_ad]
Just as with consumer magazine readers, B2B magazine subscribers are seeking flexibility, freedom and certainly convenience in when and how they consume content, which may include receiving the print edition as well.
That said, with more and more B2B magazines entering the digital space, the onus is on publishers to court readers with a content experience that includes innovative custom video, audio preferences, webinars, social elements, regional events and more.
In the past, InPublishing, for example, has offered contributing magazine writers an additional stipend, if they record their articles as audio — a valuable bonus that subscribers receive for free. Many B2B magazines are finding ways to digitize their content across platforms.
Here's how some great B2B digital magazines are making waves in the digital arena: 
1. Publishing Executive. A smorgasbord of eLearning, live interactive webinars and virtual trade shows help feed Publishing Executive's hungry readership. Available on PCs with streaming audio, webinars bring key topics—such as "How Publishers are Forging a Path to Digital Profitability"—to industry professionals, along with an on-demand webinar archive.
2. Quartz. Launched in 2012, Publisher Kevin Delaney (of Atlantic provenance) created an immediately viable Quartz in a time of inordinate challenge to the global economy which, he posited, was grist for the mill. According to Delaney, the most successful, enduring magazines were forged in times of great flux and upheaval, positioning the mobile-first (stacked content and scaled images) Quartz to speak to an emerging global economy.
As a digital guide, Quartz's staff speaks 30 languages and emanates from 115 countries. Content is either mobile-standard concise, or can balloon to 13,000 words –"compelling content" readers generally visit a few times before they finish, much like a bedtime book.
Pioneers in their use of charts, Quartz's Chart Builder tool has been acquired by news organizations. With 10 million unique visitors per month, the guide targets what it calls "post-national business executives," or those who travel extensively and work in countries other than their birthplace.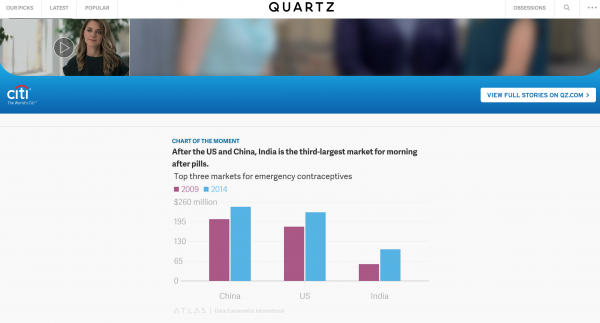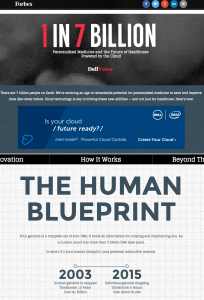 3. Forbes. "One day, in an all-mobile world, it might help do away with the oldest school thinking of all: how we publish and tell stories," writes Forbes Media Chief Product Officer, Lewis DVorkin. However, one way they've truly innovated is with BrandVoice's new "Special Features", where native advertising companies can publish branded digital content, accessing the same tools as editorial staff.
In this respect, posts, graphics, infographics, photo galleries and interactive elements will be available to advertisers on the magazine's website. Their first campaign using the tool, launched on July 28, is by Dell. It's titled "1 in 7 Billion" and labeled as DellVoice.
This is not typical native advertisement, it's more like a really impressive interactive infographic. "The campaign, which will run with ads for eight weeks, focuses on personalized medicine and the future of health care powered by the cloud," said Forbes in their press release.
4. The Economist. While technically not a B2B publication, The Economist skews an elite readership and has offered audio options for its magazine since about 2012. These include a word-for-word recording of the print and digital editions, downloadable through website or Economist apps. At that time, 25 to 30 percent of its readers were availing themselves of the option, including one reportedly underwater.
In other audio offerings, podcasts are available even to non-subscribers. Diversifying into what the magazine calls "lean back" and "lean forward" elements (more complete with blogs, multimedia and debates), the former is geared toward tablet readers while the latter caters to the web. Subscribers can also get The Economist Espresso—a morning brief—sent directly to smartphone or inbox.
5. Architectural Record. A lodestar of the architecture and design industries, Architectural Record's visuals have made this magazine a favorite among industry insiders. Its video interviews with globally-lauded leviathans in architecture make it even more compelling.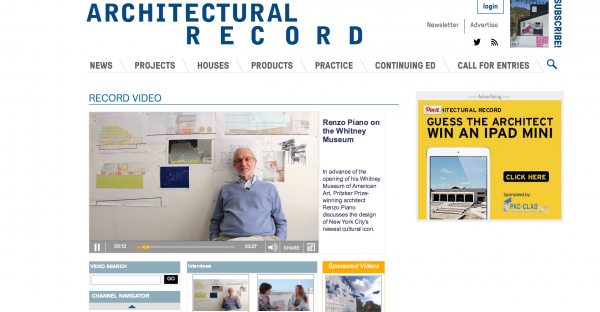 6. The Business of Fashion. This "kind of a blog-turned- website-turned-B2B trade journal -and- kind-of-a-magazine," according to the Wall Street Journal, was launched in 2007 in an embryonic digital age. They have print and digital issues that talk specifically to fashion industry professionals. Helmed by Canadian-British fashion authority Imran Amed, the founder grows his editorial garden by conducting workshops for luxury conglomerate executives to educate them about publishing technology.
BoF has taken note of user-generated content and created a community "BoF Voices" section, with the tagline: "Fashion's Forum for Debate." Industry professionals can submit their own articles, like "Does "Made in" Matter?" and "How Can We Safeguard the People Who Make Our Clothing?" More content, more traffic.
7. While not strictly a B2B magazine, Conde Nast's highly evolving Architectural Digest merits a strong mention here due to its focus on unprecedented partnerships. According to Adweek, taking partnerships beyond traditional media, Executive Director of Integrated Marketing and Digital Strategy Shelly Johnson worked with client Delta Airlines and designer Thom Filicia to create a series of luxe outdoor terraces at JFK's and Atlanta's Hartsfield-Jackson Airports, and also transformed a neglected cul-de-sac in San Francisco into a community park. Additionally, the magazine enrolled Cadillac in a five-city architectural tour of public and private spaces to showcase the Escalade.
Each of these projects was digitized through custom content, video and social media. In short, the magazine says it does not just cover design content, it creates it.
The canvas for digital magazine publishing continues to evolve, and increasingly thrive, rewarding boldness, creativity and innovation from publishers who understand how to leverage technology to everyone's benefit.
What B2B magazines would you add to the list?
[text_ad]