Boost advertising revenues by offering native advertising on your site
Native advertising is content that is created to subtly promote or sell a product. It is also referred to as an advertorial. Most often, this content is sponsored by a third-party advertiser, although publishers also write native ads for their own products.
Different types of native advertising examples include in-feed ad units, which are articles that look like every other piece of content on your site, except it's clearly labeled as sponsored. We also consider the paid search units in your website search results to be native advertising. Additionally, if you recommend third-party content in your "related content" section below articles, those would be considered native ads. If you sell listings, like AutoTrader, then any listings that are paid for and sponsored (by a car manufacturer for example) would be native ads. Some sites have featured content widgets displayed at the top of their content, or alongside it that are sponsored by advertisers and yes, those are also native ads.
If at any point you are producing, displaying,  or publishing natural content from an advertiser on your site, this could be considered native advertising.
[text_ad]
The content for a Native ad, which is most often a long or short article, may be produced by the advertiser, or it may be created by an inhouse marketing team of the publisher. Conde Naste is one such publisher that has created an entire native advertising team called 23 Stories by Conde Nast, to accommodate advertiser demand."We are changing the branded content game with 23 Stories by Condé Nast by offering marketers, for the first time, access to our unparalleled editorial assets," CMO Edward Menicheschi said in a statement. On that note, Digiday recently took a look at the state of native advertising through the lens of five data sets.
"New data from native ad platform Polar published today show 40 percent of publishers expect native advertising to drive one-fourth or more of their digital revenue this year, while the other 60 percent expect it to generate less than a tenth," Lucia Moses writes. "Creating the content for native ads is one of the biggest issues for brands, many of which don't have the editorial chops to do it themselves. Half of publishers take full editorial control of creating sponsored content; 36 percent let advertisers contribute content on a case-by-case basis, according to Polar."
Other findings show that more and more brands are creating their own content, but that native that mimics surrounding editorial, is "sponsored," and that has "subtle labeling" performs at the highest levels, perhaps unsurprisingly.
In this example on USA Today, the news article is being sponsored by G/O Digital, and it's clearly stated at the top of the article, in the byline and at the beginning of the article. G/O Digital also receives a banner ad on the article itself.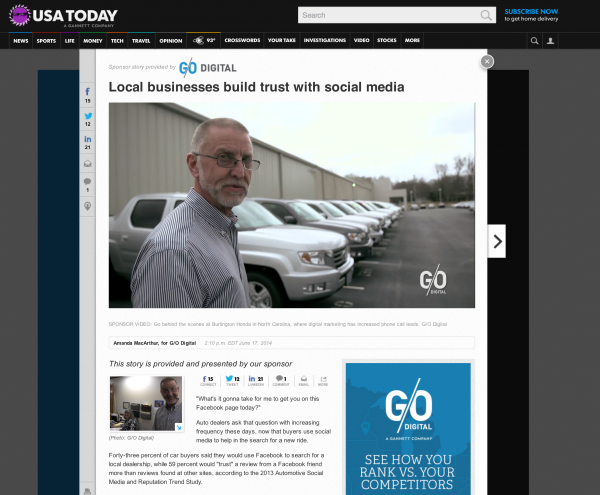 At the bottom of the article, there is yet another clarification that the article is sponsored.

All of these mentions of the advertisers aren't just a formality, they're required by the FTC. When publishing native ads on your site the FTC requires you to say so. If a user could in any way think the content is purely editorial and not sponsored, then the publisher is subject to fines deemed by the FTC.
[text_ad]