When thinking about your favorite digital magazines, how many articles are included in your idea of the perfect issue?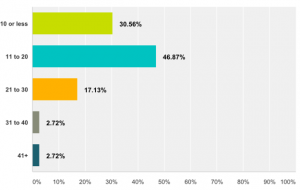 We've covered a lot of ground during the past couple of weeks as we roll out stats from our 2015 Digital Magazine Market Study. But have we covered too much with one stat post per day?
Not according to consumers of digital magazines. Far from it.
Forty seven percent of American adults who read digital magazines say that their perfect magazine issue has 11 to 20 articles, and 30% say 10 articles or fewer is best.
Even combined with our daily best practice posts, totaling an average of three per business day, we've got a little wiggle room, apparently!
Readers are craving content. Consumption of digital magazines has now reached 43% of print magazine consumption and is climbing rapidly. Why? How? Achieving the perfect mechanics for digital magazines is a work in progress, but after talking with 3,642 U.S. adults with Internet access, we believe we're closer than anyone in the industry to nailing down the fundamentals.  We've found that readers want:
The opportunity to pay for high-quality content
Readable, scrollable text
Access to editions on the web, on tablets, and in print
Immediate delivery of content
Now, we're seeing a formula developing that works best for capturing attention and keeping it: Providing a substantial but not overwhelming number of articles.
There are many ways to reach this threshold. We advocate strongly for the repurposing of content, whether as evergreen posts or even in adapting it for other articles, white papers, webinars, and podcasts. We came up with the concept of the Minimum Information Unit (MIU), which can provide readers with useful articles in digestible, versatile chunks.
Some digital magazines reach beyond their own staffs to create more content – they enlist their readers. The most well-known example is Forbes, and one of the latest digital magazines to adopt such a strategy is Travel + Leisure, albeit with a twist, as we found out in April. They're experimenting with a platform approach that eschews populism for expert contributors. All writers will be paid.
The magazine went from 12 posts a week to 100.
"The approach to paying outside contributors has also varied widely across sites. Some publishers pay nothing, while others, like Traveler, pay based on traffic goals. Entertainment Weekly said it would pay some of its bloggers in prestige only," wrote Digiday's Lucia Moses at the time.
"The T+L approach is a safe bet for a publisher whose reputation is built on a luxury, not mass image. The potential downside is that the site won't grow as fast as it would if it opened the floodgates to contributors."
Need more than one stat post per day? Good news: You can download the entire 2015 Digital Magazine Market Study here for free!