Four webinars that will help you define, optimize, and analyze your website's content
How would you define website supremacy? I'd consider it a market leader that provides functionality accepted by its audience members. It would share content, inform interested readers, and offer online business strategies focused on revenue generation.
How do you think website supremacy can be achieved?
There are a few main areas that have to be addressed for a website to reach massive success. Below I've listed five of our webinar programs which help digital publishers create a comprehensive website that focuses on strong content, optimized landing pages and accurate analytics. All of these webinars (and over 40 other webinars) can be watch any time with our on-demand Mequoda Pro subscription.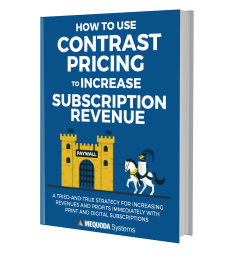 Learn how to choose the best subscription pricing & single-copy pricing strategy for your subscription websites & subscription apps when you download a FREE copy of How to Use Contrast Pricing to Increase Subscription Revenue.
Understanding Google Analytics – Which Metrics Really Matter? This live upcoming webinar will share the 12 key metrics that should be monitored closely. Attendees will learn the importance of these analytics and how to calculate the numbers behind them. Without a sufficient understanding of analytics, it is hard for online business owners to make favorable changes to their website.
SEO Basics – We have an actual strategy for writing website content that gets found and indexed by search engines. With this knowledge, your content creation efforts will be more targeted…and they will lead to more website traffic.
Landing Page Testing & Optimization – Landing pages need to be tested often to assure they are performing to their fullest potential. This program will identify the components of landing pages that you should test, while teaching you how to perform the analysis.
Website Homepage Design Workshop – This program walks you through the Mequoda Website Scorecard – a set of guidelines we've created by reviewing hundreds of websites. Within 90 minutes you'll have the information needed to make your homepage perform better.
Register now for a Mequoda Pro subscription and receive on-demand access to all of these webinars and more.