The newsletter content business model is editorially focused and relatively easy to publish
So you want to be a publisher. One of the first decisions a new publisher has to make is what kind of subscription website to create. And one of the easiest ways of starting a subscription website is to use the newsletter content business model, with its tight editorial focus and typically small editorial staff.
The newsletter website business model, or as it is so often called today, the advisory website business model, is one of the more profitable models on the Internet. Newsletters have long been a staple of the periodical publishing industry, focusing on a specific, narrow topic in a shorter, less graphic format than magazines, usually black and white text only and shorter than 20 pages.
[text_ad]
A newsletter content business model and its website is set up solely to sell subscriptions for a related print – or, even cheaper to produce, digital – newsletter. Often, the site also provides access to issues of the newsletter. A newsletter subscription website is commerce-based, with an overall objective of increasing product sales and providing customer service to existing subscribers. These sites are fairly simple: Usually the home page consists of a free area, with content that focuses on the benefits of becoming a subscriber to the related publication – a sales letter – and conversion architecture where a visitor can subscribe.
Some newsletter sites have a password-protected private area, where paid subscribers can view an HTML version of the current issue of the print or digital newsletter or download it in PDF format, as well as access and/or download back issues and other premium content. Like all premium models, a newsletter website is typically paired with an affinity (free) model like a portal or community which promotes the newsletter website.
The newsletter website does not produce any free content, so the heavy lifting of SEO and social media is left up to their affinity site. Editorial staff can be minimal, though each writer must be an expert in the newsletter's specialized field, rather than a generalist as many magazine editors and writers are.
While easier and cheaper to publish than glossy magazines, newsletters, particularly those in the investing space, have always commanded higher prices than even the fattest consumer magazine, where the urgent need to maintain advertiser rate base led over the decades to insanely low prices for a year's subscription. Thus an aspiring publisher, with expertise in a specific field, can most easily jump into the newsletter space.
Newsletter content business model examples
Newsletter websites are, by definition, almost always niche media sites. At TSI Wealth Network, you'll find they have a free portal with multiple free articles publishing every day, which is paired with a newsletter content business model. Below is an index of all the premium newsletters offered by TSI, with buttons to subscribe to each. If a user was logged in, they would see the "known user" version of this page, which gives them access to the newsletters they're subscribed to.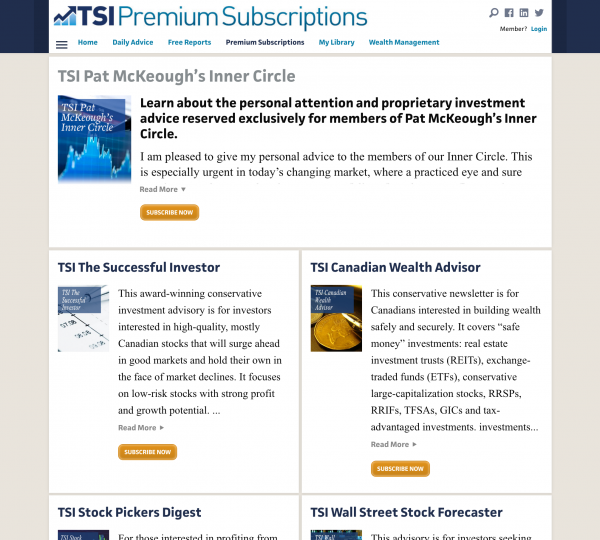 If you're a subscriber, when you click into any of the newsletters, you'll get the option to view the index of each issue and download the PDF or view the issue online.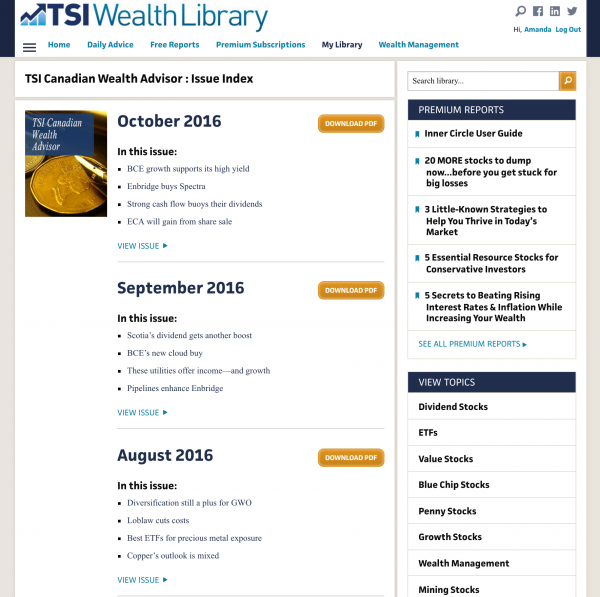 Articles from the newsletter are digitized and easily read online on any device. There is a consistent right-hand navigation table of contents so that the reader always know they're still logged into the newsletter.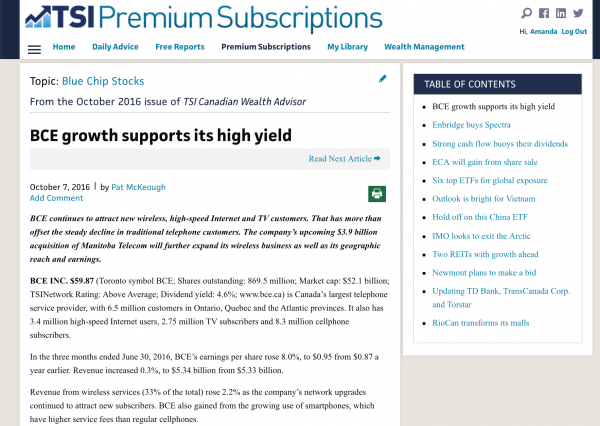 The Dark Report is another example.  Like all Mequoda-compliant websites, it's paired with free content, in this case The TDR Insider, to drive traffic and keep the audience engaged. And because the newsletter publisher can easily expand his offerings into events, The Dark Report also offers an events website. Below is their newsletter website, where unknown users hit a paywall if they try to access content.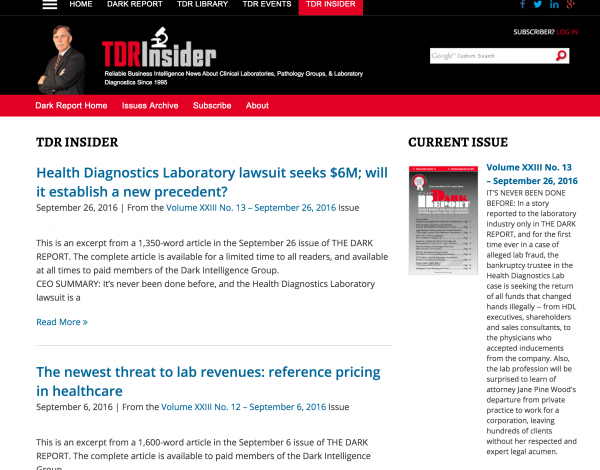 In addition, Mequoda is a firm believer in the value of an archive of old issues, which can either be used as an entirely separate product or used in a product bundle to leverage contrast pricing. At The Dark Report, it sits in two different bundles to increase their perceived value.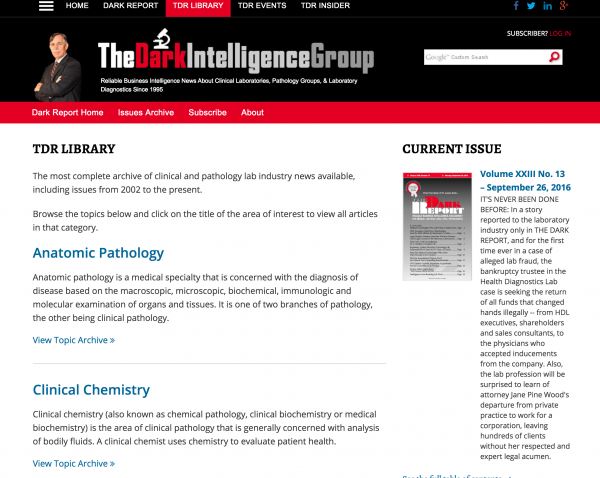 [text_ad]
Characteristics of the newsletter content business model
The newsletter content business model has defined characteristics that help to promote the newsletter and increase circulation and profits. In all characteristics except the number of authors, a newsletter site is the same as a magazine content business model.
Who pays: The newsletter site requires users to pay for access. Selling these subscriptions is generally the only monetization channel. The only advertising is for the publisher's other premium products.
MIU: The Minimum Information Unit (MIU) for a newsletter site is an article, and the primary product.
Frequency: Newsletters are updated infrequently, they're often updated monthly or bi-monthly.
User-generated content: None.
Number of authors: Newsletter content can be generated by one writer or by a team, but even a team will consist of only a few authors.
Browse or Search: A newsletter site is organized to allow browsing. As with the magazine website business model, a search function is only occasionally used by the rare reader who is looking for tightly specific information.
Homepage: The homepage of a newsletter site, because it exists to promote a publication, is focused on what's new in that publication, rather than what's popular with readers.
Video: Newsletter websites may sometimes include video as part of their subscription but not always.
In short, there's really no way to go wrong here, and the newsletter, and its content business model, is perfect for topic experts who want to focus solely on their topic. Schedule a call with us to talk more about building a newsletter subscription website for your business.