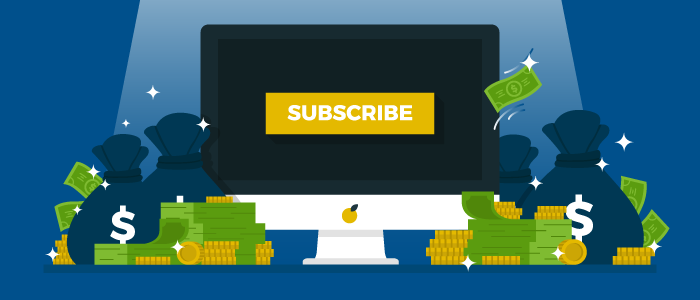 The one-time cost of building a magazine subscription website could reduce overhead indefinitely
For $3 per month or $36 per year, there is subscription service called The Sink that will automatically deliver you everyday toiletry products every month. (Sorry CVS and Rite Aid, you're being replaced.)
For $10 per month or $120 per year, you can get makeup samples (the same you get for free at any beauty counter) delivered to you in a highly decorated box from Birchbox.
While I don't know how long the toiletry box startup will last, you've probably heard of BirchBox. And despite Birchbox's apparent success as a subscription company and becoming a household name, even they struggle. They laid off 15% of their staff a year ago, and another 12% over the summer. Their investors just gave them another $15 million, hoping to see the return on their investment.
Subscription boxes are a tough industry. The costs are high for many of these businesses. For those who are lucky enough to be making boxes of samples, like Birchbox, they get much of their product for free, but they still struggle in costs for labor, packaging, and shipping. Other monthly subscription boxes have it even harder because many of them pay for the items in their boxes and still have labor, packaging and shipping costs.
[text_ad]
Although we think magazine publishing is a tough industry to survive in, we have some distinct advantages in helping to make our paper magazine, complete with costs for printing and delivery, more profitable.
Create additional products that eliminate paper and delivery costs.
Do you have a magazine subscription website? A magazine subscription website is only called as such if the user can view or download an issue of a magazine—one that is linear and periodic, has pages and a regular frequency, and can be viewed in HTML as a web magazine, downloaded as a PDF or downloaded to a mobile device.
Many people refer to any website that carries a legacy magazine brand and magazine content as a magazine subscription website; however, if the content is not organized in a magazine format and issues cannot be viewed or downloaded, it doesn't meet the basic criteria of being a magazine subscription website.
The key component of any magazine subscription website is the web magazine you build within it. A web magazine is a web-friendly version of your magazine. It's in HTML, it works like a website and it has a topic-based archive in addition to an issue-based archive. And while our research indicates that only 15-20% of users place a high value on being able to access content by topic in addition to accessing it by issue, those who do wish to access the content by topic value this feature very highly.
The magazine website should ideally be built to be responsive so that it can be viewed and digested on a mobile device.
Creating a magazine subscription website
Like most publications, including newsletters, this one typically requires the user to pay for the content. But some magazines, like regional titles or B2B titles, are typically free for the user and paid for by the sponsor. In these examples, the user can be said to have paid with an email address when registering for free in order to access the magazine subscription website.
Users should be able to search and browse current and past magazine content, as well. A search function is a nice add-on to a magazine website that wasn't possible in print, but well-organized website taxonomy offers readers a chance to find, say, afghan patterns or health articles simply by browsing through those categories. Individual afghan patterns and article topics, however, are so specific that it would be a rare reader who would search for exactly that material.
And like all but one of the other content business models, free and premium, the magazine website sometimes has videos available, though more and more magazines are offering them as the technology becomes simpler every day.
At Mequoda, we used to think that with the advent of mobile publishing, it would become less necessary for magazine publishers to make their issues available for reading or for download on their websites. But with research data showing us that users are actually willing to sit with a computer long enough to read a magazine – contrary to our earlier expectations – we now believe that magazine subscription websites are the future of magazine publishing, and when they're built responsively, they can even replace digital magazine apps.
How's that for making more money with a new product while reducing overhead? Once your magazine subscription website is up and running, it takes very little maintenance to keep current, other than uploading new monthly issues.
Have you considered building a magazine subscription website yet? What are you waiting for?