Web Usage Prediction: When Mobile and Desktop Collide
By Kim Mateus • 11/03/2011
Are you preparing for mobile to take over web browsing?
Mobile web browsing is predicted to surpass desktop web browsing, according to an "Internet Trends" report by Morgan Stanley's Mary Meeker.
According to Meeker, mobile web browsing will become more popular than web browsing on desktops in 2014 after years of rapid growth.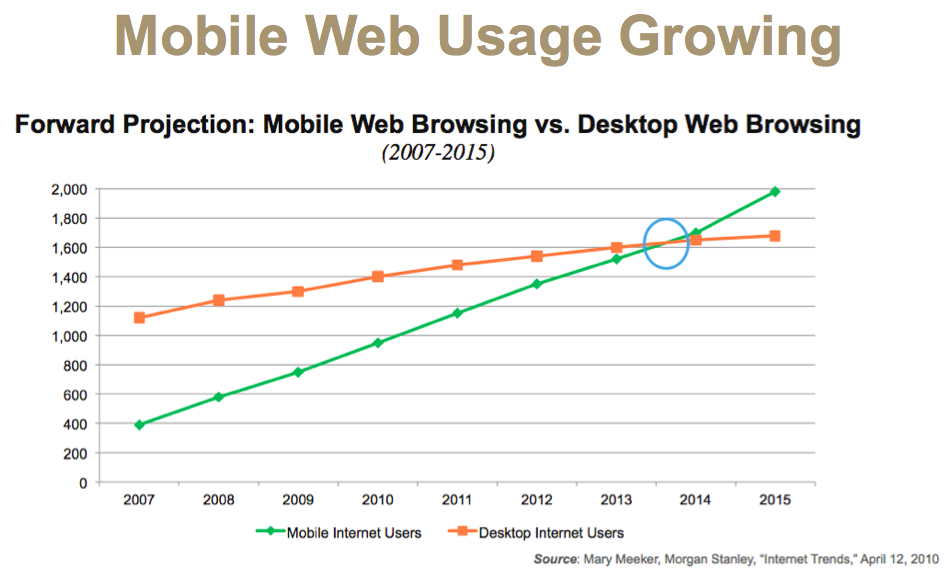 By 2015, mobile Internet usage will be greater than desktop usage, as the growth of desktop Internet users is expected to plateau.
The surge in mobile web browsing comes as the smartphone and tablet markets grow. According to Fitch Ratings, even in the tablet industry's infancy, it is on pace to ship over 50 million units globally by the end of 2011.
The Pew Internet Project found this past summer that 35% of all adults in America own a smartphone. These smartphone owners take true advantage of their devices as 87% access the Internet or email, with 68% reportedly doing so daily.
Discover
digital publishing tips for creating digital magazines in a tablet magazine publishing world
when you download our
FREE Digital Magazine Publishing handbook
today.
The prediction that mobile web browsing will surpass desktop browsing within the next few years is not too surprising when we look at these statistics. As the tablet market grows and devices become cheaper, and the smartphone market continues along the path of major competition, mobile adoption is definitely probable.
The importance of this information
Sometimes predictions are made in our industry that never come to fruition. This prediction is certainly not one of those, as all signs point to major growth in mobile Internet browsing that will in fact surpass that of desktop browsing.
For publishers, this means a few things…
First, there is an inherent need to optimize your website for mobile devices, or have a version of your site that is designed specifically for mobile device users. This may be a lighter version of your current site, with appropriately sized images for smartphones.
Second, for tablet devices, publishers need to embrace the inherent multi-media and interactive capabilities. Digital magazines did not take off on desktops because they didn't feel or act like traditional print magazines. The tablet can create the feeling and experience that digital magazines need to survive in the digital age.
Related Posts
Posted in Digital Magazine Publishing
10 Responses to "Web Usage Prediction: When Mobile and Desktop Collide"
Leave a Comment