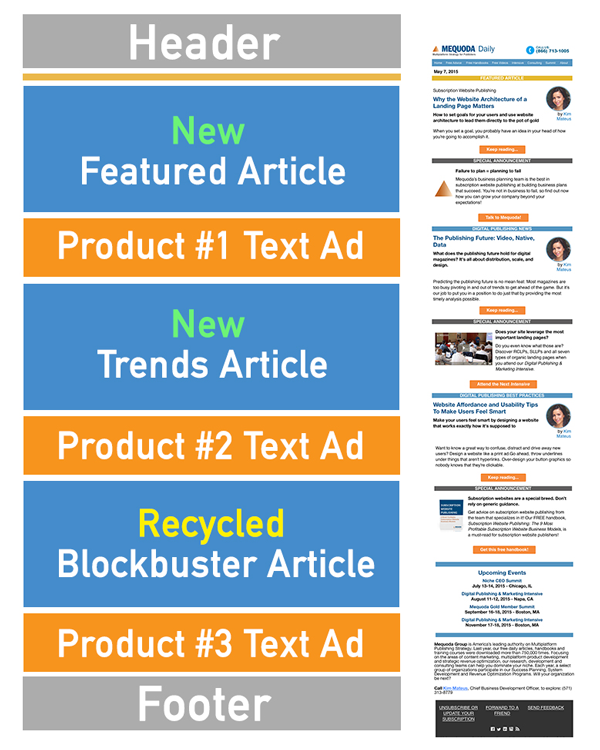 The best email newsletters stack content and promotions — and here's how publishers are doing it.
When you go responsive, it makes you focus on your top one to three primary goals. I can't tell you what your goals are, but I can tell you how to make them clear in your next daily email newsletter design.
For a long time, the best email newsletters had a sidebar. We and all our clients saw a large click-rate and revenue increase when each daily email newsletter featured just one product on the right-hand side of the email, in its own column. We've always stuck with the belief that the featured product should be aligned with the content of the email, like the one to the right.
But responsive design doesn't appreciate column this, and column that, so we took our best practice email template apart, and analyzed it.
When we were done, there were a lot of parts left on the garage floor. Most noteably: that right sidebar that had performed so well, for so long.
But we plunged into a single column design, mobile-first, using a short one to two paragraph snippet, followed by a featured product above the fold, right below it. After the switch to mobile-first, Mequoda Daily had a 60% increase in arrivals from email.
To be honest, that was a huge spike, and we're sure it was partially due to the fact that this template was completely new. If our readers had banner blindness before, looking at our right rail every day, they no longer do. In six months to a year, we may need to refresh again.
When we design mobile-first email newsletters, we focus on simplicity and thin width so that the content resizes easily on any size device. Below you can see what our new best-practice email template looks like in its most simple form.
We have three editorial snippets for the three articles we published that day. A featured post, a news post, and then a blockbuster post. Next to the template, you can see how Mequoda follows this method exactly.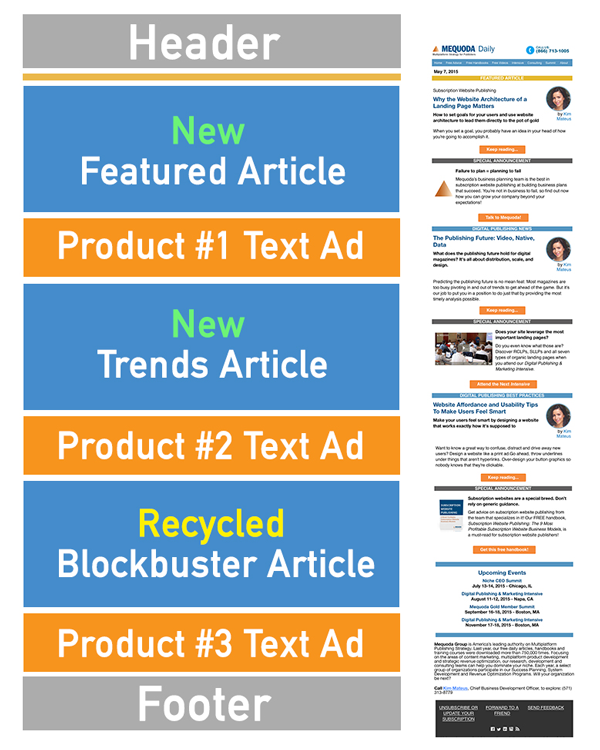 Our clients have followed suit with similar results.
One Mequoda publisher who made the switch from a two-column email template to a one-column mobile-first design has seen a Revenue per Thousand (RPM) increase of 3.6x!
And click rates increase too. At Mequoda we've seen click rates increase by 27% since switching to a mobile-first design. Clicks to our most important ad went up 250%.
Since mobile-first design is easier to read and digest, more of the content, including your ads, get seen.
However, all of our clients have completely different goals and products, so they use the stack as a template, and use it to fit their needs.
Natural Health Advisory Institute's Daily Update
Here's how Natural Health Advisory's email looks above the fold, now. Their featured article is still front and center, and their "special announcement" aka featured product is related, and right below.
What you'll notice below, is that they've identified a few other calls to action deemed as most important. The second promotional slot is focused on getting current email susbcribers to subscribe to their editorial advisory group email list. The third promotional slot is focused on getting the reader to forward a free handbook to a friend. Most people who receive this specific email newsletter will have already downloaded that specific report, so it's a perfect opportunity to remind them to share the report, and drive more people back to Natural Health Advisory Institute as new email subscribers.

Leadercast's primary content is video, but they are able to maximize their content using a similar format to our three-layer stack. Since they have a large archive of videos they want to share, the second two slots in the three-stack go to category pages, which feature an abundance of videos in each of those categories. They are categories most related to the featured article, so that the reader feels a sense of relevance throughout.

Nutrition Action's Daily Tips E-Newsletter
If you don't have the resources to create or recycle three pieces of content per day like we recommend, Nutrition Action uses a simple version of the stacked template. In the first position is their featured article. Right below it, a related paid product. For good measure, a link to one of their freebies. They're in the health niche, with content that's highly shareable, so including this freebie link near the footer is a way for them to convert more visitors into email subscribers when they get an email like this forwarded to them.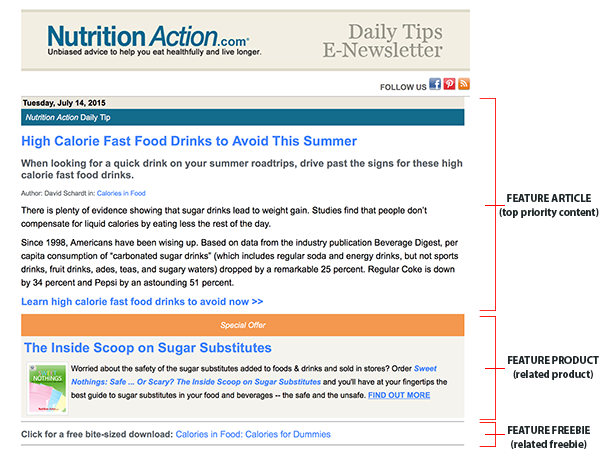 What you'll notice from all the above, is that each publisher has completely different goals and products, but they make the stack work for them. Their new articles, recycled articles, category pages, paid reports, free reports, and videos are all in order of priority within their stacked email template. The more content published per day, the more products they can promote in featured ad slots. You don't need to publish three pieces of new content every day. None of these publishers do.
If you'd like to talk to Mequoda about building a best-practice Mequoda System, complete with email templates like these, driven by your goals, schedule a 30-minute chat with our CEO, Don Nicholas, today.