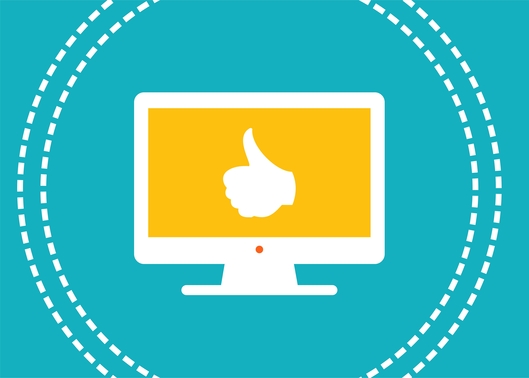 Facebook is the hero when it comes to buying simple social media ads
Social media is undoubtedly the best way to get your articles shared. Since 2007 or so, the social media world has become a go-to spot for businesses who are looking to create content and then market it to the masses. Some would argue that social media is meant to be a one-to-one platform, but realists know that it's a one-to-many platform.
Over the past few weeks, I've been reading articles about the "old days" of social media. The days where people listened more than they spoke, and they conversed more than they retweeted and shared.
We're pretty cool with both – we like engagement, but we also enjoy getting shared. One thing is true – you have to work a little harder these days to be seen in social media. Once you are, you visibility will skyrocket, but getting to the point of noticed is a challenge in itself.
Because of this challenge, some of our clients have increasingly been asking about social media ads. As you may have read previously on our blog, Facebook is cracking down on how visible all of your articles are.
The main algorithm looks something like this: post today, get more likes and comments than usual; then tomorrow any new posts will be seen by more people than usual. Or, post today and not get likes or comments; then tomorrow, fewer people will be able to see your post. Basically, Facebook is taking popularity into its own hands and determining how many of your fans should be able to view your posts based on recent history. If a post does badly today, your visibility will drop. If it does great, it will increase.
And Facebook isn't alone here. Twitter doesn't have the same God syndrome where they limit your visibility, but let's be honest – it's limited! During a TweetChat last week, someone said that the average Tweet has a lifespan of 30 seconds. Seconds. That's why we're not too worried about our 12-Tweet formula for new posts annoying anybody. Twitter moves in real time and at the speed of light, so if your followers tend to follow lots of other people or businesses, don't expect them to see everything you write.
Now, social is increasingly becoming a worthwhile percentage of publishers' traffic, and it's most certainly a huge factor in Google's search algorithm. So getting likes, comments and shares on your social media posts is most certainly a priority even if just for SEO.
Secondly, we've found that social media users convert at higher rates into email subscribers than visitors from search, so they're also more valuable to your bottom line.
At this point, you can deduce that social popularity is something you want. And if your site is designed to convert visitors into email subscribers (and buyers later on) with 3C conversion architecture, then it's worth spending a few bucks on social media advertising.
Here's how to spend $50 bucks a week on social media ads:
Buying Facebook ads: 
Facebook is the cheapest of the social ads. They offer several different types of ads, but the "promote your page" ads tend to attract spam bots that reduce your organic visibility further down the road. Instead, I'd suggest spending your ad dollars on "boosting "your posts, which runs on a pretty generous CPM basis.
To do this, every time you post a new article to Facebook, there's a little button that appears and says "boost." From here you can set a budget and ask Facebook to promote it to the people who like your page and their friends, or, a new target audience that you can define based on keywords. Promoting to your existing audience tends to get the most engagement results. However, if you want to double your efforts and get new fans to your page too, then promote your posts to a new, targeted audience. Swap this up every once in a while – promoting to your fans, and then to a new audience.
You can boost your articles with a budget of $5-$10 each, depending on your post frequency. This is the lowest budget allowance of all three social ad platforms.
Buying Twitter Ads:
In a similar vein, you can do the same on Twitter with quick promote. Twitter can be less expensive if you spend the time to set it up that way, but in my experience, you get a bit less than what you pay for with Facebook. Twitter would prefer you spend $25 to promote each Tweet.
If you don't have one already, set up an account with Ads.Twitter.com. Once you've done that, soon, you should be able to see analytics for each of your Tweets in your main feed, represented by a square bar graph below each Tweet.
From there, you can click on the bar graph and be taken to an option to promote your Tweet. Be warned, the lowest option here is $25. However if you select the Advanced Options link, you'll be taken to the Twitter Ads dashboard where you can set up more custom campaigns with budgets that are smaller.
You'll have a tough time spending $50 a week on Twitter and getting much for your dollar. In order to make it worthwhile, you'll want to create custom ad campaign and rotate between many different Tweets who use the same ad slot. Sort of like an A/B test!
Buying LinkedIn Ads:
LinkedIn offers Sponsored Updates, like the two prior, but they are the most expensive of the three. LinkedIn offers a CPC or CPM ad structure where you'll pay about $6 for a click or $19 for 1,000 impressions. LinkedIn also charges you a one-time $5.00 "activation" fee for opening your ad account. The other two don't charge to start buying ads.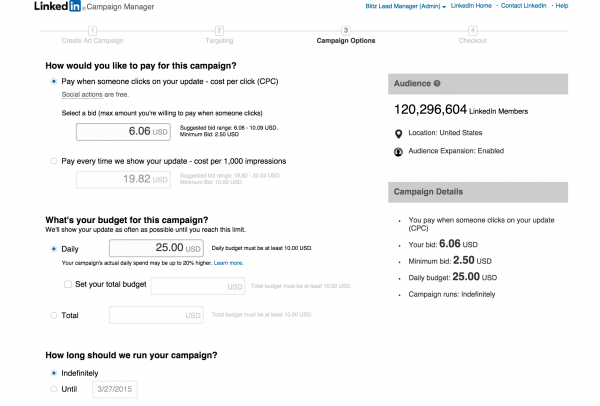 I wouldn't recommend LinkedIn ads for a modest $50 weekly budget. Your time might be better spent writing and publishing advertorial articles using their new "publish a post" feature that seem to be getting good traction on the network.
All three allow you to set daily budgets and limit spending to certain periods. This list also represents the order I'd put them in, in terms of intuitiveness for setting up ads. It's very easy to promote a post on Facebook, and gets less simple as you move into Twitter and LinkedIn.
However, I find that that dashboard for currently running campaigns is more intuitive on Twitter and LinkedIn. Getting historical data on promoted posts, or finding out which campaigns are still running or expired can feel like navigating a labrynth at times on Facebook.
At some point, Pinterest will allow everybody to buy ads there too, but for now it's waitlist only. 
Do you buy social media ads? How much do you pay to sponsor or boost posts? And which network performs best for you? We'd really love to know your experience!