Everybody who knows how to promote a magazine most effectively on Twitter uses a combo of wit and recycling
The one thing publishers complain about when it comes to Twitter is that it doesn't generate a ton of revenue for them.
And the one thing publishers forget to do on Twitter is promote their magazine. D'oh.
Dell is the company most famous for making money on Twitter and may be to blame for the expectations set for anyone looking to drive revenue through the social network. The legend of Dell, who joined in 2009, and by June they had made $3 million through their promotions on Twitter, and by December they had Tweeted their way to $6.5 million, made it to every news outlet.
But Dell sells hundred to thousand dollar electronics and you sell $10-$50 magazine subscriptions. Tomatoes aren't tomaaahhtoes.
Here's what Twitter can do for a publisher, and it does it well:
Increases traffic to your site through social users (the more you Tweet, the more traffic you get).
It sends all the right social signals to search engines, which will boost your SEO results and drive more organic search traffic.
The SEO benefits alone make Twitter worth using. And when you use the 12x12x12 method for every post you publish, it keeps your posts fresh and recycled in the eyes of SEO for up to a year.
Unfortunately that's where most publishers stop. They spend so much time and effort promoting content that they forget about the promotions.
[text_ad]
How to promote a magazine on Twitter like Dell
What you might not know about Dell, is that since 2009 they've evolved into their own version of publishers too. So not only do they have a hold on content with nine different blogs, but they know how to promote it and sell electronics through Twitter.
You've got the content part down, and the content promotion, now it's time to talk about your magazine on Twitter.
Set out to promote your magazine at least once a day. As a publisher, you're promoting plenty of content throughout the day, so the ratio of one promotional Tweet to eight or ten content Tweets is hugely balanced.
Align your email promotions with your Twitter promotions. If you decide that promoting your magazine once a day is too much (it isn't, when it comes to Twitter), then go ahead and align it with your email promotions. If you send promotions for your magazine on Tuesdays and Thursdays, then set up Twitter promotions for them as well.
Come up with new ways to promote your magazine. "Subscribe now!" is not the way to get subscribers, but you don't need to spend all day coming up with new Tweets, either. Keep a spreadsheet where you'll save the ones you come up with, use UTM codes to track sales, and set up Goals in Google Analytics so you know which Tweets perform best. Social media sales are easily the most poorly tracked sales out there.
How to promote a magazine on Twitter by recycling existing sales copy into promotional Tweets
In order to easily write new promotional Tweets, start with the salesletter for your magazine, and get clipping. Let's look at the Biblical Archaeology Review sales letter where I've highlighted ten sentences right away that could be quickly turned into promotional Tweets for their magazine.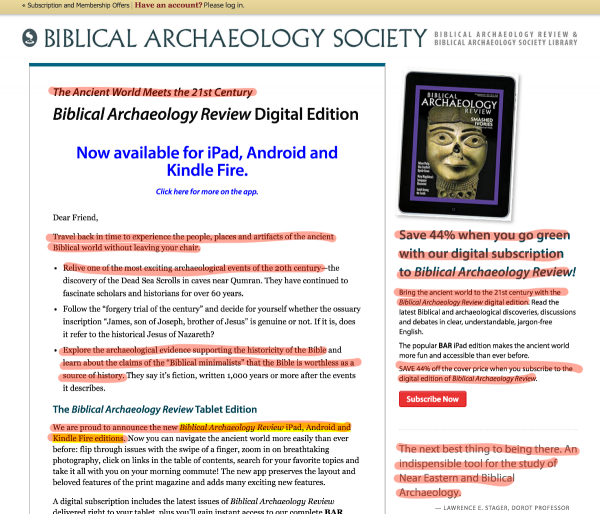 [text_ad]
Or what if you're Warfare History Network, and you want to promote WWII History Magazine? In only a little more than a paragraph and OFIE, I've got five Tweets locked and loaded.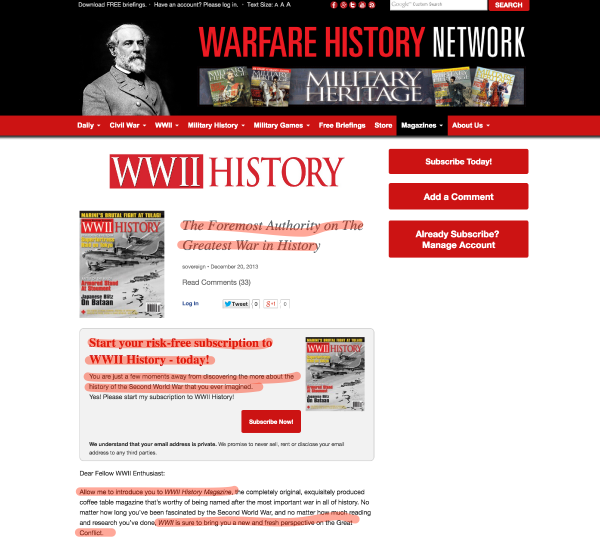 Some publishers have much shorter landing pages, and that's OK too. Think your landing page is too short? Guess again, even The Economist has plenty of content to work with!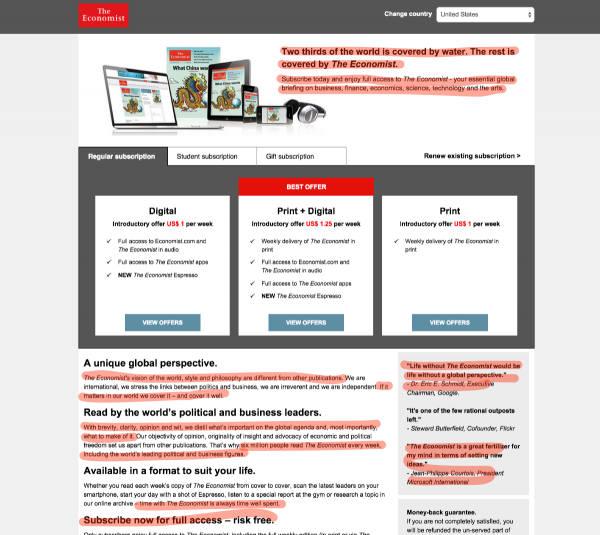 Something you'll notice in all of the above posts is that they don't say BUY ME!
Because guess what, nobody wants to click on something they know is promotion, before you tell them WHY they should buy.
What they want is for you to tell a story before they click. What can you do for them?
But what you'll notice is that all we've breached so far is how to recycle copy from your sales landing pages to write promotional Tweets for your magazines. There's more:
Mix and match content from the pages, you don't have to excerpt exactly.
Collect the email subject lines with your best open rates and recycle them.
Recycle the promotional headlines you use in other ads (PPC, print, etc.).
Use images in your Tweets to increase click rates.
Use hashtags on your Tweets to be seen by a wider audience, even weeks or months from now.
Don't forget to lead with any sales or discounts when you have them.
Come up with new subscription pick up lines and test, test, test!
Do you have more to add? How do you promote your magazine most effectively on Twitter? Share your ideas, methods and results with our readers!