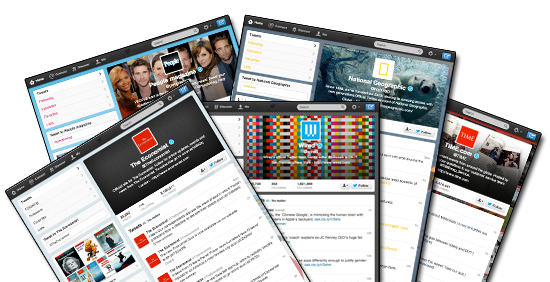 Are you tweeting? Twittering? Tweetering? When I first launched our @Mequoda Twitter account in May 2008, I didn't ask permission. Don had sent me off to the Web 2.0 conference in San Francisco the previous year, a month after Twitter made its official debut at the South by Southwest Conference and marketers were seeing a lot of traction.
Our first tweet, sent on May 2nd, 2008 was:
What is Twitter? – http://snurl.com/26tdm

— Mequoda (@mequoda) May 2, 2008
Seems appropriate, right? How could we publish an article about Twitter without launching a profile of our own?
We've since sent more than 10k more tweets that have driven tens of thousands of page views since then.
To be honest, Don didn't even know I was "tweeting" until one day we looked at our analytics and saw that Twitter was our second highest source of traffic right under Google. I was found out, but in a good way!
[text_ad]
Over the last five years we've talked a lot about Twitter, and we've held several great in-house and Intensive workshops.
Publishers we've spoken to and clients we've worked with have all had mixed reactions. In the beginning it was a question of ROI and "why" any publisher should spend their time on a network that, from an outside perspective, was a place where people posted photos of their lunch — as if Facebook was somehow more evolved than that.
Since that time, our magazine clients have found that Twitter users convert into email subscribers up to nine times better than visitors from search.
That answers the question of "why".
Twitter is a serious marketing platform. Retailers are seeing a significant of revenue from it and eventually magazine publishers will too – when we all figure out how to do it right.
So the question now isn't why, but how.
[text_ad]
How magazine publishers are using Twitter
We know that the top 10 magazines in terms of circulation are Game Informer Magazine, Better Homes & Gardens, Reader's Digest, Good Housekeeping, Family Circle, National Geographic, People, Woman's Day, Time and Ladies Home Journal.
We also know that these aren't necessarily the ones that are doing their best to stay at the top of those general-interest topics.
The reason I say that is because our definition of a successful online publisher is one that generates more traffic to their website on a monthly basis than they have print subscribers in their file (their OMI – Online Magazine Index).
Special-interest publishers knock it out of the park in terms of that OMI. They routinely drive three, five, eight times more traffic to their sites than they have subscribers and make their advertisers very happy with those numbers.
Some of those publishers are Forbes, PC World, Make, Eating Well, The Economist, Seattle Weekly and Wired.
We analyzed these publishers, plus the top three general interest publishers mentioned above, to see how Twitter might be a major source of their traffic in order of OMI. Our results showed us that Forbes, for example, gets eight times more traffic to their site than they have subscribers. Part of that traffic is the reason why their circulation is so high.
Then we took the same publishers and sorted by their Twitter OMI, or their TMI to see which publishers had more followers than Tweets. What this proves is that their brand is strong enough, and their tweets are likeable enough, to build and keep that following. With that in mind, we decided to analyze the top five publishers on Twitter, according to this list: People, The Economist, National Geographic, Wired and Time.
People, Time and National Geographic have now landed in our top 10 for both OMI and TMI. See a correlation?
[text_ad]
How the top five magazines on Twitter got so popular
Not to say that this is definite list of every publisher, but according to our research, these publishers are an impressive bunch to analyze. They also have brand advantage so it's true that they don't have to try as hard, but just remember that an annoying, boring, or useless feed will drive followers away no matter who you are. We were happy to see that all of the top publishers on Twitter didn't resort to auto-tweets but actually talked back to followers sometimes too.
People magazine on Twitter: @PeopleMag
People magazine has been a Twitter best-practice profile for some time. They were one of the first magazines on Twitter to handcraft their tweets, respond to readers and post photos behind the scenes. Whenever they mention a celebrity, they always use their official Twitter handle. This is an excellent strategy for every publisher to get your article in front of as many people as possible.
We're happy that they're winning the subscription and Twitter wars.
Are you watching Nicole Kidman on @jimmykimmel? Check out her look from 1983! WATCH: http://t.co/8AqGw9QIwI

— People magazine (@peoplemag) March 26, 2014
The Economist on Twitter: @TheEconomist
Although at first glance The Economists' feed might look like it's auto-generated, it's not. If you look carefully, you'll see that they rewrite every single headline into something more conversational. They've also recently gotten into adding photos to their Tweets which has shown to increase engagement.
The Economist explains how America defines religious freedom: http://t.co/Wv6xV4r4hX pic.twitter.com/erxQPs6X9T

— The Economist (@TheEconomist) March 25, 2014
They also invite users to participate in their Google+ chats, vote on hot button issues, use hashtags and post photos.
National Geographic on Twitter: @NatGeo
National Geographic suffers from first-glance misrepresentation just like The Economist but they too are re-writing tweets to appeal as quickly as possible to their followers. They appear to have mastered the art of short headlines, which are often informal, short and more click-provoking than their real headlines.
For example, the article name is The Simple Truth About Good Composition, and the tweet is written as:
What exactly is good composition? on.natgeo.com/154avqj

— National Geographic (@NatGeo) April 11, 2013
Wired magazine on Twitter: @Wired
Wired is really good at pulling out the most interesting piece of an article and using it as their tweet. For example, an article titled, We Love Amazon, But Going to the Store Matters Most ends up looking like this:
Reality check: physical stores are still where most Americans decide what to buy. oak.ctx.ly/r/3v7v — Wired (@wired) April 11, 2013
And an article about a helicopter crash looks like this:
Needless to say, folks, please don't text while you're flying a helicopter. #psa oak.ctx.ly/r/3tv6

— Wired (@wired) April 10, 2013
They also take the time to share articles within the Wired network in order to promote their other accounts, like @gadgetlab.
Time magazine on Twitter: @TIME
In the not too distant past, TIME was a feed of stories, and when we compared them to other publishers like them, weren't doing so hot. But their Twitter publishing strategy has ramped up and so have their followers. They too are onboard the headline-writing train. They also shout-out their other brands in tweets and cross-promote articles from them, like @TIMEHealthland, @TIMEBusiness and @TIMEPolitics. When they can, they use quotes and shout out their writers if they're on Twitter, like so:
Opinion: You can't be an 'accidental' racist, says @toure on @timeideas | ti.me/10O9hd8 — TIME.com (@TIME) April 11, 2013
In their Twitter bio they also include the name of the person who's posting the tweets, @kellyconniff.
If you haven't noticed yet, the biggest commonalities between all of these publishers on Twitter is that they re-write their headlines and they use the @ symbol whenever they can to get more visibility and re-tweets.
At Mequoda we rewrite our headlines several different ways and then schedule those tweets a few times the first day, again on the weekend, once the next week, the next month, three months from now and six months from now.
We've been teaching these strategies for a few years now and they work! Stay tuned for more research.