Match.com Internet Marketing System Review
To draw traffic to your website—the place where people can sign up for your free, relationship-building, email newsletter—you need a catalyst, a free item that lines up with a topic that's endemic to the audience in terms of their interest and on which the publisher or author is a source of authority. To even consider mentioning your free item, the other journalist—the one whom you hope will pick up your news item—must be convinced that the producer or author of the giveaway is a credible provider of information.
The free item may be a snippet of existing content repackaged as an eBook or Special Report—or it might be a free software application or screensaver download; access to an audio or video Web cast, a blog, or an RSS feed; access to an HTML Web page or a simple coupon; or perhaps participation in a sweepstakes.

Whether a cooking magazine gives away a recipe booklet, a crafting magazine gives away free patterns, or a business magazine gives away a free report, the goal is to create an item of value that entices interested people to your site, where they register in order to access the free download. You may have a small circulation magazine or newsletter and wonder, "Who shares my audience?" and "Who can I get to write a story about my publication?" The key is to come up with something newsworthy—the valuable free item—and then publicize it.
Case study: Match.com
Membership site offers free guide to capture new registrants…
Match.com, an IAC/InterActiveCorp business, is an online dating service that operates more than 30 dating sites in 18 local languages on six continents. The membership site launched in 1995, currently attracts millions of people each year, and claims responsibility for arranging hundreds of thousands of relationships for its members.
"Match.com is not an advertising site, so traffic is kind of a useless metric for us," says Kristin Kelly, senior director of public relations. "Our business is built on paying subscribers. Whether a product is a paid add-on or free giveaway, it has to be something that appeals to our target market and something that will make people want to subscribe to Match.com if they just get a taste of what we have to offer."
The free product
Consumer research indicates that people want dating and relationship advice and guidance. Further, a lot of people who are open to online dating are hesitant for a variety of reasons. Looking to create products and services that fill that need and alleviate concerns, Match.com launched a free dating guide in May 2005.
"How to Meet the Right Person in 90 Days," by relationship expert Dawn Yanek, was a step-by-step guide that focused on self-evaluation, expanding one's romantic possibilities, and managing relationships. The first of three installments was posted on the Match.com website on May 1, 2005, and available free to all current Match.com members and to anyone who registered on the site. The second and third installments were released the following June and July, respectively.
More recently, Match.com has put together an "Online Dating Starter Kit," which is "filled with the secrets that have worked for millions on match.com." The result of feedback from people who downloaded the more general dating guide, the new starter kit focuses on getting started with online dating—on Match.com, of course. The kit explains how to write a power profile and how to post a professional-looking photo. It teaches how to become an "expert searcher" in no time. And it coaches singles on the "art" of emailing and meeting online. As with the 2005 guide, the book is available free to those who register online.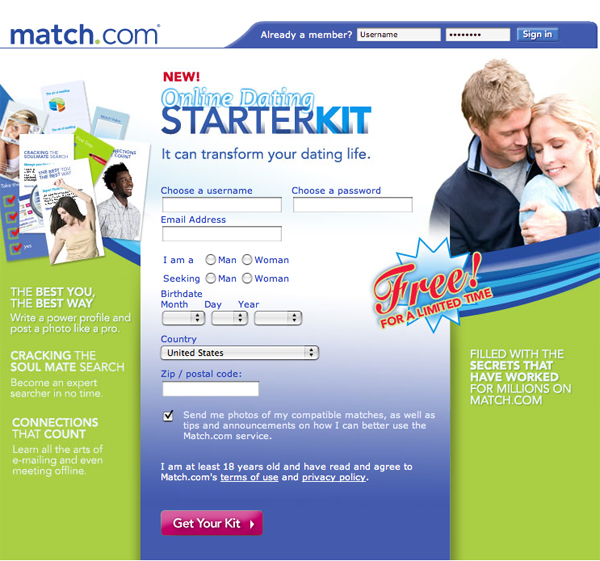 Using PR
Press releases were issued, articles appeared in magazines and blogs, and the author gave radio and TV interviews. In addition, Match.com hosted a live chat, where the author answered questions from the audience.
"My PR team has a list of good, strong media people whom we've worked with over the years," says Kelly. "Match.com has a really solid reputation with the news media and with feature writers. Match.com not only built its own brand over the ten years since its founding, it really created the online dating category. Over the years, we've educated people about what online dating is and what it isn't."
"The dating guide launched in May 2005 and just kept working for us," said Kelly, "so in the fall, we decided to link a new promotion to National Singles Week, which is the third week of September." She did a fresh news release that incorporated some of the dating guide information, along with a video news release. Dawn Yanek did another radio tour and a satellite media tour. And those efforts created a whole new wave of interest in the product.
Kelly plans to promote the starter kit a little differently. "The dating guide was rather two-dimensional," she explains. "The starter kit is more interactive. It has digital workbooks, for example. And there's a video component, where we interviewed several Match.com 'success couples' to find out what worked for them. And we're doing live chats."
Most interesting, though, is that the starter kit has two versions—a men's and a women's version. "We split it by gender," says Kelly. "If that's even close to successful, we can do various iterations over time to target other population groups such as seniors, baby boomers, or even certain ethnic or cultural groups. We have a groundswell of interest in online dating from Indian-Americans, for example."
From a earned media perspective, as well as from an advertising perspective, Match.com finds radio to be a very effective—and also cost-effective—PR channel. For the starter kit, Yanek will do live interviews on morning drive-time shows and banter with the DJs in the top 30 or 40 markets. She'll talk about dating, online dating, and the free starter kit that's available online. "That's the call to action," says Kelly, "or what we call the 'key message.' Every interview should find a way to mention the one or two things that you want people to remember or act upon. That's just basic PR."
The conversion
To get the 2005 dating guide—or the 2006 starter kit—people must give up their email address. But they don't have to subscribe to Match.com nor even create a profile. The starter kit, however, has a specific application that actually walks people through the profile creation process. Rather than offering a free email newsletter subscription, Match.com follows up with registrants through email marketing contacts, at various stages asking how it's going, if they're finding the product useful, and with some links to articles of interest in Happen, Match.com's related but independent online magazine. From there, they are just a click away from "Join Match.com." The email promotions are delivered at least once a week, sometimes more often, and are targeted based on the information available in Match.com's database.
"If you register for the free product and don't subscribe but do create a profile," explains Kelly, "we also begin emailing some potential matches. Once we have your profile in our database, we can enter your criteria, comb the database in your area, and find people who might interest you. Then we send little thumbnail sketches of their profiles to get you interested in joining Match.com."
By November 2005, 320,000 singles had accessed the free dating guide—and Match.com added a special holiday bonus section, with dating advice specifically geared to the holiday season. Each new PR effort, appropriately timed to National Singles Week and then the holidays, created a bump in response for Match.com.
"We haven't even begun to advertise or promote the new starter kit, except for a few bloggers," says Kelly, "yet we're already seeing enormous amounts of interest and traffic." She's planning a press release, a new Dawn Yanek radio tour, and articles on a selected blogs.
"After ten years and tens of millions of people, nobody knows more about single people, both collectively and individually, than Match.com," says Kelly. "We have a lot of information in our database. And that's a testament to the trust people place in us. I would say our technology people don't get their fair due, because our systems—the databases, the firewalls, and all the things required to make the system work while protecting people's private information—are really astonishing. And they've never been compromised—not ever, not even close."
This article was written by Don Nicholas with the help of Jane E. Zarem in a series on PR & Earned Media 101.