And what a bargain, whichever price you happen to pay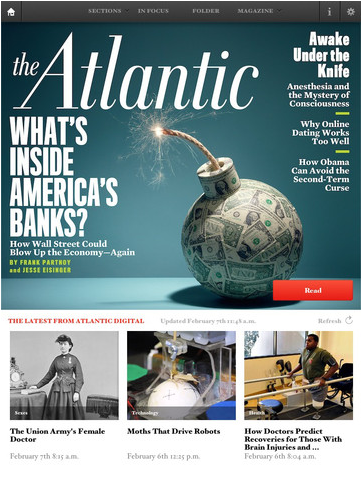 On a day when journalists were rising to the occasion as they are rarely asked to – as the city of Boston hunkered down in lockdown and a manhunt was under way – I was proud to be associated with the magazine industry.
Some of the oldest, most venerable and presumably staid publications were doing something their founders certainly could never have imagined, as they reported on the news in real time, on a medium that's broadcast instantly into homes and tiny handheld communication devices all over the world.
My assignment last Friday was to review the app created by The Atlantic, a 156-year-old publication that was born from the minds of Boston's intellectual elite – hardly a publication you'd expect to be leading the way in any creation of the 21st century.
And sure enough, The Atlantic spent the early years of website and digital publishing floundering.
When it made a profit in 2010, it was the first time in decades. But this very failure is what has driven the company to be one of the industry's digital leaders, according to owner David Bradley in a 2010 interview. Bleeding red ink meant that there was nothing to lose.
So The Atlantic didn't just jump into the digital age. It dove headfirst without a safety net.
Consumers are telling us loud and clear what they want—are you listening? Download a copy of our 2018 Mequoda Magazine Consumer Study for FREE, to find out how you can improve your digital magazine rapport with subscribers.
Throwing caution to the wind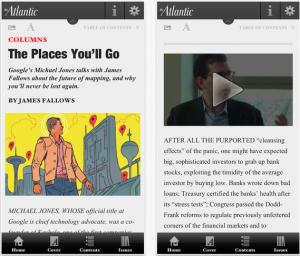 Sure enough, by going "digital first," The Atlantic has turned itself around. It is now one of the rare magazines with a positive Online Media Index number, and in fact has improved that number since 2011. Its current number, because it has far more website unique visitors than paid circulation, is 3.48. That number is up from 3.23 in 2011.
And at the recent MPA Swipe 2.0 digital media conference, president M. Scott Havens shared that their audience has increased by 330% from 2009 to 2013, and its financials have improved by 76%. Havens noted that the keys to the turnaround are the magazine's world-class editorial talent, staying true to the brand's culture and DNA, and a forward-thinking digital strategy.
So what, exactly, is The Atlantic's digital strategy?
I started out with the iPhone app, which was just launched in February. And I forged bravely ahead despite almost universally ugly reviews. "Buggy" and "prone to crashing" were the kinder descriptions. Almost every reviewer complained because the app wasn't available to them in the Apple Newsstand, but had to be bought from iTunes.
I had just downloaded the app from the newsstand, so apparently The Atlantic remedied that situation fairly recently. And I didn't experience any of the bugs that earlier reviewers had noted.
Instead, I dug into its live coverage of the Boston manhunt, all available free from its AtlanticWired brand, which was deep and varied. Having already spent the morning perusing the coverage from dozens of other media outlets, I could make a fairly informed judgment – and I was impressed. I did notice that there was not a single link to related content, nor any enhancements such as those delivered by Forbes. What you get in the iPhone app is exactly what the print reader gets, except for swiping.
It was simple to navigate the free content, and easy to read. This is not an accident, of course. In a recent Mashable article, Kimberly Lau, VP and General Manager of The Atlantic Digital, said the company wanted to ensure that the experience was different from the existing iPad app and better suited to the smaller screen. The iPhone version therefore features pages created in HTML rather than PDFs, so that users can adjust the font size on their phones. I did, and it was a piece of cake to do so.
Other thoughtful touches include the ability to retract menu bars to fit more text on the screen, and an innovative "folder" feature that lets the reader save free articles in one place. And here's where I started to wonder a bit about The Atlantic's digital strategy: One of the best things about the iPhone app, the folder, is mysteriously missing when reading premium magazine content via the iPhone app, and is missing altogether from the older iPad app.
Consumers are telling us loud and clear what they want—are you listening? Download a copy of our 2018 Mequoda Magazine Consumer Study for FREE, to find out how you can improve your digital magazine rapport with subscribers.
It's on the Internet. It must be free.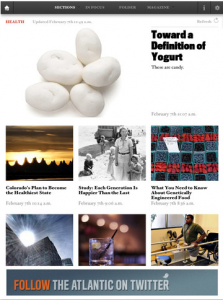 Off I went to my iPad, where I bought and enjoyed the April issue – even if I couldn't save my favorite articles. Finally, I sat down at my desk to check out the website. Imagine my surprise when I realized that the magazine, a premium product, is available entirely free there! IPad and iPhone subscribers pay for the convenience of digital portability, but nothing else.
Mind you, the subscription price would hardly break the bank. In December 2012, the single-copy price was raised from $4.99 to $6.99. And a one-year digital subscription of 10 issues costs $21.99 when you buy it through the app. If you buy at the website, you're offered print for $24.50, with the digital editions included for that price. We're not quite clear why some publishers, including mighty Time, offer different prices for different outlets, but perhaps someone will explain to us in the comments below.
And we're not huge fans of a $21.99 price point – even less enamored of it when the price of the magazine on desktop or laptop is $0.00. The Atlantic's early foray into digital publishing seems to have reaped them substantial advertising revenues – Mashable reported that digital ad revenues topped print in October 2011, up 86% year-over-year – which may explain this bargain-basement decision, but the price would also seem to be a remnant of the suicidal, rock-bottom pricing within the entire industry during the print era.
As I recently wrote, some publishers are starting to raise their prices to reasonable levels. The New Yorker made the leap from $19.99 in 1998 to $39.99 during the '00s, and again to $59.99 or $69.99, depending on the package, when it launched its digital edition in 2011.
But The Atlantic is aware. Havens recently admitted to Forbes, "We're shooting ourselves in the foot a little by having the paid app in the iTunes store while offering ourselves for free in Safari." So 2013 will the year when The Atlantic, which has been giving away its content online since 2005, at least explores a paywall, Havens notes.
Please do! Between the industry's brain-dead print pricing, and the early training of Internet users in the '00s that all online content should be free, subscription revenues will continue to falter unless everybody gets on board the New Yorker's train. And, The Atlantic's success notwithstanding, who knows when digital advertising revenues for the rest of the industry will recover to pre-Internet levels?
One other caveat from The Atlantic's digital edition: There's no attempt to drive traffic from their free content to the magazine. In fact, when I decided after reading my single copy that I'd like to subscribe, I looked in vain for a link to a "subscribe" page. Later, when I was experimenting and clicked on the "issues" link to buy another single copy, I found a "Subscribe" banner at the top left of that page. Nothing but luck and persistent poking around got me there.
Ah, but as we all know by now, digital publishing is all about experimentation and evolution, and it's almost refreshing to have something new to learn when I get up in the morning, instead of doing the same thing every day that I did every year since I started my magazine marketing career in the print era – and that everyone before me had done, day after day, for decades.
What do you think of The Atlantic's app? Did you get it before they added it to the Apple Newsstand? Has it been glitchy for you? Do you think they're charging enough? Let us know in the comments, and stay tuned for more app reviews going forward as we try to establish some Best Practices for this infant industry.
Consumers are telling us loud and clear what they want—are you listening? Download a copy of our 2018 Mequoda Magazine Consumer Study for FREE, to find out how you can improve your digital magazine rapport with subscribers.