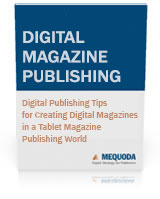 Most publishers today approach the idea of digital magazines with hesitation, lacking background or experience to guide them in this wholly new enterprise.
Our Digital Magazine Publishing handbook, however, answers all of the questions most publishers have, and even some they probably haven't yet thought of.
This 137-page guide outlines the steps necessary for launching a digital magazine, from choosing a format – all of the current formats are explained in detail, including pros and cons – to selecting software to pricing and marketing.
Our Digital Magazine Publishing handbook delivers everything you must know before you start your digital magazine publishing adventure:
What lies in the future for tablets and tablet magazine publishing?
We've done a landmark survey and deliver our predictions so you know exactly what to expect going forward.
What do readers want in a digital magazine?
Our extensive research will leave you in no doubt on the mandatory features of any digital magazine you plan to publish.
What do I have to do to launch a digital magazine?
This handbook outlines the entire process from start to finish, so you can use it as a map to digital publishing success.
How do I promote and price a digital magazine?
We've spent hours, days and months studying what works and what doesn't, so you can learn from others' mistakes instead of your own.
Which magazines are doing it right, and which aren't?
The case studies included in this handbook will prove invaluable in finding mentor digital magazine publishers to help you create the best product possible.
Of course these are just the highlights of Digital Magazine Publishing.This is not a high-altitude, theoretical work; it's a focused how-to with specific digital publishing tips, including suggested software, vendors, design, price points and other details that can otherwise make launching your digital magazine publishing enterprise a painful challenge.
This handbook is written especially to help you …
Confidently choose which software and vendors to use in becoming a digital magazine publisher
Know the difference between magazine apps and gadget apps … and why it matters
Develop a detailed plan for promoting and selling digital issues and subscriptions
Thoroughly understand how advertising works in digital magazine publishing
Make smart choices in the features you'll offer in your digital edition, and which ones aren't worth the resources
Create an appealing, interactive app that delivers exactly what your readers want, expect and are willing to buy
Become a highly successful digital magazine publisher