A review of the Google Play Newsstand reveals innovation that changes everything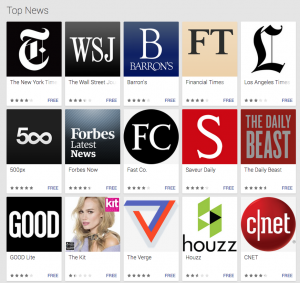 When we first heard about Google's new Play Newsstand for Android devices … we were underwhelmed.
"Ah," we thought, "Google is about to prove once again that they may understand search, but they just don't get premium content."
"If they're trying to take blog feeds and news feeds and tell us it's a newspaper, oh no it's not," we said.
"The tablet respects books, newspapers and magazines as unique mediums. You can't just disaggregate content and still call it a book, newspaper or magazine," we said.
Believing this, and knowing that the Apple newsstand outperformed the former Google newsstand almost 10 to 1, we expected, upon review of the new Google Play newsstand, to hate it.
Well …
That was then.
Having purchased a 10-inch Android device – in the interest of replicating the magazine experience we get on our iPads as closely as possible – we ran Play Newsstand through its paces. And … we liked it.
Learn the secrets behind today's most rapidly growing niche publishers. Download a FREE copy of How to Develop a Multiplatform Magazine Business Plan, and discover how large your magazine business could become and how much of an investment will be required to build your business to maturity.
What's not to like …
The new app offers both magazines – roughly 950 of them, as opposed to almost 8,500 in the Apple newsstand – and free content from blogs and premium content providers in a constantly-updated newsfeed.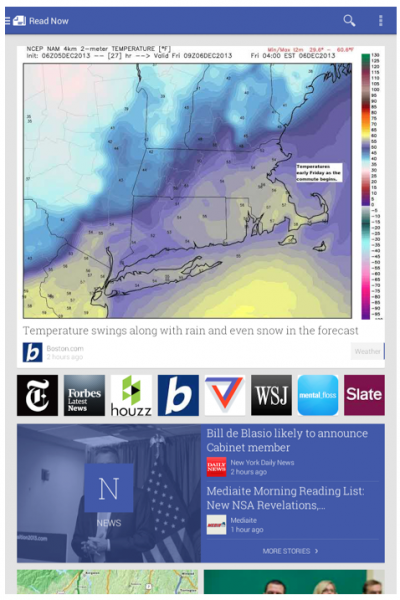 Free content from premium content providers encourages readers to subscribe. The Motley Fool, for instance, provides the free content that it uses on its website, and at the end of the article, the reader is encouraged to try to a Fool newsletter for a free trial.
The New York Times tells you the second you land on one of their articles that this is one of 15 free articles you can read per day, and gives you the option to read the article or to just subscribe right away.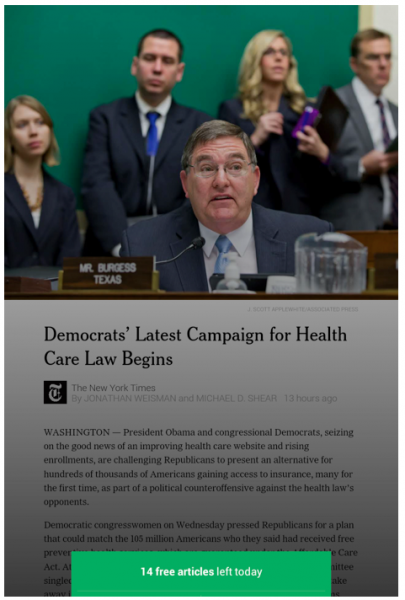 The Play Newsstand learns as you read, so the constantly-refreshed content that's offered becomes more and more geared to your reading habits as you go. It's incredibly appealing, the kind of thing you check out first thing every morning for your news, and many times a day after that. It's rather like Facebook, but with actual content, instead of your friends' updates on what they had for lunch.
And this is the heart of the genius that is the Play Newsstand: Continuously updated content, 24/7, to bring users in over and over, every day, and put them in constant contact with the magazines, and free magazine content, in the newsstand.
After all, having new daily content in your magazine app is a Mequoda Best Practice, for that very reason. Adding it to an entire newsstand benefits every publisher with a presence there.
Think about it: How often do users pop into the Apple Newsstand to browse? Once a week at most, if they already know they want to buy an issue of a weekly magazine. And there's no free content to browse through, keeping users engaged. But the Play Newsstand is useful and entertaining every day, all day. Visitors get to see a vast range of free content to tempt them into buying.
Our guess is that if this strategy were in use on iPads, publishers' sales would soar.
The only thing holding Play back is that it's designed, for now, only for Android devices. Google has promised to have a version for iOS available next year. It will be particularly interesting to follow results after that.
And with Android devices catching and passing iPads in market share, the Play Newsstand model might just be the Next Big Thing for publishers.
We checked in with one major publisher, Bonnier, to find out how they view the Play Newsstand. According to Bob Cohn, Senior Consumer Marketing Director, "To date, the Google Play Newsstand has generated a small fraction of the downloads we get from the Apple Newsstand;
 we hope that the new Google newsstand app will receive more attention and traction among consumers."
The Newsstand experience
There are some other very real benefits to the Play Newsstand. The very first thing I noticed was that it's much, much easier to actually acquire the premium content in Play than it is in Apple's newsstand. Much easier. Here's how it works:
Apple Newsstand:
Step 1: Type in password to sign in
Step 2: Download app (5 seconds)
Step 3: Open app
Step 4: Choose "buy issue"
Step 5: Type in password to sign in again
Step 6: Click to confirm that you want to buy
Step 7: Download issue (46 seconds)
Google Play Newsstand:
Step 1: Open app
Step 2: Click "Buy Issue" and "Buy" (.05 seconds)
Step 3: Click "Read" and see your magazine instantly
It's a miracle.
This is partly because on the Android device, we were able to turn off the password requirement, which you can't do on an iPad – and which you have to provide twice for every purchase. It's also partly because all content in the Play Newsstand is available offline, eliminating the need for downloads, which can take anywhere from 30 seconds to several minutes.
In addition, just navigating to find content you want to read in the first place is fairly simple in Play, too. We expected to find a complicated, badly-organized mishmash of premium and free content, but were pleasantly surprised.
Start with the toolbar, which offers five options:
Read Now (the news feed that can be refreshed, including both free content and magazine content from your subscriptions)
My News (free content you've subscribed to)
My Magazines (premium content you've subscribed to)
Bookmarks
Explore (all of the app's magazines and free content, organized into categories like sports, news, special interest, parenting, etc.)
Once you understand the organization, you're good to go. You can click to any free or purchased content that appeals to you from "Read Now," access free content to which you've subscribed from "My News," and access premium content you've purchased from "My Magazines." In "Explore," the clever organization kicks in where you might have expected otherwise.
The page on the 10-inch tablet is broken into squares, three across. Two of the squares offer the opportunity to go directly to the store or to "featured." The rest of the squares are dedicated to the individual categories.