iPad-only TRVL magazine app blows up the envelope gorgeously
It's not often that someone defies conventional wisdom so profoundly and still makes a success of it.
But that's what TRVL magazine has achieved.
TRVL is the first magazine published only in a mobile version, having been founded in 2010 by Dutch partners Jochem Wijnands and Michel Elings (who supposedly compared their love of travel at a party and launched TRVL the next day).
In fact, it's not only mobile-only, it's iPad-only. And it's not because they're just getting started or short of funds: It's because they planned it that way all along.
It's acclaimed in publishing for its uniqueness, ingenuity, content and quality (3,200+ reviews in the iTunes store and a 4.8 star rating – #1 in iTunes overall). The photographs are gorgeous, the writing fair, the app outstanding.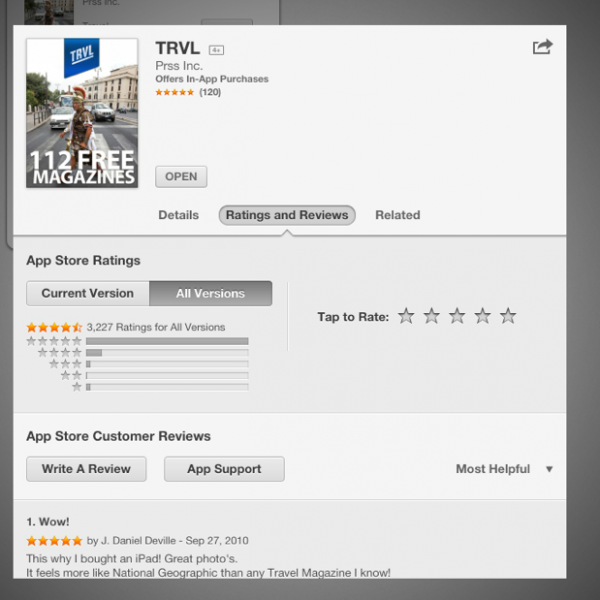 The only thing it doesn't seem to have is a big fat revenue stream.
The role of TRVL, it would seem, is as an outlet for a couple of very talented guys – a photographer and a software designer – to create something awesome, and as a showcase for their talents. Wijnands is one of the magazine's most prolific contributors, and very shortly there will be a software product released that has been created by Elings – more on that below.
The publishing company created by these gentlemen, Prss (apparently The Netherlands suffers from a serious vowel shortage), has an advertising manager, and they solicit advertisers in their terms of service, but there is no advertising in recent issues. Elings tells me they have sold advertising in the past to major players such as British Airways and Canon, and will do so again in the near future.
And subscriptions, at $.99 per month, are optional. I don't recall seeing an option to pay when I jumped in on my iPad, so I got my magazines for free. I feel a trifle guilty. At least I bought one of the two available photo books for $1.99.
Prss does keep overhead low by relying largely on freelancers for its content, instead of a large editorial staff.
However TRVL is making its money, it's still a fun publication to talk about, so let's take a look at the awesome magazine that is TRVL – a publication that could only exist here in the post-iPad world.
Learn the secrets behind today's most rapidly growing niche publishers. Download a FREE copy of How to Develop a Multiplatform Magazine Business Plan, and discover how large your magazine business could become and how much of an investment will be required to build your business to maturity.
Award-winning app
In December 2011, TRVL was voted Best Digital Travel Magazine in the Digital Magazine Awards in London, and Best Magazine App in the 2011 BestEverApps Awards held in California in January 2012.
In April, TRVL announced that it had achieved 1 million app installs. That's a pretty big audience. Of course, because it's free and doesn't seem to have any advertising, it's not obliged to report its circulation to anyone, so all data comes only from Prss.
Still, that's a lot of downloads, especially considering that the TRVL magazine app disdains all other platforms but iOS. Why is that, you ask? According to its founders quoted recently in Apple Insider, they prefer to be superb on one platform, rather than simply existing across all of them.
In fact, while they originally launched using a WoodWings plugin that exported Adobe InDesign files to an iPad reader, they felt constrained even by that – so they promptly developed their own software program.
Amusingly – because they're quoted in Apple Insider – they call it "the software Apple forgot to make." And after you get a look at the app that Prss has wrought, you'll be thrilled to know that the company is about to release that software as a free Web-based tool, named after the publishing company.
Elings says that the Prss tool makes many features of mobile publishing more accessible to publishers, such as reducing the time to design for both horizontal and vertical layout from three days to just one hour.
Prss is currently working on its beta edition, Elings says, and will release the first app made with Prss at the end of this summer. "From that point we will scale as fast as possible. In the meantime we want to learn as much as possible about how publishers use the tool," he notes.
In short, this is one of the rare times I can rave about an app, and suggest that any publisher will be able to replicate it, not just the major players. The only cost for using the Prss tool is a fee, as yet unspecified, for distributing a Prss-designed magazine in the iOS App Store.
Meanwhile, since TRVL is clearly marching to its own drummer, the publishers have also "unbundled" their content, to the extent that they now publish 114 magazines, each one dedicated to one single global locale. In practice, these are actually individual issues, but it certainly sounds more impressive to call them "magazines."
One new "magazine" is published each week, focusing on Rome to Sydney to Burundi, from Galapagos to Poland, Languedoc and Yunnan, Andalusia to Lebanon to San Francisco … and 104 more. There's only one "issue" of each "magazine," and it remains to be seen if they'll eventually publish a new issue for each locale/magazine, or just keep adding locales and calling them new "magazines."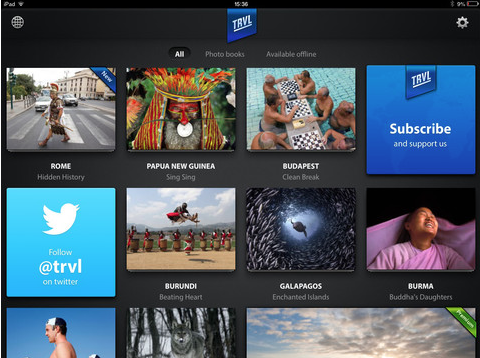 When you download the free app, you get to the "store" for all these free magazines. There are so many of them, I found it dizzying to scroll through. Shake your iPad to reshuffle the store, or click on the "World" button to bring up a world map with pins in each location they cover. Click on the pin to access that location's magazine. Sweet!
All magazines live in the cloud, but it's quick and painless to download any issue for offline viewing. And TRVL's content is not about which hotels to stay at or which restaurants to choose, but rather about the location's charm, culture and people, so each "magazine" is fairly timeless. That's the beauty of the digital newsstand: If your content is evergreen, you can sell, or at least give away, endless back issues.
Learn the secrets behind today's most rapidly growing niche publishers. Download a FREE copy of How to Develop a Multiplatform Magazine Business Plan, and discover how large your magazine business could become and how much of an investment will be required to build your business to maturity.
It's about the art
Everything about TRVL is artsy, from its name to the layout of the magazines. Each issue flows horizontally in one long, long … very long page. At any given moment, you can see bits of the previous or next page lurking at the edge of your screen. TRVL thus refuses to be constrained by the traditional concept of a magazine page.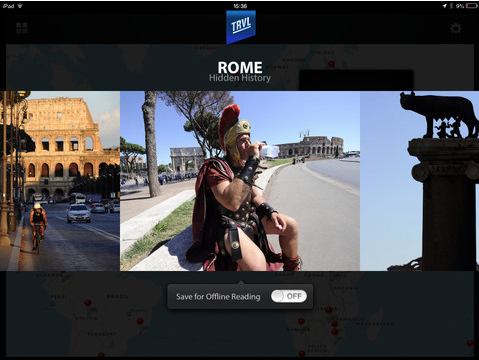 This is not just using the new digital technology to push the envelope; it's exploding the envelope in a way that no digital edition of an existing print publication has managed to do yet.
For that matter, other digital-only magazines are still designing as if they were simply a replica version of a print publication! It's hard to break out of the print mindset, but if anyone can get the industry to embrace this kind of change, it will be TRVL.
And, as Eling's promise about the Prss tool indicates, you can indeed enjoy TRVL in either portrait or landscape mode. On pages with both text and photo, the text reflows around the photo if necessary. At the same time, captions never clutter up the layout: If you want to see them, swipe photos upwards to bring up the caption along with details such as the name of the photographer, type of camera used, settings, film and more.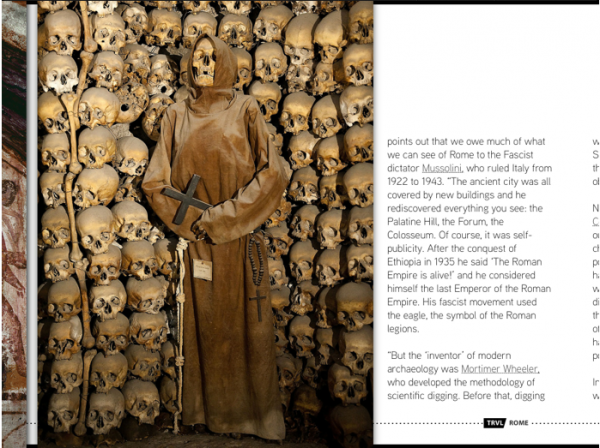 You can even tap a World button while viewing a photo, and up pops a map showing exactly where the photo was taken. Again, I'm awed by the way TRVL has used iPad technology to invent something completely new that could never have happened in print. Elings biggest goal, he says, is "to make print feel stupid."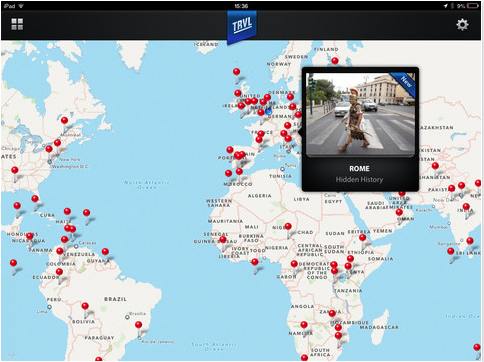 Other bells and whistles include the occasional link in the text – or, in my case, an invisible word, for some reason – that leads to a related third-party news article or Wiki article. The usual social media sharing features are included, and there are embedded videos throughout the magazine.
One feature I found quite unique is the instant ability to report mistakes back to the publisher. At the end of every issue is a small screen, which, when tapped, brings up an email window with the ready-made subject line "Correction." It sure beats getting out pen and paper to write to the editor!
One thing missing from TRVL: Thumbnails of the issue's pages that normally allow a reader to scroll through the entire issue and choose a new page to view. For that matter, there's no table of contents, either.
To scrub through the entire issue, the reader pinches out to minimize the magazine. And Elings tells me that a TOC will be included in the next version of TRVL.
If you have access to an iPad, I can't urge you strongly enough to check out TRVL. And while you're at it, check out the fine print at the bottom of the last page: "Published on Prss…" and tap the "Prss" link. Then you can send your email address to Prss the company to let them know that you're interested in Prss the publishing tool, and they'll let you know when it's finally released.
And be sure to let me know what you think of this rebel in magazine publishing. Will it survive without an obvious revenue stream? Are app awards enough to live on? Ah well, as they say, happy travels, and happy publishing – in an artistic way, of course.