How three passionate people became writers, then bloggers, then Internet marketers
The person who today says, "I'm a blogger" is the same person who in 1993 would have said, "I'm a freelance writer."
If you're a freelance writer in 2010, you should launch a blog, add Google AdSense ads to it, build traffic to become credible, and find a co-op like The Deck Network to sell advertising on your site.
Most of today's successful multi-platform publishers began with a single topic print newsletter written by a single, passionate, subject matter expert.
The aspiring publisher in the 1970's was a freelance writer whose goal was to be paid for his expert editorial content. In 2010, the career path to online publishing profits is a little different.
Today, you start out as a part-time blogger and aspire to build a following of readers who will eventually purchase your paid editorial products, click on your site's advertisements, and hire you to speak, teach or consult.
It all starts with being an enthusiastic expert on your topic, publishing your own blog, and eventually progressing along your own profitable, product pyramid. Or, you may just start out freelance writing for other blogs or publications and get scooped up by a new online venture with a sustainable product pyramid.
Check out these success stories: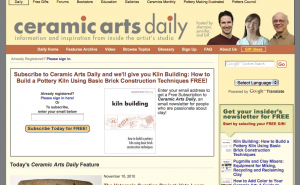 CeramicArtsDaily.com
Jennifer Harnetty became the managing editor of Ceramic Arts Daily in February of 2008.
She has been involved with ceramics ever since discovering it a quarter before graduating with a BA in English. If she'd discovered it sooner, she probably would have been a double major.
After graduating, she continued to take classes in ceramics at local art centers and universities. Then, in 2004, she was hired as assistant editor for Ceramics Monthly and Pottery Making Illustrated. Harnetty eventually became associate editor of the two publications and, in 2008, took on her latest position as managing editor of Ceramic Arts Daily.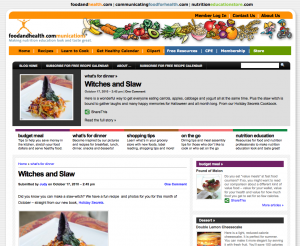 Judy Doherty has been in the food service industry since she was 15. By the time she was 18, Judy was accepted into the Culinary Institute of America in Hyde Park, New York. She graduated second in her class with scholastic honors.
Doherty attended the Fachschule Richemont in Lucerne, Switzerland, where she studied pastry arts and baking. She has received many awards including the prestigious American Culinary Federation Gold Medal and Bronze Medals, Chef of the Year and finalist for the U.S. World Pastry Cup Team.
She now owns Food and Health Communications, Inc., a private publishing company dedicated to "making nutrition science edible." Judy began a company blog 2 years ago using WordPress.
There's no shortage of new subscribers for FoodAndHealth.com. After a recent website redesign, sales are up 100% and so is membership.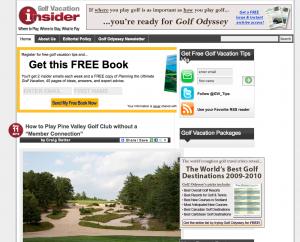 GolfVacationInsider.com
Managing Editor and golf travel veteran Craig Better offers unbiased reviews and insider secrets about the best golf courses, resorts, and restaurants worldwide on the blog Golf Vacation Insider. He has been writing about golf for more than 15 years, covering equipment, apparel, the retail business, general interest, and travel for national consumer and trade magazines.
Prior to joining Golf Vacation Insider, Better was a freelance researcher, writer, and editor for Golf Magazine, Travel & Leisure Golf, Maxim, and about a dozen other publications. He also co-authored Zagat Survey's book, America's Top Golf Courses.