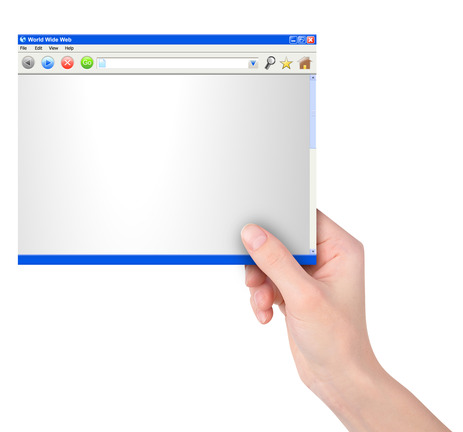 How to build a website that's SEO friendly and converts visitors into subscribers
People concern themselves with the external factors (link-building, social media, etc.) of SEO, but those are nothing without website architecture that's built to pass link juice through the website's pipeline. Did you know there are ways to build a website for great SEO that go beyond inbound links and even the words on your website?
A properly optimized site has a chain of command that would look very similar to your business model if you put them side by side.
You give away free content through articles, get them on your email list by offering free white papers, send them emails that promote paid products, and if your pyramid is even larger, you take those buyers and convert them into in-person event attendees.
The SEO funnel has the same goals, but the way it occurs has a few extra pipes—do you remember you or your kids playing with a Marble Mania set? It's a little like that.
When we build our client sites, there's a series of pipes and tunnels between every single page that makes our landing pages more valuable and more optimized every time we post a new article.
The great and powerful OFIE
Let's talk about the elements of conversion first. These stand-alone elements can be used anywhere.
Affectionately called OFIEs, "Order Forms in Editorial" are embedded subscription forms that appear on webpages and, indeed, are very much entitled to the respect, consideration, and perhaps even affection of circulators. They are fairly large, coupon-style ads, usually placed in unused space at the top or bottom of webpages and simply require a user to supply his or her name and address and click "submit."
The key to OFIE effectiveness is prominent, relevant placement as close to the editorial content as possible. Here is an example of an OFIE on our homepage: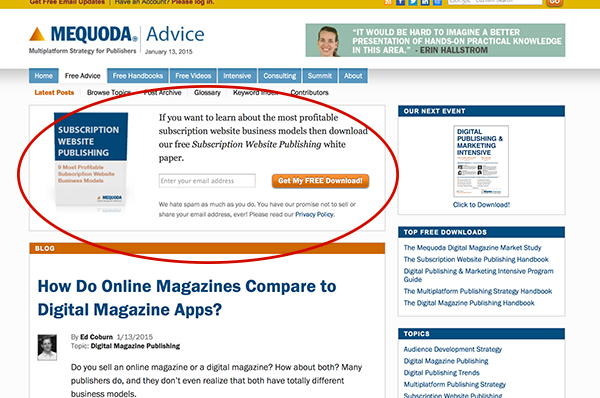 We also use text ads often, and on every article page. I'll explain why later.
Text ads are links in editorial or navigation that lead to a Rapid Conversion Landing Page (those landing pages that give away a free report – more on that later) and are the best form of persistent conversion architecture.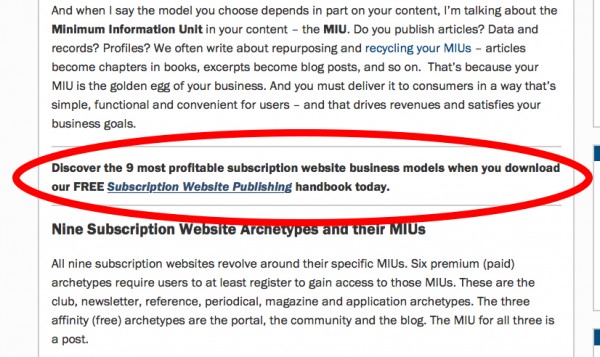 They are subtle, yet very effective ways to drive traffic to your RCLP with the ultimate goal of increasing your email database circulation. They can also be used to direct traffic to an advertiser's landing page.
There are a few guidelines for using text ads according to 3C Zone Architecture:
First, text ads should align with your content. Alignment between what you're writing about and what you're selling will increase relevancy for your readers. If your content is strong and informative, the alignment will help demonstrate the value behind the product.
Second, text ads have to quickly get to the point, describe the product or show how it will help the consumer and display a blatant call to action.
This makes writing text ads a job for truly skilled copywriters; or any writer or editor who has been trained to be a talented copywriter.
Check out how BLR and Bible History Daily are using text ads.
[text_ad]
How to build a website architecture template for SEO
Now that you know the two most crucial elements of conversion architecture, let's get a little into the website architecture itself. We're going to talk about the free side of your business for the purpose of building email circulation – the bottom of your pyramid.
Portal Home Page
Your portal home page shows 10-20 snippets of recent articles. It creates inbound links to each of those articles. Your portal home page should also have rotating OFIEs, and offer a list of white papers or other freebies in your navigation that people can move directly to and download. The homepage is flexible on many things, so let's not get stuck on this one.
Category Pages
For optimal SEO, the category pages of your blog should have a 300-500 word SEO-optimized description of that category.
Since we typically create category names based on keyword research, this optimization is fairly easy. After that body of text is written, we often include a text ad for a related white paper. "Related" is the key word here.
For example, our Subscription Website Publishing category page promotes our Subscription Website Handbook white paper. Ideally, every category page should have a unique white paper to promote.
You might also add an OFIE above the category description like Knitting Daily and Natural Health Advisory.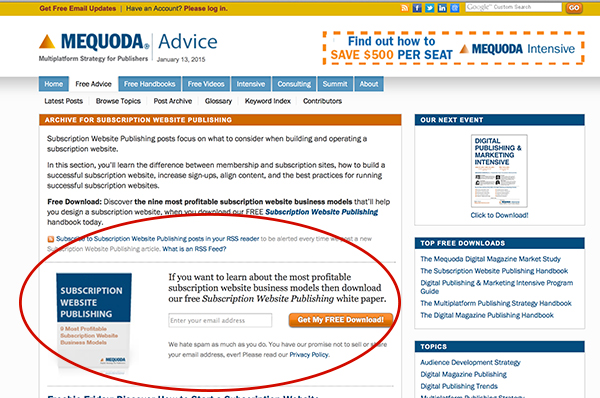 Article Pages
Your article page may include a related OFIE at the top of this page too, but most importantly, it includes a text ad about halfway through the article that promotes a free white paper.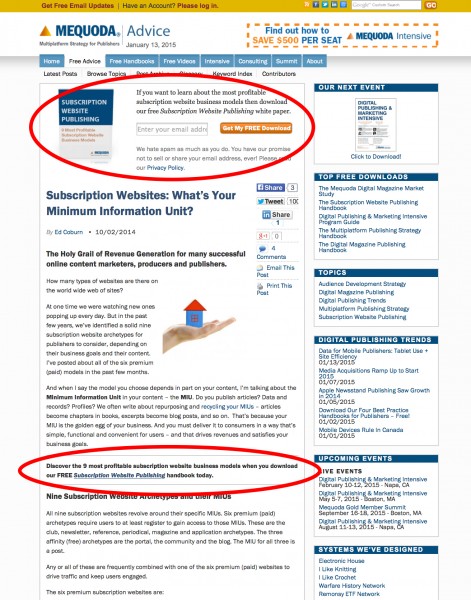 We've configured our site and those of our clients to automatically pull in a text ad for a white paper that relates to whatever category the blog post is in. So for example, a blog post about subscription websites would carry a text ad that promotes the white paper on subscription websites. If you have a craft site and your blog is about knitting, it should be promoting a free white paper about knitting.
Landing Pages
We call landing pages that offer a freemium, or something for free, a Rapid Conversion Landing Page (RCLP), but you can call it a name-squeeze page or whatever you're used to. This page is so fundamental to our success that we want pages from all over the site to point to it. That's what I'll be going through below.
The RCLP offers a free white paper, but nearly everything about the page wears a gold crown in terms of SEO:
The report name has a niche keyword phrase in it
Therefore, so do the H1 and H2 titles and meta tags of the page
The section titles of the page include at least one instance of the phrase
The phrase is mentioned throughout the page.
There are OFIEs throughout the page that collect the email address and repeat the keyword phrase in every instance because the keyword is in the title of the report
Here are some examples of RCLPs that are match the best practices above…see if you can find the keywords:
RCLPs are the most optimized pages on our site. They're meant to drive boatloads of traffic based on keywords and the content of the page alone, however, our basic website architecture template is built to direct as many pages on the site to it as possible. A little recap:
The home page points to an RCLP
The category page points to a related RCLP
The article page points to a related RCLP
Author pages often point to one or many RCLPs
Using this structure, we have so many pages pointing to our RCLPs that not only is every article page now a lead-generation page, we've also told Google that our RCLPs are highly respected by (linked from) every other page on our site. At the top of the content kingdom, we declare our white paper landing pages king. And because of that, we have no trouble building a large list of email subscribers, which we hope to one day convert into paid users, print subscribers and event attendees.
If you'd like our help setting up this architecture on your website, please get in touch and we'll help!
This post was originally published in 2013 and is updated frequently.