The blog affinity subscription website is simple – and immensely profitable – if it's done right
A riddle: What's quick and relatively easy to set up when you want to become a publisher, but can still be quite lucrative? The answer, of course, is a blog subscription website. This is one of the three affinity (free) subscription website models that Mequoda has documented. The free sites are often paired with one of the six premium (paid) models to drive traffic, convert visitors to subscribers and keep the audience engaged.
Here are all nine of the models we've documented:
Premium (paid) subscription website models
Affinity (free) subscription website models
A blog, of course, is often a first-person, opinion-style format, written about a topic in which the blogger is deeply interested and usually an expert. There's user-generated content in the comments – sometimes more spirited and lengthy than the blog post itself. Nowadays, anyone can set up a simple blog using free sites like Google's Blogger.com or tumblr.com, or use WordPress to host and even get your own domain name.
But for serious publishing of the kind of blog subscription website we're talking about, many publishers use hosting services such as Godaddy.com or Bluehost.com. Successful blog sites have many pages, not just the single blog page, as well as newsletters, YouTube pages and more. These sites can be complex business models – yet all successful blogs that I'm going to talk about started small, sometimes entirely by accident.
Blogs are always free, and to qualify as a subscription website, they must at least have an RSS feed that readers sign up for. Of course, if it's free, it must be ad-driven; and indeed, ad revenues for successful blogs can be mind-boggling.
Advertisers like blogs because, for one thing, even the most expensive blog ad rate is usually less than the big newspapers and magazines. And for another thing, blogs are highly targeted to readers in their domain. Why pay to advertise at TIME when you only want to be seen by, say, moms with small children – because, as they say, there's a blog for that.
Blogs are also limited in the number of authors, usually with one or two. Google defines blogs at its site as those with one or two authors, and after that, the site is defined as a portal. Google being the authority it is, we'll go along with that. Finally, blogs are usually characterized as having only a moderate posting pace, as opposed to communities and portals, where the posting frequency is high – sometimes even frantic.
Find out the CMS features that publishers require to manage an online publishing business. Download a FREE copy of 7 Ways Haven Wordpress Goes Beyond Wordpress, and discover the features all publishers should have access to for a bigger audience, greater revenue, and higher profits.
From celebrity gossip to crocheting to electronic gadgets
Blogs can be single-operator or part of a larger network. As New York magazine explains it, blogs tend to fall into one of three categories. The first is the "accidental tourist" type: A lone blogger, passionate about his or her subject, suddenly finds readers, and then advertisers, knocking at their door. Voilà! A robust publishing business is born.
The prototypical "accidental tourist" is Michael "Mikey" Sellick, whose blog, TheCrochetCrowd.com, was borne of Sellick's yearning for an artistic outlet while he worked in a dead-end job and lived in a remote Canadian town. Sellick turned to his love of crochet, which his mother had taught him. Then one day … "The creation of teaching on YouTube was a fluke. A boring afternoon would end up turning into a multi-million view resource community page," as he explains it in his biography.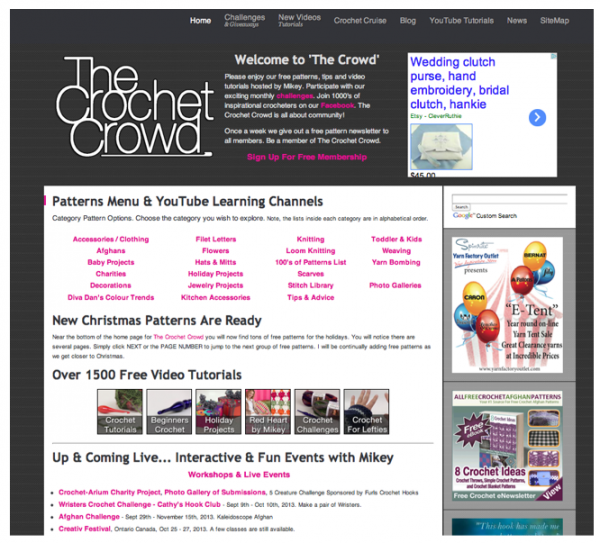 Although his free YouTube tutorials are wildly popular and take up much of his time, Sellick still blogs several times a week, though often these "posts" are more video tutorials. Sellick, who started the blog in 2008, says, "I can spend easily up to 14 hours a day [on] social networking, video creation, article writing, and building cross content at my home studio."
In addition to the blog  and YouTube site, Sellick has a newsletter and hugely popular Facebook (2,517 followers) and Pinterest (21,791 followers) communities, and even runs "crochet cruises." Passengers book their own ticket and simply pay Crochet Crowd a $40 activity fee to join the crochet group during the cruise.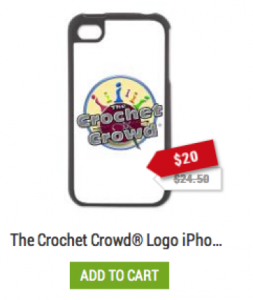 Sellick sells advertising at 250 x 250 pixels for $100 per month. These ads appear on the website and also in the newsletter. Other ways he's monetizing his brand: He appears and teaches workshops at crafting events, designs patterns for one of our clients, AllFreeCrochet.com and for other websites – increasing his visibility and demand for his brand – and even sells cellphone covers with the Crochet Crowd logo for at Café Press!
Clearly, the lone passionate blogger gig can pay off. Sellick is in such demand, he notes that he has two people sifting through his email at Crochet Crowd, and simply ignores his mailbox at the Facebook site because he just can't manage the volume there. Who wouldn't want to build a blogger brand that's so popular and well-known in its niche?
Another type of blog success story is Weblogs, representative of what the New Yorker calls the "record label approach." Entrepreneur Jason Calacanis founded Weblogs Inc. in 2003, and began plastering the Internet with blogs for dozens of small niches. Weblogs now boasts 90 blogs.
Calacanis describes this business model as "passionate bloggers" writing unfiltered content combined with a passionate audience, and advertisers who want to get in on this "lovefest."
According to Wikipedia, the network sells an inventory of display advertising space supplemented by Google AdSense. Revenue from AdSense alone was claimed to be approaching $1,000,000 per year on Calacanis' blog, but that link is now dead, so I couldn't confirm that figure. What is known is that AOL bought Weblogs in 2005 – just two years after its founding – for $25 million, and at that time the company's reported revenue run rate was $2 million.
Calacanis' business model was also a jackpot for blogger Peter Rojas, who parlayed a 2004 partnership with Weblogs to produce Engadget.com, which calls itself "a web magazine with obsessive daily coverage of everything new in gadgets and consumer electronics," into a profit on the Weblogs sale to AOL that has made him one of the best-paid bloggers of all time.
"I didn't intend to become a millionaire," he tells New York, "but I wound up there anyway." Today Engadget logs an average of 1.2M unique visitors per month, and 4.3M page views per month, according to Compete.com.
Rojas stayed on at Engadget for a time, but in 2009 left to launch a community website, gdgt.com, which is a social network for people who want to review and read reviews about electronic gadgets. He repeated his success: AOL bought gdgt.com earlier this year.
By joining with Weblogs, Rojas was able to offload the need for selling advertising and simply devote himself to his hugely popular blog. And he knew how important that was, because before he founded Engadget, he was the former technology Weblog editor and co-founder of Gizmodo.com, a design and technology blog.
It's the perfect example of what New York calls the "boutique" approach: "a publisher who crafts individual blogs the way Condé Nast crafts magazines, each one carefully aimed at some ineffable, deluxe readership." Gizmodo is part of Gawker Media, a blog network featuring eight blogs targeted at big-spending readers with higher education.
Gizmodo sees an average of 1.4M unique visitors per month, and 4.3M page views per month, according to Compete.com.
But Gizmodo doesn't need to waste time selling advertising: As the parent company, Gawker handles all the advertising across its blogs. According to the Gawker website, the minimum cost to put together a marketing program with Gawker Media is $25,000.
Gawker founder Nick Denton doesn't spill the beans about revenues, and went so far as to say on his personal website in 2004: "Blogs are likely to be better for readers than for capitalists. While I love the medium, I've always been skeptical about the value of blogs as businesses." (The website is no longer operational, and the quote comes from the New York article.)
Find out the CMS features that publishers require to manage an online publishing business. Download a FREE copy of 7 Ways Haven Wordpress Goes Beyond Wordpress, and discover the features all publishers should have access to for a bigger audience, greater revenue, and higher profits.
Characteristics of the blog affinity subscription website
As one of three affinity websites, a blog is very similar to its two siblings, the portal and the community archetypes. All are ad-driven and feature posts as the minimum information unit (MIU). There are a few similarities with premium sites as well.
Who Pays
MIU
Frequency
% UGC
Authors
Taxonomy
Homepage
PAID
Magazine
User
Article
Low
Low
Many
Issue
What's New
Newsletter
User
Article
Low
Low
Few
Issue
What's New
Application
User
Record
NA
Low
Few
Search
What's Popular
Club
User
Profile
NA
High
Many
Search
What's Popular
Periodical
Varies
Article
High
Moderate
Many
Subject
What's New
Reference
Varies
Record
NA
Low
Many
Subject
What's Popular
FREE
Portal
Sponsor
Post
High
Moderate
Many
Subject
What's New
Community
Sponsor
Post
High
High
Many
Subject
What's Popular
Blog
Sponsor
Post
Moderate
Moderate
Few
Subject
What's New
The other characteristics:
Frequency: Unlike the portal and the community subscription website, where the frequency is high, blog posts have a moderate frequency. This is a function of the number of authors: With only one or two bloggers, there's a limit to how fast and often those bloggers can publish, usually one to four posts a day. Also, the subject matter usually isn't as time-sensitive as it is with other models.
User-generated content: This is only moderate on blogs, as it is on portals like Forbes.com and Yahoo.com. Readers of blogs are there because of the highly targeted content, so while they have firm opinions, they're less likely to post non-stop as part of a conversation, as readers usually do at community sites, or at paid subscription websites such as the periodical model.
Authors: As stated above, a blog has only one or two authors providing publisher-generated content. More than that and the site becomes a portal.
Taxonomy: Again, like its affinity siblings, the blog is organized by subject. Engadget, with thousands of brands and types of electronic gadgets to write about, simply uses three broad subjects for organizational purposes – News, Reviews and Features.
Gizmodo doesn't even bother with subjects, with the blog's entire premise being the single subject. Everything is simply dumped into one blog – but readers know the blog is about design and technology.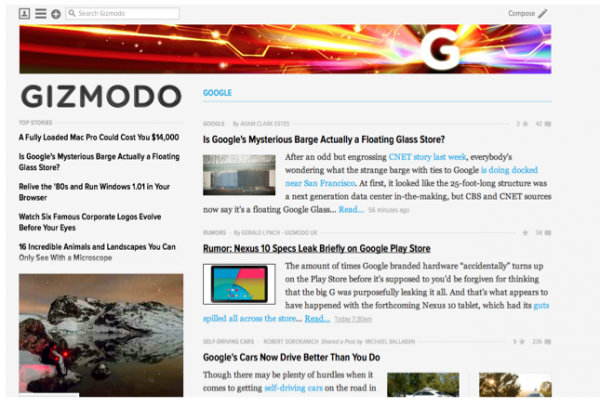 Homepage: Like the portal, and the magazine, newsletter, and periodical paid subscription website archetypes, the homepage is focused on what's newly posted, rather than what's popular with other readers. Readers of the Crochet Crowd blog may or may or may not be interested in crocheting with Sassy Fabrics, but it's a new product and a new technique, so up it goes on the blog.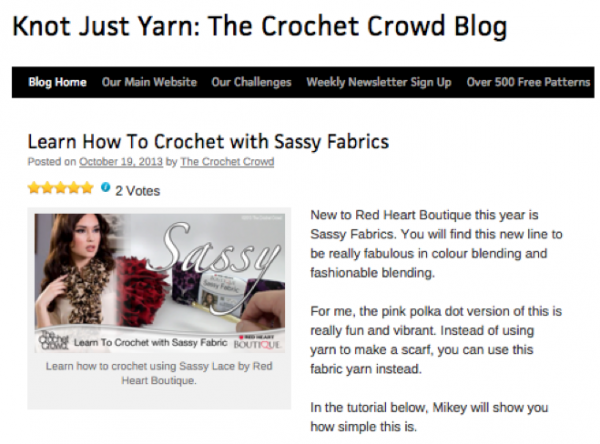 The blog is perhaps the quickest way to enter online publishing – and potentially the most profitable for an individual either by selling ads directly or using Google or another more specialized ad network . Do you publish a blog, or are you considering it? What do you think are its advantages and disadvantages? Let me know in the comments below.