All multiplatform publishers should have a portal content business model to pair with their premium content models like magazines, events, and books
A portal content business model is a free subscription website that aggregates content from multiple sources. Portals are intended to build and feed an audience; they are specifically designed for organic SEO marketing, email marketing, list building, and lead generation. Portals publish content for free in a blog-like format, and give away free products in exchange for an email address. The names collected through the portal content business model are used to increase revenue through a magazine content business model and other content business models like events, books, and courses.
By far the most widely used subscription website content business model, portals generate value from both the users and the sponsors.
When a publisher is ad-driven, sponsors pay money while users pay not with money (usually all portal content is free) but with time and information. They spend time viewing web pages, emails, and RSS feeds, thus creating advertising inventory that can be used to sell the publisher's products (internal advertising) and/or sold to third party sponsors (external advertising) on a CPM (cost per thousand), CPC (cost per click), CPA (cost per action), or other sponsorship basis.
Subscription website portals are popular online business models because not only are they profitable on their own with ads, but they're also intended to build and feed an audience for affiliated premium subscription websites. It's a Mequoda best practice to build a portal for every subscription website we create.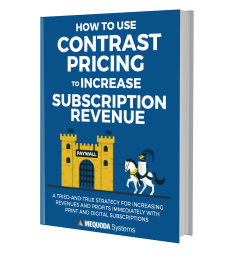 Learn how to choose the best subscription pricing & single-copy pricing strategy for your subscription websites & subscription apps when you download a FREE copy of How to Use Contrast Pricing to Increase Subscription Revenue.
Mequoda Systems National Association of Plan Advisors (NAPA) and Countryside Daily are the quintessential niche portal examples. All content is free, and the portal serves, as is always the case with Mequoda systems, to drive traffic and promote premium websites and products.
Most publishers interested in launching a portal website are not looking to create anything remotely near the size of Yahoo.com. Rather, they tend to post bylined content derived from the publisher's own publications and other inside sources to supplement bits of relevant content pulled or syndicated from outside sources, including contributors and other subscription websites.
The outside sources may receive compensation from the publisher or may simply be looking to generate increased traffic through links back to their own websites.
A portal is also designed to maximize online advertising inventory. To do that, the most successful portals treat registered and unregistered users differently. For the unregistered user, a significant potion of the website page template is allocated to converting visitors into registered users, that is, to collect email addresses from new visitors.
For example, a Mequoda best practice is to serve these new site visitors a floater ad (cousin to a pop-up ad, but floaters avoid ad-blockers) offering a free report download on a topic related to the search term that brought the user to the site in the first place, in exchange for registration and an email address.
Once a user has registered, the portal morphs to display content that is personalized for the user. Personalized content enhances user satisfaction and increases page views and time spent – the key advertising conversion rates that drive website revenue for the many information marketers who use their advertising inventory to sell their own products.
State-of-the-art portal subscription websites offer users email newsletters, blogs, email alerts, and RSS feeds that are all designed to directly and indirectly generate more page views and website revenue.
Portal content business model examples
Countryside Daily and NAPA Net are both portal content business models. These portals are designed to support the selling and potential sponsorship of premium content.
NAPA Net demonstrates that even niche portals can leverage portal advertising inventory, as seen in the display ad in the right rail, though its other features, including daily content, are similar to those at the other Mequoda portals.
Countryside Daily also uses sections of its portal home page as advertising inventory. All three, though, clearly leverage the content and advertising inventory on these portals to convert visitors into email subscribers and potential paying subscribers or buyers of other products.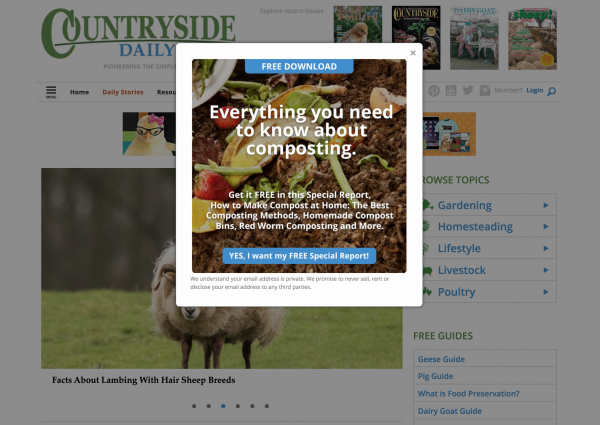 Characteristics of a portal content business model
A portal has a number of individual characteristics, some of which it shares with other free website models.
Who pays: Sponsors – whether that's a third party or the portal publisher itself – pay for all content on portals, which is free to registered users. This is the same as lead generation and directory sites.
MIU: The portal's minimum information unit (MIU) is a post. Posts may be written by various authors associated with the publisher, as they usually are on niche media sites, or by syndicated content providers as is the norm on mass media sites.
Frequency: Content on a portal is updated constantly, as it is on community and lead generation free sites.
User-Generated Content: A portal will have some user-generated content, such as Yahoo's Group and Answers content, but mostly the content comes from the publisher or syndicated sources.
Authors: There are many authors at a portal, including the publisher's own staff and contributing sources. All of the free website business models boast many authors, from users at a community site to sponsors at a lead generation or directory site.
Browse/Search: Like a community website, but unlike lead generation or directory sites, the portal is organized to be searched by its users.
Home Page: With frequently updated content, a portal's home page can deliver what's new, as at a news site, or what's popular, like why honey bees have been dying, and other topics users are most interested in. In Mequoda land, we always encourage our clients to consult their Google Visibility Report to find out what their readers are most often looking for. And, of course, to balance that with significant evergreen content.
Video: Like all but one of the other website business models, free and premium, the portal may or may not have videos onsite.
Remember, the portal is Mequoda's go-to website archetype for all our clients, to support SEO, drive traffic, and generate space to promote either premium content or free content in exchange for email addresses.
Do you have a portal website? Do you agree that it's a profitable archetype or have any other insights about it? Tell me what you think in the comments!