Can your email management system do all this?
A Mequoda System is built as a package to be SEO optimized and full of content. It's built to withstand a ton of traffic every month, accept payments and easily distribute content through social media and email marketing. To do this we have ongoing relationships with companies like PayPal (payment processing) and WhatCounts (email delivery) and custom APIs built to move everything around seamlessly. While the system is based in WordPress, once complete it's a complete content management and e-commerce system.
The email management system we love and use with our clients is WhatCounts. We originally chose them as our flagship email service provider not only because of their outstanding customer service and flexibility, but also because they're constantly innovating. We spent a lot of time researching email service providers and they came out on top for the needs of our publishing clients.
This post may sound semi-promotional because it discusses the newest features we love in WhatCounts, but even if you aren't a client of ours, or theirs, we hope these features will pump you up as much as they do for us. And if you are a client of ours, then I hope you'll challenge us to get started testing all these new features on your site, if we aren't already!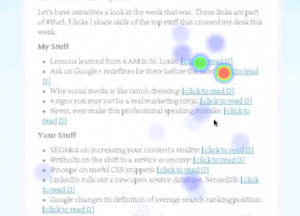 Click heat maps
Heat maps in email? No way! Oh wait, yes way! Click heat maps came out in spring of 2012 and they're used just like website heat maps – to visually see where people are clicking on your content. By using click heat maps you can adjust all of your content and elements accordingly and even see if some prime real estate is being underutilized.
Mobile landing pages
Why spend time creating a mobile edition of your email newsletter, only to send them to an un-optimized version of your landing page? Released this summer, the mobile landing pages feature now helps you keep your email and website mobile-friendly. The new feature "can detect whether your subscriber is on a mobile device and show them the appropriate mobile content you've provided instead. They can even click back and forth from the mobile and full version no matter what device they're using."
A/B testing
Your EMS gives you a lot of data, but some of the most useful information comes from A/B testing. You can test subject lines, "from lines" and content fairly easily in any EMS, but WhatCounts A/B testing also lets you do some really creative segmenting with ease. Another unique feature is that you can test 100% of your list. For example, recently we had a client A/B test by sending an email to folks who have never subscribed to their digital archive; 50 percent got the new sales letter and the other 50 percent got the same old sales letter.
You can also manually decide on a winner by looking at the data yourself, or let WhatCounts decide. If you're familiar with Pearson's Chi-Squared Test, you know that the difference between two close numbers can be statistically insignificant, which means that manual evaluation is really important to a good conclusion. Try your own chi-squared test.
Post-send link editing
Thank you, a thousand times thank you, for this new feature. If you've ever embarrassingly sent a broken link in a newsletter, or wasted a sales letter that was the pinnacle of copywriting perfection on a broken call to action — you'll appreciate this. We've all been there, just like every editor has accidentally sent out a test email to their entire list at least once. Oops!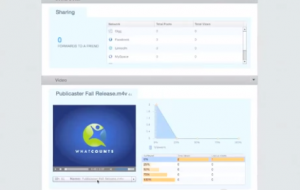 Video-enhanced email
Remember the days of making a fake screenshot of a video that looked like you could click on it to play, but it really just opened in a new window? We'll pass on that. WhatCounts allows you to use HTML5 to display multimedia emails and for any email browser that isn't compatible, it links you to a webpage where they can view it. Their metrics is where they really shine. You can see who watched the video and for how long. If you ever wanted to A/B test a video, this is a great way to do it!
Your turn! What are your most-used features of your email management system? Which ones do you wish you used more?
By the way, the Mequoda team can help you optimize conversion rates, open rates, click rates, and revenue generation using both simple A/B and multivariate testing. To schedule a no-obligation conversation with Don Nicholas, our CEO and lead consultant, contact Ann-Marie Sullivan at (866) 713-1005 or email her.