2,000 new email subscribers per month through audience development on-site and through social media
Every publisher has their own audience development strategies. In a Mequoda System, our three goals are to attract, retain and then monetize, which is done primarily through email. There are, of course, other ways of attracting new customers, like social media.
In fact, social media is just one more layer in the audience development process. We've found that social media users can convert better into email subscribers than anyone else. There's an entire ecosystem of audience development best practices out there and nothing is excluded as long as it works.
Speaking of what works, we launched CeramicArtsDaily.org, a Mequoda System, in July 2007 with Managing Director Sherman Hall and Charlie Spahr who was President of Ceramic Publications Company at the time. In fact, Ceramic Arts Daily won our Publisher of the Year award several months later for their incredible growth in a short time. Ceramic Arts Daily was built for ceramic artists, their work, techniques and artistic prospective.
Six years later, CAD sees an astounding 125,000 unique visitors per month, and they post new articles every Monday, Wednesday and Friday.
The site brings together books, magazine subscriptions, Potter's Council memberships and workshops—all designed to teach people about ceramics.
Using freebies to build a profitable email list
CAD currently has 38 "freebies" that they give away on their site in order to collect email addresses and start their initial "hello" with potential buyers. These freebies bring in 2,000 new email subscribers per month.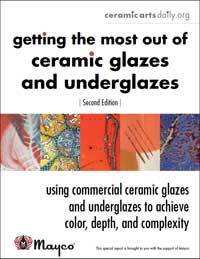 Freebies include downloadable ebooks like The Salt Glaze Surface: A Guide to Salt Glazing and Firing and Soda Firing Techniques, Tips and Soda Glaze Recipes, all of which have been optimized for search. The great thing about most of these downloads is that they're evergreen and don't need to be updated on a regular basis. This means that an eBook they launched six years ago can be one of their main traffic drivers and source of email leads.
But since they such an abundance of RCLPs for these freebies that are well optimized and doing their duty to drive emails, Managing Editor Jennifer Poellot Harnetty says that they're in a "maintenance phase" with the RCLPs and freebies now.
"We release one new freebie per month and promote them to our newsletter list as well as through our OFIEs and floaters," says Harnetty. "Since they are promoted through our newsletter list, the most popular in any given month is the newest release, though some topics like glaze recipes, tend to keep a more steady pace."
Organic search has done so well for CAD's freebies that they don't invest in PPC at all to build leads through those pages. "We do not do any paid advertising for our freebies," says Harnetty. "The paid campaigns were not performing well for us so we discontinued them. The organic search is doing very well for us." Their floater also brings in the largest percentage of their website email leads, which pops up any time a new visitor arrives to the site.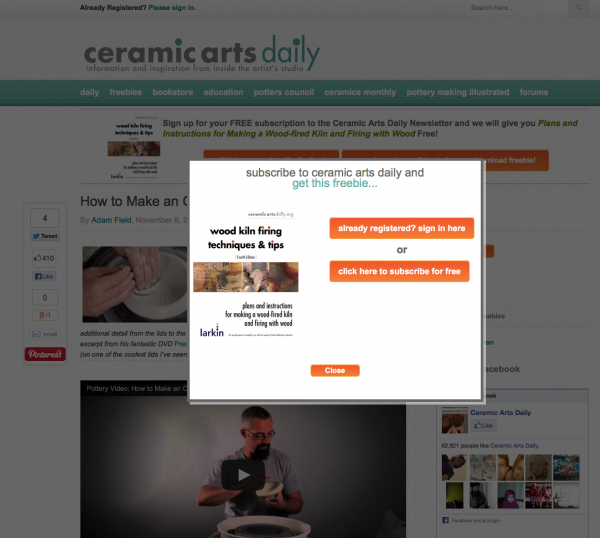 Social media pleases ceramics enthusiasts
Rather than just a place to post tips, the Ceramic Arts Daily website has also become a forum for artists and collectors to meet and interact. People started commenting on posts and answering each other's questions less than six weeks after the site's launch.
So you might find it no surprise that social media has been a strong audience development channel for CAD.
"Facebook and Pinterest are neck and neck as far as top referring sites. We have about 63,000 followers and it has been steadily growing since we started – with very little paid advertising. And Pinterest has been pretty phenomenal because of the visual and how-to nature of our site," says Harnetty.
Since Ceramic Arts Daily is built in the Mequoda way – to use text ads, OFIEs and floaters to convert visitors into email subscribers – part of that traffic from social is converting into 2,000 new email subscribers per month. We won't divulge the size of their current list, but it's impressive. And while most niche publishers hit a plateau in their subscribers after they've really penetrated the market (say, six years in, perhaps?), CAD is still going strong.
Here's Ceramic Arts Daily on Facebook, where they get hundreds of likes and dozens of shares on every article they post. This of course, helps their SEO efforts since Google uses social as a big green flag in their algorithm.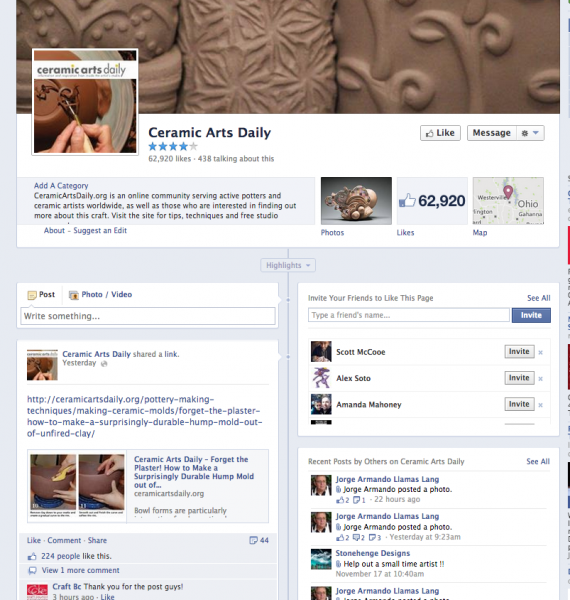 On Pinterest they have 9 "boards" where they "pin" projects from the site. One board is called Studio Tips, and they post different how-to's from the site. They have almost 1,500 followers. If you look, they also have hundreds of projects being posted by users, completely unsolicited.
The best part is that their email list-building freebies get shared the most by their adoring fans!
I think most of the craft and hobby-based publishers I've talked to would echo these sentiments about social media. While Twitter hasn't been a leading platform for B2C publications, Facebook and Pinterest are becoming home runs for any publisher who posts articles with photos that are either A. delicious, or B. creative.
What are your most effective audience development strategies? I'd love to hear which of your freebies generate the most email subscribers, especially if the results are surprising!