Many digital magazine apps are still underperforming due to some of the following reasons
With such enormous growth in the tablet industry, digital magazine publishing offers a significant opportunity. Unfortunately, the publishers and content marketers who have created inferior digital apps are currently missing this evolutionary opportunity.
The following pitfalls of digital magazine apps come from McPheters & Co., who has evaluated 5,000 digital magazine and newspaper apps since 2010. These errors should be considered while designing your digital magazine app.
-Authenticating print subscribers. Print subscribers are likely your most loyal customers. They also probably spend the most money with your brand. These are the people who need to be convinced of digital magazine value.
Print subscribers typically receive a digital subscription with their print subscription. In more than half of these scenarios the app does not recognize the existing subscriber.
-Loading errors. It isn't uncommon to experience loading errors, especially with newer technology. Digital magazine consumers have experienced loading issues while attempting to view pages, watch videos and listen to audio.
-Content malfunctions. This problematic area includes broken links, audio defects, crashes and downloading glitches.
Solutions for digital magazine publishers
Colin Fleming of Adobe suggests having in-app customer service options. Making it clear to users how they can get assistance is one step in the customer service process. Provide app consumers with website information, relevant contact numbers and a frequently asked questions section (FAQ).
Furthermore, Fleming recommends extensive testing of apps, which may allow publishers to find problems and fix the issues before offering the app for download. Understanding guidelines and capabilities of the hardware and software may also lead to a more effective product.
There are a few rewards for digital magazine publishers who are able to create apps that expand and enhance the content experience.
Learn the secrets behind today's most rapidly growing niche publishers. Download a FREE copy of How to Develop a Multiplatform Magazine Business Plan, and discover how large your magazine business could become and how much of an investment will be required to build your business to maturity.
Who's spending the most on mobile?
Until now, online publishers and digital content marketers were considering smartphone users and tablet users similarly by lumping them into a category of mobile device users.
However, new data from Adobe shows that the two are truly different markets, especially when it comes to spending habits. According to the study, tablet users spent an average of $123 per purchase during 2011, while the average per purchase for smartphone users was 54% less.
The segment of tablet users visiting retail websites is quickly growing as well. Although the numbers are currently small, between January 2011 and December 2011, this segment went from 1% to 4%.
Continued growth for the US tablet market
The Pew Internet and American Life Project recently released data that shows the share of adults who own tablets in the US nearly doubled from 10 percent to 19 percent between mid December and early January. eBook reading devices experienced the same surge.
Now, the number of Americans owning at least one of these digital reading devices jumped from 18% in December to 29% in January.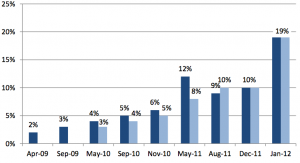 Have you experienced errors on digital magazine apps? What were the issues and how did they make you feel about digital magazine consumption? Please put your thoughts in the comments below.