People Magazine Thinks Not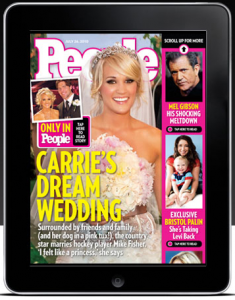 It's funny. When everyone first thought that online subscriptions were a good idea, they coupled print and online subscriptions. It just made sense. When people are asking for a digital version of your publication, why not just increase their monthly subscription and include both versions?
Somewhere along the line, many publishers saw how well this model worked and split the two subscriptions apart, leaving a digital-only subscription and a print-only subscription. Smart publishers let the combination package remain, but raised rates, forcing subscribers to choose.
Considering the cost of production and delivery with print, and the lack of cost with digital, what caused publishers to get greedy? It's an ongoing competition for survival of the fittest, and the most innovative package will win.
Let's talk about People for instance. This is a magazine heavily read on flights, in the doctors waiting room and frankly, in the bathroom. A print subscription is highly valued for this magazine due to the "quick-read" nature of it.
In their new People iPad app, they've clearly taken this into consideration. Now that they've gotten past minor road blocks that were keeping them from launching the app, they've wowed the media by announcing free subscriptions to all current subscribers.
That's a pretty big leap from what other magazine publishers have been offering with iPad apps. Many of them are offering one-off purchases and emphasizing the newsstand model rather than the subscription model.
Learn the secrets behind today's most rapidly growing niche publishers. Download a FREE copy of How to Develop a Multiplatform Magazine Business Plan, and discover how large your magazine business could become and how much of an investment will be required to build your business to maturity.
According to MediaWeek, "People's subscriber base is extremely loyal and pays a premium price for the magazine," explained Martha Nelson, editor of the Time Inc. Style & Entertainment Group, in announcing the app. "We want them to have the ability to consume People content however they choose." The average subscription price of People is over $100, which is among the highest-priced titles.
For $3.99, non-subscribers can buy individual issues. So far, there isn't any way to buy a subscription through the app, though it's in the future.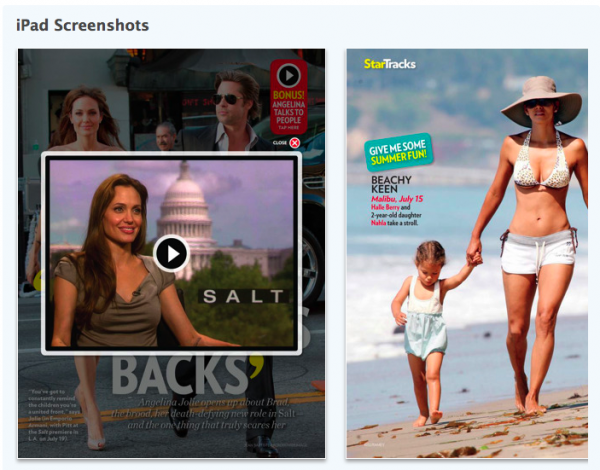 The app itself, is much like the Vanity Fair app. It's pretty much the exact same content as what you'll find in the magazine. But is there anything wrong with that? They've taken it a few steps further by offering videos and photos, but nothing as interactive as, say, the Wired app which often includes 360 degree images, audio files, animated infographics and more interactive advertising.
The free subscription model is the first time Time Inc. has offered such a deal on one of their apps. All Things Digital says that "The rest of [Time Inc.'s] flagship mag iPad apps are expected to join it in the next 30 days or so," and predicts "as will the rest of the publishing industry's for-tablet offerings."
Where are you in this whole debacle? Is selling one-offs good enough? Should publishers offer free digital subscriptions? Do you think an all-inclusive digital + print subscription is best?
Let us know in the comments. And if you want tons of more ideas for what you can do with your publication on the iPad and iPhone, join us tomorrow for our iPad and iPhone Apps for Publishers webinar at 12:30pm Eastern.