5 Metered Paywall Best Practices for Generating More Revenue from Premium Content
By— Kim Mateus • 08/19/2019
How much free content is enough when you have a metered paywall?
One of the biggest moving targets in Mequoda best practices is the metered paywall.
The biggest question we get is, how much free content is enough? And you have to be careful when you're a special interest publisher comparing your own paywall model to the New York Times or the Financial Times who have historically given away a lot of free content. Why? Because they publish a lot more content than you. But even the New York Times recently scaled back from giving away ten articles, to giving away five articles, and their reasoning was to increase subscriptions.
Consumers are telling us loud and clear what they want—are you listening? How much would you pay for that information? Download a copy of our 2018 Mequoda Magazine Consumer Study for FREE instead, to find out how you can improve your digital magazine rapport with subscribers.
Your goal is to establish a sampling mentality. When the guy at the supermarket gives you a sample of cheese on a cracker, he's not trying to feed you dinner, he's trying to get you to buy cheese. So your question is how much access you need to give, in order to obtain a subscriber.
Other goals to keep in mind, is how much you need to give away in order to get social media engagement. You want to be able to promote all of your articles in social media and through email without a mutiny from email subscribers, fans and followers who keep hitting a paywall. The Economist, who allows 3 free articles per week, has calculated it takes nine weeks to turn a visitor into a subscriber, according to Digiday. In order to keep visitors coming back for nine weeks, they spend a tremendous amount of time on their social media and email presence so that visitors will expend their credits and eventually decide to become subscribers.
5 Metered Paywall Best Practices
Our best practices for most niche publishers is to give away three views per magazine per month. Our publishing partners have found that this is a sweet spot that remedies all of the obstacles above.
Make clear that the content is premium when they are reading it, with an alert or pop-up on the bottom of the page that tells them it's premium and gives them the number of remaining premium articles they have access to.
Design the paywall to be easily read, understood, and acted upon. That means designing in landscape for desktop, and in portrait for mobile.
Include an email field in the metered paywall floaters, that way you can register their email and sign them up for your newsletter and if they abandon the paid order, you'll still be able to engage with them.
For our publishing partners, we create four versions of each paywall floater to let the subscriber know where they are on their journey. The first three have links to login, continue to the article, and a button to subscribe. The only difference is the counter (which says if you have read 0 articles, 1 article, 2 articles). The last one has a message that they have viewed all their articles for the month, includes a link to login, a "not now" link that redirects to the home page, and button to subscribe.
Three good examples of metered paywalls for magazines are Yankee's NewEngland.com, Ceramic Arts Network, and The Economist.
Yankee's metered paywall allows three free premium articles per month, and each time you visit an article, you get a floater that asks you to subscribe and also lets you exit to read the article. Once you've accessed all of your free articles, it tells you so, and then asks you register and get "free access".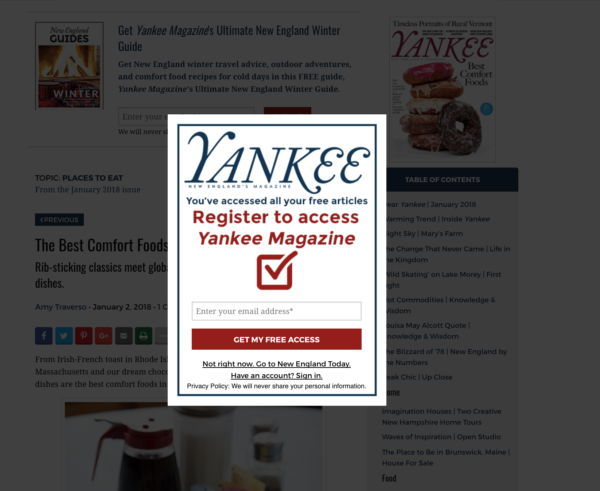 If you enter your email to get your free access, you're brought to a familiar 30-day trial page which requires a credit card to access.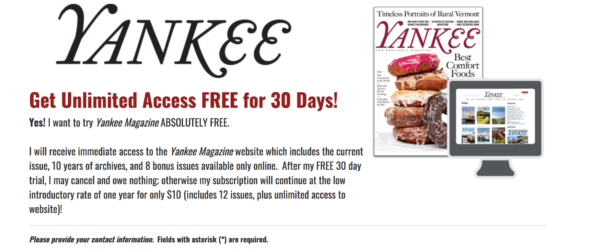 Ceramic Arts Network is another great example with their Pottery Making Illustrated metered paywall. Again, they offer three free articles per month, which allows their content to be indexed by search engines and pleases their social and email subscribers. They also include a tempting offer of $1.99 per month for unlimited access to all of PMI's premium content right in the floater.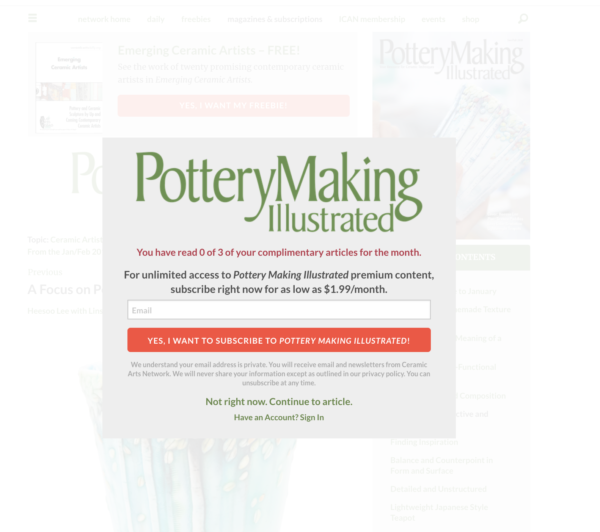 Finally, we have The Economist who doesn't use a floater, but embeds the message onto the article page, asking you to register (for free) to access five articles, or subscribe for unlimited access.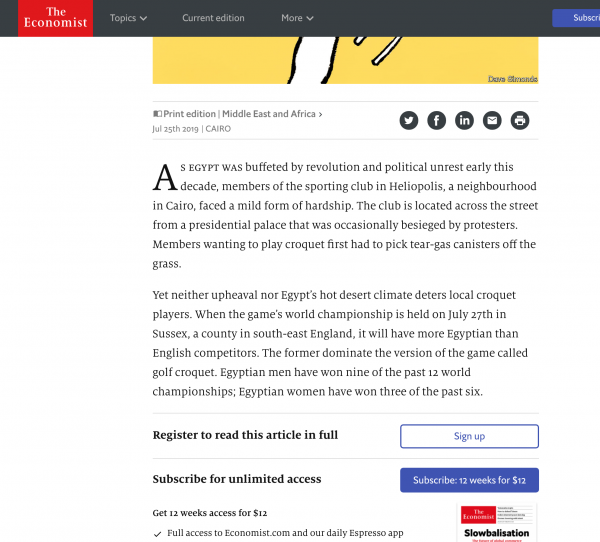 The Economist no longer allows unregistered users to access a few articles for free like they did in the past, now you must give up your email address. Their email newsletter promotes premium content, which should eventually turn them into subscribers if they notice they want to read more of the content than they are able to access.
These best practices are always evolving and we love to learn what's working for other publishers. If you have a successful metered paywall, I hope you'll share your secrets of success with us.
Over the past two decades, we've guided more than 300 niche publishers through the process of transforming themselves from legacy print publishers into multiplatform operations that often dominate their industry niche and generate operating margins that surpass those created by their legacy print business. Learn more about how we can help you apply these strategies to your publishing business by scheduling a FREE consultation today.
Posted in Digital Magazine Publishing