Affiliate marketing through CPA advertising gives you complete control over the success of your ads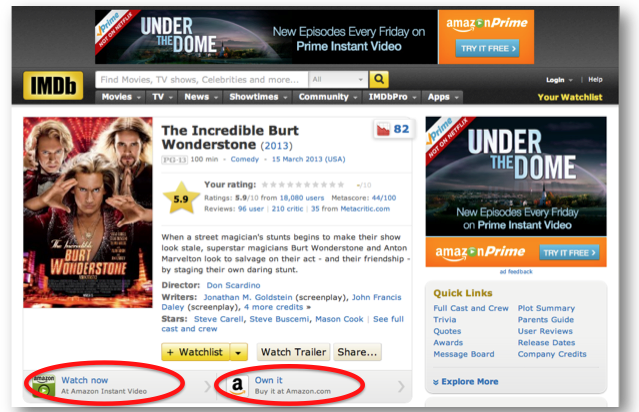 The first rule of choosing a business model that's ad-driven is being sure that you can make more money from advertisers than from your own products. Clay Hall once said to me that the great thing about having your own products is knowing what your ad space is worth. Because why would you let an advertiser buy a space on your site for $12 per M when you can make $15-$20 selling space to yourself?
Ad-driven websites generate value from users and sponsors. Consumer-focused websites ask users to pay—not with money, but with time and information. They spend time viewing web pages, emails and RSS feeds, thus creating advertising inventory that can be used to sell the publisher's products (internal advertising) and/or sold to third party sponsors (external advertising) on a CPM, CPC or CPA basis.
There are five unique ways a publisher makes money through online advertising, although they're sometimes mixed and matched.
CPC (cost per click) – Based on how many clicks an ad receives
CPA (cost per action) – Based on how many sales or leads an ad generates
DIR (directory) – Based on the sale of a directory listing
SEA (sponsorships) – Based on selling dedicated ad packages to entire sections of your website
Today we're going to focus on CPA advertising, that is, Cost Per Action, or what a retailer is willing to pay you per action, sale, or lead.
Why Amazon Bought IMDB
Last we heard, online retail giant Amazon.com generates 40% of their revenue through their 900,000 CPA marketing affiliates who earn 4%-15% per sale.
Netflix, Groupon and Best Buy are among their major affiliates.
One of the things we know about online business models is that it often takes two to tango. That's why over the past several years we've seen several retailers scoop up publishers. The acquisition of IMDb.com by Amazon is a great example of this.
In short, Amazon.com bought IMDb.com because they had been a great affiliate who they started to notice were expanding into the Amazon space.
Created by movie fans for movie fans, IMDb happens to be the most comprehensive source — online or offline — of free information on the film industry. Its website offers easy access to data on movies, movie stars, and those behind the scenes dating from the birth of film in 1892 to future releases.
IMDb's database catalogs every pertinent detail about a movie — which actors were in it, who produced and directed it, filming locations for it, trivia about it, even where you can find reviews and fan sites elsewhere on the web. It then presents all that information and more in a manner that's easily accessible and searchable. IMDb is the web's most comprehensive, authoritative, and, best of all, free source of information on movies and the film industry. It's a favorite of hardcore film fans, industry professionals, random moviegoers, and trivia aficionados — all of whom appreciate a serious resource that can also be fun.
How IMDB Got Its Legs
IMDb was the brainchild of British-born Col Needham, a self-described movie fanatic and computer geek who, along with his friends, enjoyed discussing films and entertainment programs in a Usenet discussion group. 1n 1989, merely as a hobby, Needham began to log the films he had watched (reportedly about 1,100 per year) into a computer database.
By 1990 IMDb was launched officially an, his database included details on nearly 10,000 movies and television series — searchable information that he shared with others in his user group. The data continued to expand over the next few years to include trivia, biographies, and plot summaries that users donated via an email interface. In 1993, the database moved to the World Wide Web, which, at the time, was just beginning to gain ground.
Needham launched IMDb as a commercial website in January 1996 and, within weeks, sold his first advertising campaign. Two years hence, IMDb.com was generating more than 18 million visitors a month and had become one of the most popular sites on the web.
Before long, there was a knock on Needham's virtual door. Amazon.com founder Jeff Bezos was seeking a partner to enhance Amazon's new venture — an online video store. The deal was done in April 1998, when Amazon acquired IMDb.
Today, IMDb, which Amazon operates as an independent subsidiary, has moved gracefully from humble to humdinger without changing its original mission: "to provide useful and up-to-date movie information, freely available online, across as many platforms as possible." In keeping with its parent company's "Earth's biggest…" theme, IMDb claims to be "Earth's Biggest Movie Database™." Undoubtedly, that's true.
In the 28 years or so since inception, the IMDb website has attracted a vast community of people — some 250 million unique visitors each month — who share a common interest in film. Movie lovers, avid fans, and industry professionals are attracted to the searchable, cross-referenced, and continually updated content, as are average moviegoers looking only for information on what's playing locally or new video releases.
The Benefits of CPA Advertising
IMDb.com is supported by a variety of advertising, licensing, and sponsorship opportunities aimed at people both inside and outside of the film industry. Links to Amazon.com appear in "Shop" boxes on various IMDb.com pages to accommodate anyone interested in buying books, videos, or DVDs. Private, noncommercial sites may link to IMDb pages for free —with proper accreditation, of course. Licensing packages for commercial operations wishing to include certain IMDb content on their own sites begin at $10,000 per year.
Here are the five ways to monetize your advertising inventory that don't involve selling your own product. These multiplatform sponsorship advertising platforms include: CPA, CPC, CPM, Directory and SEA.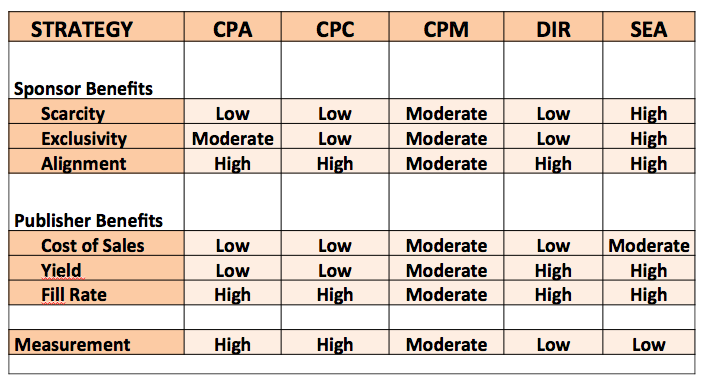 As you can see from the chart above, which compares the five different advertising strategies we outlined previously, CPA advertising is easy to measure, easy to align with the content you're publishing and cheap to implement (free, actually), but requires a high volume of traffic to generate significant revenue.
IMDb is lucky to have a partner in Amazon who is constantly improving their CPA program. In recent years, Amazon has implemented targeted ads across their affiliate sites, including IMDb.com. Amazon explains these as "interest-based ads," displayed to you based on information they collect when you purchase on Amazon.com or visit other sites that contain Amazon ads.
Implementing CPA advertising is as simple as partnering with CPA partners like Amazon, or CPA networks like ClickBank or ShareaSale. When you decide to generate revenue with CPA affiliate advertising, you have control over the ad's effectiveness. Most advertisers provide an inventory of ad options that you can choose to place wherever you want on your website.
Have any stories to share about CPA advertising? Let's chat in the comments.
Jane Zarem contributed to this article. It was originally published in 2013 and is regularly updated.