A new study from the Mequoda Research Team sheds light on the use of open content
Open content has been around since the inception of the web. Since that time, it's been debated if top branded content suppliers should be using an open content model to drive online business, in particular, website traffic.
To supply the industry with pertinent data, the Mequoda Research Team conducted a new study we're calling the 2011 Mequoda 500. This study determined the content and business models for the top 1,000 websites according to Compete's traffic numbers and focused on the top 500 that operated an open content model.
In mid 2009, we observed these stats through casual observation and theorized that roughly 22% of the top websites were using an open content model.
Today, nearly 58% of the top 1,000 websites are using an open content model.
The websites that qualified varied greatly in their use of open content. Some had 100% free content without registration or payment; others had only portions of their content free and openly available, accounting for a significant amount of website traffic.
Many websites incorporated a blog, updated daily or weekly, into their website strategy, which was good enough to qualify as a significant traffic driver.
It's interesting to see that there were 575 websites out of 1,000 that utilize an open content model. Even more interesting was seeing that 41% of total websites were Google-friendly. Keep in mind this isn't 41% of the 580 websites; this is a cross-statistic based off the entire 1,000 sites. Search is something a high percentage of websites are paying attention to.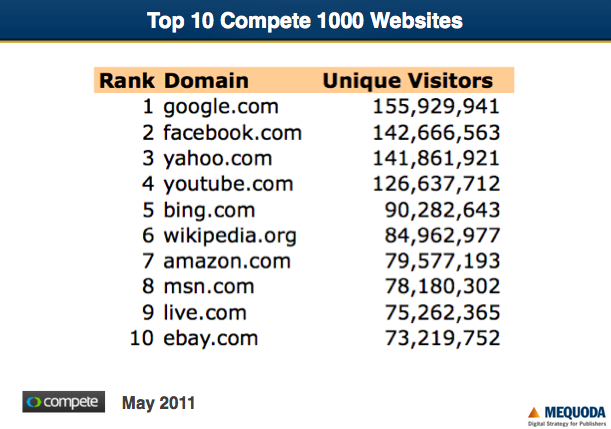 How we conducted this study
Let's take a slightly deeper look at the five content model attributes we scored for each website in the Compete 1,000 list:
Open Content: Any website that provides content to users for free. Sites that have blogs, open portals, news headlines, articles and videos qualified. This included evergreen reference content as well as regularly published new content.
Closed Content: Websites that require users to login or register to view content. Closed content could be free or premium (paid) content.
Retail Content: Websites that sell products or services. The transaction can be direct online or direct offline and must terminate with the publisher. For example, Honda.com is considered a retail site even though the purchase is happening offline, on physical car lots.
User Generated Content: If users are allowed to interact on the website by commenting, reviewing, rating, posting or taking part in discussions, they got classified as having user generated content.
Search Engine Content: Any website where the primary function is to perform a search. The site must be indexing and displaying content from multiple sites across the web to qualify as having search engine content.
Mequoda Open Content Standards
We went a step further and scored the top sites on the four Mequoda Open Content Standards of  being Content-Driven, Google-friendly, Subscriber-centric and Multi-platform. Unsurprisingly, marketers are acknowledging that it's important to build relationships with website visitors. Supplying updates, specials and news about your brand, whether this is through email, social media or RSS, is proven increasingly prominent, as 93% of websites are focused on building relationships with their visitors.
Out of the top 1,000 websites, 22% complied completely with the four Mequoda Open Content Standards.  Here is a description of each:
Content-driven: Is this website committed to publishing news and information on a regular frequency to build reader trust and brand authority? If so, they are considered to be content-driven.
Google-Friendly: In order to be considered Google-friendly, three headlines for open or closed content websites had to appear within the first three pages of a Google search. For retailers, the product name or description has to appear.
Subscriber-Centric: To be considered subscriber-centric, a website must place strong value on building relationships with visitors. If a website encouraged email signup above the fold, RSS or social network involvement like Facebook, Twitter and LinkedIn, they were considered subscriber, or relationship-centric websites.
Multi-Platform: In addition to having a website, does the organization produce offline products (PDF, apps, books, magazines, DVDs, radio and TV appearances) or in-person events (events, seminars, shows, public speaking events, mingle with experts face-to-face)? If so, they were considered to be multi-platform.
Google was the largest website for the criteria of open content, closed content, user-generated content and search engine. Yahoo followed closely behind, and fit the criteria for all 5 content models including retail.