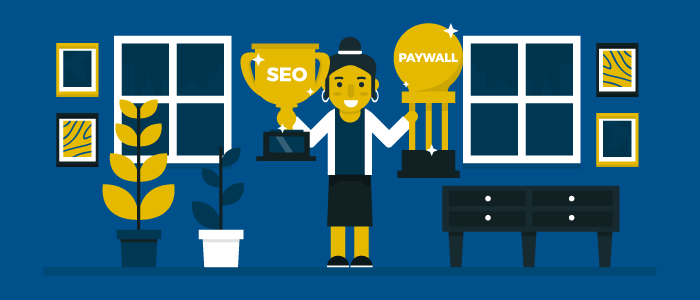 The Sun uses Facebook to combat traffic loss from the paywall that sunk their organic traffic
Last November The Sun dropped its paywall, and according to Digiday, has learned a whole lot.
After the paywall came down last year, Dominic Carter, managing director of commercial at News U.K. said they planned to double their sales team to supplement the paywall being taken down. He told Digiday about what he learned from behind the paywall at The Sun and The Times:
"Having had logged-in users, we understand more the reasons why people churn and also how they like to engage with brands. We can use that and apply it to how we shape the products. We need to be more sophisticated with data and put data at the heart of everything we do, which we probably haven't been. There is a lot of insight we have collected, from The Sun and The Times paywalls. We know how they respond to ads; we know things like time of day and device preferences. But what we haven't ever done is turn that into usable data for advertisers, and my intention is to ensure we do in future."
[text_ad]
As you might imagine, they took down the paywall because it wasn't improving revenue and it was hurting site traffic. I should mention that paywalls don't need to be SEO-unfriendly (see Paywalls vs SEO – How to Win at Both) but in the case of The Sun, they saw a decline.
Fast-forward almost exactly a year, and there's one thing the team didn't know but they do now: they had "zero search equity," reports Jessica Davies from Digiday. And so, they've had to lean into Facebook in a big way to bring in traffic to the site. Davies says, "The Sun is working hard at getting its organic search back to its pre-paywall levels, but it's been Facebook which has helped the publisher get its traffic back on track so fast." They now have " 20 million monthly visitors (compared to a couple million last December) — just 7 million shy of Mail Online in the U.K., according to comScore."
But it wasn't all fun and games, they worked to get their traffic back after a paywall lull. "Those numbers are reflective of a busy year for The Sun: After relaunching its site, it began publishing to Facebook Instant Articles, coded its pages for Google AMP, released Messenger bots, and became one of the first publishers to create a large, dedicated Snapchat team. Instagram — being natural extensions of the Facebook "engine" — is also a priority." And it's a good thing they're keeping their social portfolio diversified, because Facebook is never on the side of the publisher, only on the side of the user and what they "think" a reader will want to see.
So what's working for them on Facebook? News UK chief customer officer Chris Duncan explains:
"When prioritizing what content to run on Facebook, The Sun opts for one of three approaches: make people laugh, get them angry or make them sad. "All the extremes," said Duncan. Short videos that do well on Facebook tick both the branding and attention-grabbing boxes, like a video in which The Sun gets a pole vaulter to jump into a moving Sun-branded bus. It got more than 900,000 views on Facebook. Typically, its videos on Facebook range between 200,000 and 1 million views.
The Sun does its fair share of Facebook Live videos — the latest being an interview with pop-rock band The Vamps by the publisher's associate editor Danny Wootton — which are consumed within Facebook. But the goal is always to drive people from Facebook to its own properties where they can read another article, watch a video or read the sidebars."
They're not immune to ad-spending, but they say most of their budget goes to organic content and traffic.
Words of advice from Carter?
"To stay on top of your game, you must be in the process of constant self-improvement. You can't have people sit back and think, 'I know my stuff.' So those are probably some of the mistakes. I've had to bring in new ad-ops people in the last few months because the world has changed."