Harvard Health Publications protects credibility and reputation while publishing content on many platforms
When you publish under the aegis of Harvard Medical School, your primary objective is not simply to make money; it's to improve the health and quality of life for the general public. And protecting Harvard's brand is of utmost importance.
An informative interview with Greg King, Senior VP of Circulation for Harvard Health Publications' marketing arm, Belvoir Media Group, provided valuable insights into a profitable business model whose highest priority isn't profits.
The Harvard Health Publications mission has always been to improve the health and quality of life for the general public.
About 15 years ago, Harvard Health Publications expanded into mass market book publishing.
A portion of their content is now available as a premium access, membership library at health.harvard.edu under the rubric "Harvard Health Publications Premium Access."
The Harvard Health Publications Brandwheel
The Harvard Health Publications mission has always been to improve the health and quality of life for the general public. As you might imagine, with health information, there is no such thing as evergreen content. You still need someone with a lot of expertise going through it because you never know where a change may have occurred. Still, Harvard Health Publications reuses content across their multiple platforms.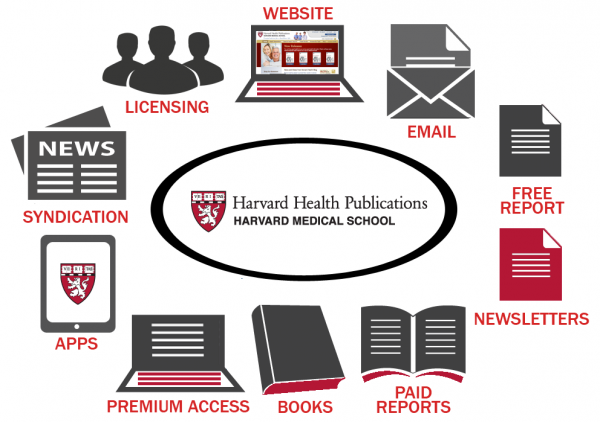 [text_ad]
Website
Health.Harvard.edu gets 1.7 million unique visitors per month to their website, which is a hybrid of the premium newsletter subscription website archetype and the free blog subscription website archetype. (We do always say that it takes two archetypes to tango!)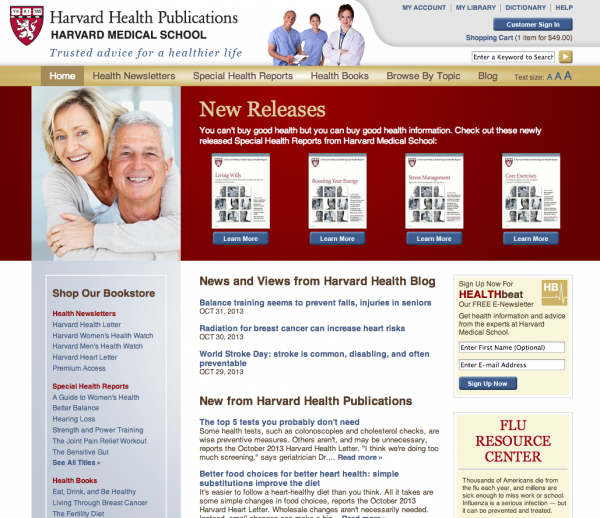 Content recycling is abundant here, as it usually is on the website. Blogs from the website are recycled into the email newsletter, while some blogs draw on newsletter articles. In front of the paywall, there are 300-word snippets that lead to the paid newsletter signup.
As far as structure, King says they're working on organization of all their topics. "We feel that we can do a better job of organizing the content. At first look, there's a lot of content there, but for the typical user who is coming in, it's important to remember that for the most part they have one question for themselves – they're not interested in the 600 health conditions we have. It's not just their aching joint, it's their aching hip joint, but it's their aching right hip joint, and only on rainy days."
Harvard Health Publications is very committed to organic marketing, primarily using links, organic search, its content and brand to bring traffic to its premium content website. "Organic traffic has been amazing and continues to grow," says King. "Google likes good content and this is solid stuff. I believe the .edu helps us."
Gravitas is reflected in the branding of the Harvard site, which delicately balances its official marks of approval: Harvard Health Publications, Harvard Medical School and Harvard University.
Email
HealthBeat, HHP's email newsletter, maintains a clean 225,000-subscriber email list that's scrubbed and cleaned up every 6-12 months. Content in the email newsletter comes from the website, as do their email subscribers. King noted that the majority of their email subscribers come from their website floater, which offers free access and a downloadable report. Also, all buyers are opted into their email list by default.
Email subscribers can also opt into a 6-8 part auto-responder series, focused on specific topics like fitness, diabetes, nutrition, healthy living, blood pressure and cholesterol. What a great way to test out email segmentation while pleasing readers who have interest in a single topic.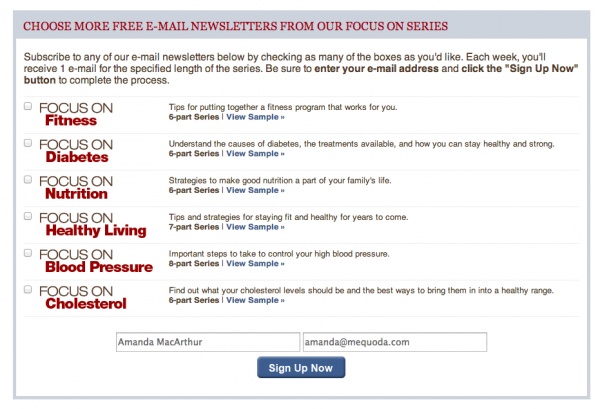 King says they're far less sophisticated in email marketing than direct mail marketing, but that they do a lot of  A/B split testing including subject line testing and format testing. He also said that while they were once fearful of bombarding people with email, they've learned that their subscribers tend to welcome emails from them. "We're currently sending out 3-4 more times emails to each subscriber as we were a year ago," says King. "We can't keep increasing frequency forever, so we're working on targeting better … we'll be doing a better job tracking people, how we sourced them, what they've bought, etc."
Free Report
If you're only going to have one free report, why not make it applicable to everyone? Their one free report, Living to 100: What's the Secret? is a great broad-interest report that would be of interest to anyone arriving at the site. Typically we recommend having one free report to go with each category of your blog, but if your resources limit you to just one, make it count.
The report is promoted as the last bullet point in their floater, which shows up when you first visit the home page.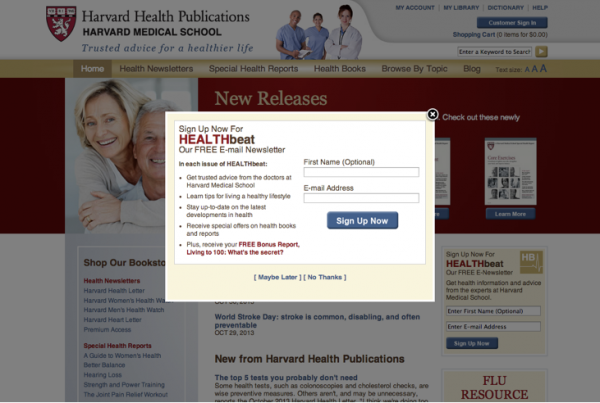 Newsletter
The Harvard Health Letter was launched in 1975. It set its course with a lead article headlined "What You Should Know About Heart Attacks Before You Die of One—Part 1" and has been true to its mission ever since.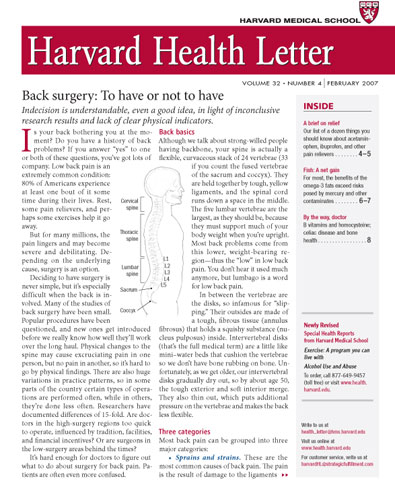 Two Harvard Medical School faculty members, Dr. Tim Johnson and Dr. Stephen Goldfinger, both concerned with continuing medical education for physicians, got the idea that continuing medical education for the general public was also a good idea. They were right. More than 35 years later, Harvard publishes three additional monthly print newsletters—Harvard Men's Health Watch, Harvard Women's Health Watch, and Harvard Heart Letter. Today, total circulation of the Harvard Health Publications newsletters exceeds 350,000.
Some, but not all content is recycled from their special reports into their newsletters.
Paid Special Reports
There are around 60 active special reports on the website currently, and King notes that there are another 50 or so that have been retired. The content is completely original and gets recycled into newsletters but does not originate elsewhere.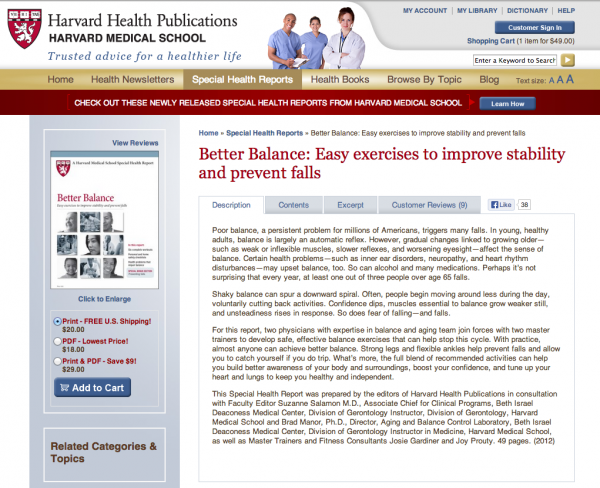 To sell these special reports offline, the publisher cross-sells its special reports with inserts that arrive with the mailed print newsletters. This strategy is much more profitable than cross-selling its books with inserts in the newsletter, because markups are higher.
Books
About 15 years ago, Harvard Health Publications expanded into mass market book publishing. In cooperation with Simon & Schuster, McGraw-Hill, and other book publishers, it now publishes 69 titles and launches seven or eight new books annually.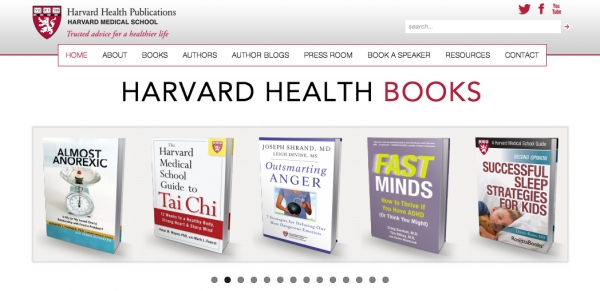 Harvard uses its prestigious brand cautiously. With 18 affiliated hospitals and more than 10,000 affiliated physicians, there are numerous proposals for books. But only a select few are published under the Harvard Medical School imprimatur.
[text_ad]
Premium Access
Although their Premium Access subscription site —with digital access to archives of all newsletter content — hasn't been a significant revenue generator for them, they plan to beef it up in the near future, adding more content and interactive tools.
A $49 annual subscription gets users online access to the past three years' content of four Harvard Health Publications newsletters.
So health.harvard.edu is effectively a single portal website for all of the Harvard Health Publications. And because the architecture of the Premium Access website is issue-based, it has enabled the five newsletters to become one product. All the Harvard Health Publications books, newsletters and reports can all be purchased at a single website point of entry.
The Premium Access site is sold using the Harvard shield and the Harvard Medical School name, rather than the Harvard University brand.
Mobile Apps
Harvard Health Publications currently has a fitness app, a symptom checker app, and a series of apps on medical conditions. The apps draw on content from newsletters, special reports, and licensing content (tools). They've also partnered with popular app makers like Skimble to create different "programs" for existing apps, like Workout Trainer.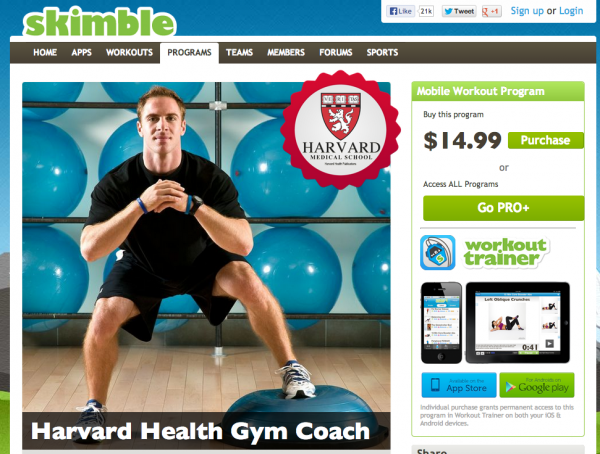 Syndicated Newspaper Column
About 450 regional newspapers syndicate Harvard Health columns. The content from these columns draw from newsletters, special reports, books, and new content.
Syndicated articles that appear on other publisher's websites often refer back to health.harvard.edu, providing thousands of additional valuable incoming links that enhance search engine optimization and drive additional online traffic to Harvard. As much as 30-40 percent of the traffic to health.harvard.edu arrives via these routes.
Third Party Licensing
Content (text, graphics, video, interactive tools) are licensed to third party websites, corporate intranets, and others. The content is repurposed from newsletters, special reports and also created new for licensing.
Conclusion
Overall, Harvard Health Publications is a profitable enterprise, but bringing revenue to Harvard Medical School is not the only priority on the list of objectives. Profits support scholarships and teaching at Harvard Medical School.
Harvard Health Publications operates somewhat differently from publishers who are strictly in a for-profit environment. That means Harvard publishes some information products that don't have a sufficient return on investment, simply because it's the right thing to do.
For example, information on cancer doesn't sell well because cancer is not a sexy topic. But they feel that people who want information on cancer ought to be able to look to Harvard Medical School to get it.
And, because they're such great multi-platform publishers, they should be able to get it online, in a newsletter, in email or on a mobile device.
Peter A. Schaible contributed to this article.