Farm Progress credits SEO and banner ads for supporting a profitable enterprise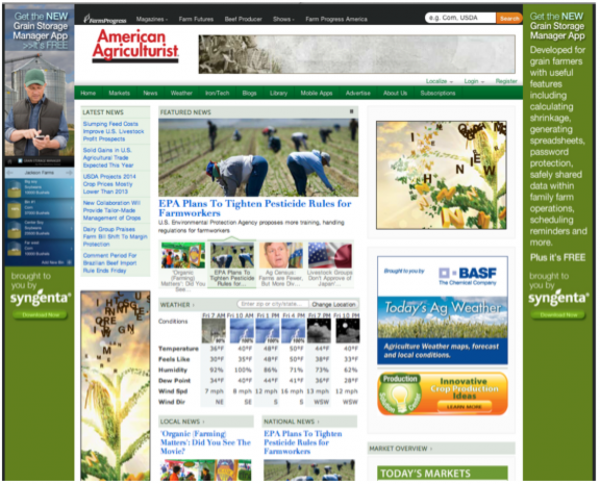 One of Mequoda's primary reasons for being is to help legacy publishers cross the digital divide.
And when it comes to Farm Progress, we're talking serious legacy publishing – a company founded in 1819 which publishes, among many others, Prairie Farmer, the oldest known continuously published magazine, launched in 1841.
That's some serious agricultural credibility. Today, Farm Progress owns a massive portal to support its 24 farming and ranching magazines, which includes 22 daily, weekly or monthly free newsletters, some with Farm Progress content and some from sponsors  plus 17 newsletters with the latest headlines from individual magazine websites.
It's geared toward business farmers with at least $50,000 in annual farm income or higher. The magazines it supports, besides Prairie Farmer, which is focused in Illinois, include Dakota Farmer, Ohio Farmer, American Agriculturist and Western Farmer-Stockman, among others. Farm Progress publishes content that's relevant across all of its magazines as well as content individually relevant to just one of the magazines. This allows it to deliver masses of information to its subscribers and website users without an equally massive editorial staff.
And because it's a Mequoda Method site, there's also a newsletter called Farm Progress Daily, an afternoon roundup of national and local agricultural news from the entire Farm Progress family.
Farm Progress also hosts four massive farm shows every year, and creates and distributes sponsored apps such as Growing Degree Days, which "measures the maturity of your crop by viewing current and past growing degree days data for your farm's location."
Farm Progress is mostly ad-driven, only selling subscriptions to those folks whose demographics – primarily very small farmers – don't allow Farm Progress to mail free controlled-circ issues. About 30% of their magazine circulation is paid.
Acknowledging the prevailing wisdom in publishing that banner advertising is declining, Willie Vogt, Executive Director for Content and User Engagement,  says, "I don't know about anyone else, but they work just fine for us." At 2.4 million impressions per month throughout the Farm Progress network, the company makes its advertisers quite happy.
In addition, the mobile app ads are sold as monthly or annual sponsorships, instead of being sold by impressions, ensuring a steady revenue stream that requires far fewer man-hours to sell.
Find out the CMS features that publishers require to manage an online publishing business. Download a FREE copy of 7 Ways Haven Wordpress Goes Beyond Wordpress, and discover the features all publishers should have access to for a bigger audience, greater revenue, and higher profits.
Farm Progress hires mostly farm journalists to produce their content, who, according to Vogt, have been largely supportive of the Mequoda Method's emphasis on SEO copy. This makes them somewhat unusual for journalists, who often bristle at the structured approach to effective internet journalism.
These editors can edit long form copy down to short form, or write to a 300-word guideline, and their copy is then massaged for SEO purposes by other staffers. Editors file anywhere from five items per week to 15, and also write a weekly blog.
It's a process that works well for Farm Progress; so well, in fact, that the company routinely makes Mequoda's finalist list for the Rocket Awards, the top 10 Mequoda websites for audience growth.
For the period July 2011-June 2012, Farm Progress scored 73.81% growth in organic traffic. For the same period in 2012-13, the website network earned a whopping 99% in growth (which, by the way, placed it 4th among Mequoda websites … the winner, Biblical Archaeology Society, logged 111% growth!).
Vogt modestly credits some of the growth to the farming audience's increasing acceptance of the Internet. He also believes that the site's content is optimized better than rival sites. Of course the company also drives traffic from its print publications, including Vogt's monthly column on what's new on the web.
In addition, Farm Progress has focused on a coordinated social media campaign, and added an afternoon e-newsletter in 2012 aimed at getting more traffic to the sites, efforts which clearly have paid off.
All in all, Vogt says, "The web business is very solid. It's been quite profitable for quite some time." This, of course, is an understatement, a view underscored by the fact that giant Penton Media liked Farm Progress so much, they bought it in late 2012 for roughly $80 million. At the time, Penton CEO David Kieselstein called Farm Progress a "high quality company," noting, "The team has delivered excellent organic revenue and EBITDA growth."
"Moreover, this business fits with Penton's heightened focus on properties that have high levels of user engagement. The fact that Farm Progress events attract more than 200,000 attendees from across the agriculture community every year is a prime example of that value," Kieselstein said.
The user experience
The Farm Progress collection of websites can be somewhat overwhelming at first look, but its appeal to that user engagement Penton prizes is evident. You can start with the FarmProgress.com home site, with its plethora of advertising and news articles, stock and weather reports, podcasts, tools, blog posts and more.
Then you note that 13 of the 24 Farm Progress magazines have their own websites, and when you check these, some of the content is the same, simply moved up or down on the page according to its relevance to the individual magazine.
There is a local news section for each magazine, and a "Web Exclusives" section that's also oriented to the individual magazine.
The content is a mix of recycled magazine content and fresh industry news, plus blogs, weather and stock reports, technology and a library. Users can also read the magazines in PDF format.
The magazine websites are accessed via a tab in the upper of two navigation bars. There are also tabs for two sites that serve other magazine audiences who don't get their own site, plus a tab for their events and another for Farm Progress America, home of the company's broadcast division.
In the lower navigation bar, the user can access markets, news, weather, technology, blogs and the library. The library contains all the evergreen content from the magazines and is free to users. The variety of tools such as weather reports, crop progress reports, stock market reports and more keeps users checking in daily.
Though there's little promotion for it, registration with one of these sites allows you to customize some of your content with various alerts. It also allows you to comment on articles and blog posts – though you can do that even when you're not registered.
Naturally, you're also offered the chance to get regular updates from Farm Progress and from third parties; these boxes come automatically checked, so you have to remember to uncheck the boxes if you don't want this kind of email.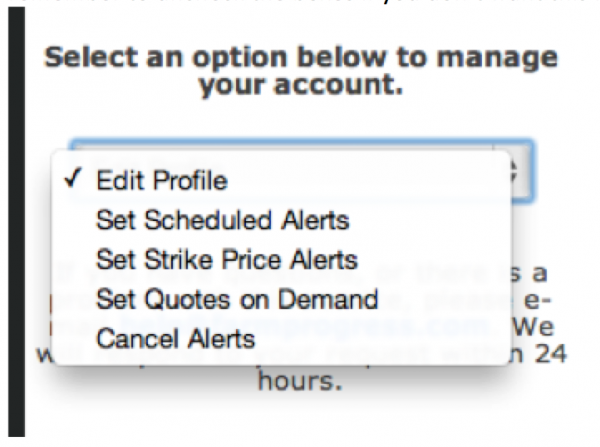 In all, the Farm Progress site is a strong mentor site for any publisher with multiple titles but without the resources of a Hearst or Meredith. Its success in selling banner ads and app sponsorships is also something publishers should note, especially those who have controlled circulation print magazines.
Do you have experience with a portal to support controlled circ publications, banner ads and/or multiple titles revolving around a portal? Let us know in the comments!